Details
Marantz UD7007 Region Free Blu-Ray DVD Player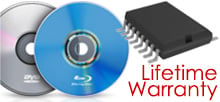 Region Free Playback Guaranteed!
Unlike software or firmware solutions, our region free hardware modifications are guaranteed to play Blu-Ray Discs and DVD's from any region!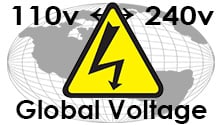 Worldwide Voltage - 110v, 120v, 220v, 230v and 240 volt!
Global Dual Voltage on Blu-Ray Player means it can be used anywhere. Multi-voltage Blu-Ray Player can be used in any country with voltage from 110 volts to 240 volts!
Region Change is Manual for Blu-rays and for Standard DVDs using remote control
Marantz UD7007 Region Free Blu-Ray DVD Player Description:
The Marantz UD7007 Universal Disc Player with Networking is an all-in-one, comprehensive solution for all of your disc media. Compatible with nearly every video and audio disc format, this player ensures superb sound performance with its advanced circuitry and high-grade build quality. It can even stream audio and video content from a variety of online services, thanks to its Ethernet connectivity.
Premium Build Quality Ensures High-Fidelity Playback
From the chassis to the disc mechanism, every component of the UD7007 Disc Player has been engineered to deliver a faithful, audiophile-grade sound. The disc mechanism is fully shielded to dampen internal and external vibrations. Sound quality is further improved by the player's five-block construction, which offers thorough protection from electromagnetic interference.
Supports High-Definition Video and DLNA 1.5
The UD7007 Disc Player also delivers high-quality video performance, with support for HD resolutions of up to 1080p. The player features two HDMI outputs, enabling simultaneous independent connections to an HDTV and a surround sound system. And with HDMI source-direct mode, you can enjoy Blu-ray and DVD content in its native resolution of the original material, free of stretching or picture distortion. The player also supports DLNA 1.5 for photo, video and music streaming from a networked PC.
Ethernet Port and USB Port for Easy Streaming
Equipped with an Ethernet port, the UD7007 Disc Player can connect to your network and stream media from a variety of free and subscription-based online services, including YouTube, NetFlix, Hulu, and Vudu. The player also features a USB port, which you can use to stream content from USB drives and other removable storage media. The player is compatible with a broad range of digital audio and video formats, including MP3, WMA, AAC, WAV, FLAC, JPEG, PNG, DivX, MPEG, WMV, and AVI.
Intuitive Interface and Remote Control
Controlling the UD7007 Disc Player is easy, thanks to its user-friendly interface and convenient remote control. The remote control gives you easy access to all of the player's functions and features large, glowing keys for easier operation. The remote is also compatible with Marantz AV receivers, giving you consolidated control over all your devices.
Product and Warranty Information
The Marantz UD7007 Universal Disc Player measures 17.32 by 4.31 by 12.11 inches (W x H x D) and weighs 15.84 pounds. It is backed by a 3-year limited warranty.
What's in the Box
Marantz UD7007 Universal Disc Player and gold-plated HDMI cable, Power cord, CD-rom owner's manual.
Does not have a built in Pal / NTSC converter. Perfect for use outside USA with a Pal tv or a Multi system TV. If used in the USA with NTSC TV a Video converter is required for playback or Pal DVDs on NTSC TV
All Sale Region Free Blu-ray Quick Comparison Chart
Region Free
Blu-ray Model


(Click on links to view players)

Region Free for Standard DVDs Region 0-8
Region Free for Blu-Ray
Region A, B, & C Optional
Internet Streaming Applications
Netflix, YouTube etc.
Wireless Internet Streaming
3D Compatible
4K Ultra High Definition
110-240 Volts
Full Home Theater w/ Speakers
Sony BDP-S1700
Region Free Blu-Ray
Samsung BD-J5100
Region Free Blu-Ray
Sony BDP-S3700
Region Free Blu-Ray
Samsung BD-J5700
Region Free Blu-Ray
Samsung BD-J5900
Region Free Blu-Ray
LG BP550
Region Free Blu-Ray
LG BP350
Region Free Blu-Ray
LG BP165
Region Free Blu-Ray
Panasonic DMP-BDT270
Region Free Blu-Ray
Sony BDP-S6500
Region Free Blu-Ray
Sony BDV-E3100
Region Free Home Theater
Samsung UBD-K8500
4K UHD Blu-ray Player
Sony UBP-X800
4K Ultra HD Blu-ray Player
Sony BDV-N5200w
Region Free Home Theater
Note from our Techs
:Currently, our most recommended & popular brand of Region-Free Blu-ray Players is from Sony. Known as the inventors of Blu-ray technology, Sony offers a lineup of high-quality, affordable players loaded with the latest technology, the most practical/useful features and an abundance of streaming apps. Sony's players are also the only players equipped for Amazon Instant Video on Demand.
Toshiba, Samsung and LG are excellent alternatives to Sony – they are also very popular and economical choices. For those in search of the highest quality components and performance, we would proudly recommend Yamaha, Pioneer Elite models and of course, Oppo.
Marantz UD7007 Region Free Blu-Ray DVD Player Specifications:
High quality sound and video
Wide variety of video streaming, movies, videos, TV shows (YouTube, Netflix, VUDU, Hulu Plus)
High-performance 2ch Audio output by HDAM via balanced output and RCA output
Coaxial digital output
Universal Disc Playability (Blu-ray, DVDAudio, DVD-Video, Super Audio CD, CD)
DLNA 1.5 Support and front USB port for music, photo and video playback
2 HDMI outputs with separated Audio signal/Video signal transport
1080p/24 video output, to bring out the full quality of film
HDMI source direct mode to output native resolution of the disc
Picture adjustments
Playing high-quality audio, using by pure direct function
Build Quality
Fully shielded disc mechanism with aluminum top panel and twin drive shafts dampens internal and external vibrations and electromagnetic noise for optimum disc playback
New servo circuit, to reduce moving noise of pickup mechanism
5-block construction for thorough protection from mutual interference caused by electricity or magnetic fields (Disc mechanism, Analog audio, Power Supply, Indicator, and Core processing block)
Rigid chassis and cabinet (Dual Layer on bottom)
Fan-less construction for noise reduction
Ease of Use
Quicker disc loading and playback initiation (20% faster than prior model)
Quick Start mode enables faster playback access
Easy-to-use Multi language GUI and CD-ROM interactive manual
User-friendly GUI (Graphical User Interface)
Easy-to-use remote control

Glow-key for cursor keys and operation keys
Direct access for online video services
Remote Control also controls
Marantz AV receiver for convenience
New "Marantz Remote App" control via 2012 new Marantz networking A/V Receivers
Gold plated HDMI cable included (HIGH SPEED HDMI CABLE)
Others
Design Matching to Marantz AV Receivers designed on M-1 concept
C4 Certified RS232C Control Capability
Eco Stand-by mode, lower power consumption (0.3 W)
Detachable AC cord
← Back to product description



DVD All Regions

Region Free DVD Playback. Code Free, Multi-Region, Multi-Zone




Will play DVD movies from anywhere in the world.




Plays DVDs from any region including region 0, 1, 2, 3, 4, 5, 6, 7 and 8


Region Free Playback Guaranteed for Life!



Blu-ray All Regions

Region Free Blu-ray Playback. Code Free, Multi-Region, Multi-Zone
Will play Any Blu-ray Disc from anywhere in the world.
Plays Blu-rays from any region including regions A, B, & C




World Wide Voltage

Works with world wide electricity 100-240 volts volts 50/60 hz. Can be used with electricity in North America or any other place in the world.ALL of our Multisystem TV's operate on ALL Global voltages, including 110, 120 Volts and 220, 230, 240 Volts.



Video Streaming

Streams Video and Audio through the internet




USB Input

USB stands for Universal Serial Bus. A USB port is a cable connection interface used on personal computers and consumer electronics. USB ports allow stand-alone electronic devices to be connected via cables to a computer or to each other.



1080p Upconversion

HDMI upconversion will convert your analog video signals to offer a much clearer, sharper HD image, with less artifacts

Shipping Group: Bluray
← Back to product description