Details
LG DVRK898 Multi System DVD Recorder and VCR Combo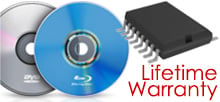 Region Free Playback Guaranteed for Life!
Unlike software or firmware solutions
our region free hardware modifications are guaranteed to play Blu-Ray Discs and DVD's from any region for the life of your player!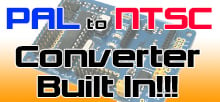 This Blu-Ray Player Requires No Extra Video Converter!
No matter where in the world you are, this player works with any TV. Built in NTSC to PAL and PAL to NTSC conversion guarantees Blu-Ray & DVD playback anywhere!
LG DVRK898 Multi System DVD Recorder and VCR Combo Description:
PAL NTSC SECAM VCR PLAYER
This player has a multi system VCR that will Playback Pal, NTSC, and Secam VHS tapes. The only system tapes that it can not play are French Secam L VHS tapes. This system requires a Pal compatible or Multi System TV to play pal tapes. If you have a NTSC (Normal TV used in the USA) then you will require a Video converter. With the video converter you will be able to watch Any Pal, NTSC, or Secam VHS tape on your TV.
We have Video converters with Analog output as well as models with HDMI output.
Please call us at (877) 578-0587 to check what is best for your needs.
PAL NTSC SECAM Region Free DVD Player
The LG DVRK898 plays DVD Movies from any region. The output system is Pal so it will work in any overseas country outside North America that has Pal / Secam tv's without any problem. If using with a USA NTSC tv, a Video converter is required. The Video converter will convert the signal from pal to ntsc.
PAL VHS RECORDER
This model will record on VHS tapes in the Pal system.
PAL DVD RECORDER
This model will record on DVDs in the Pal system. Excellent if you want to make DVDs to send to relatives overseas. Also if you are using this product in a country outside North America where pal or secam is used, then the DVDs recorded will be perfect for your Country. If using in USA, the pal recording can be viewed on a NTSC USA tv, with the use of a Video converter.
LG DVRK898 Multi System DVD Recorder and VCR Combo Specifications:
Designs and specifications are subject to change without notice.
LG DVRK898 PAL DVD recorder with PAL/NTSC VCR Combo
it has Divx Disc Playback and karaoke

Full HD 1080p HDMI output with HDMI 1.3

Plays DVDs from any region on a compatible TV
Plays PAL or NTSC VHS tape on a compatible TV
Plays DVD-Video, DVD-RAM, DVD+R/RW, DVD-R/RW, and Video CD
Multi-Format Recording & Playback: VHS, DVD-RAM, DVD-R/RW, DVD-R DL, DVD+R, DVD+R DL, DVD+RW discs
The DVD made on this model will be all regions you can play it on any DVD player in the World, even on PAL DVD players. You can send the DVD made on this recorder to a PAL or NTSC country.
This does not record in NTSC format.
Records PAL to PAL
Records NTSC to PAL with the use of a video converter
Plays PAL on PAL TV or Multi-System TV
Plays NTSC on PAL TV or Multi-System TV
Plays PAL on NTSC TV with the use of a video converter
Records in "ALL" regions format for worldwide compatibility

Built-in PAL/Secam DK, BG, I, DKTV tuners
Time slip function: Chasing Playback Simultaneous Recording and Playback
Time Slip Roller and Button Control
Digital progressive scan
Hybrid VBR (Variable Bit Rate) recording
Rapid Random Access
Records in 5 speeds XP/SP/LP/EP/FR
3D Digital Noise Reduction
54MHz/10-bit video DAC
96kHz/24-bit audio DAC
Selectable interlaced/progressive-scan video (playback only)
de-interlacer with 3-2 pull down processing
auto/manual recording
remote (multi-brand for TVs)
110-240 volts 50/60 Hertz dual voltage for use World-Wide
VCR features:
Quick Super Drive System
AV 6 Head system
Hi-Fi Stereo recording and playback
Pal - MESECAM - NTSC 4.43 - NTSC 3.58 recording and playback
Tuners: Pal I, B/G, D/K - (me)SECAM D/K, B/G, K1
Records PAL to PAL
Records NTSC to PAL with the use of a video converter
Plays PAL on PAL TV or Multi-System TV
Plays NTSC on PAL TV or Multi-System TV
Digital Auto Tracking
Automatic Head Cleaner
Fully automatic operation
NTSC playback speeds: SP-LP-EP
Pal/Secam speeds: SP-LP recording and playback
Full function TV/VIDEO unified remote control
On Screen Display with 1 year programmable timer (Pal - Secam only)
1 Year timer back up system
Front AV input
Rear AV Input and Output
Auto switching between 110-240 volts 50/60 Hz
Connections:
HDMI 1.3 with 1080P up-scaling

Digital Firewire input (iEEE connection)

DV and USB input - for camcorders, digital cameras and MP3 players

two stereo audio recording modes: Dolby Digital 2.0 and PCM
optical digital output for Dolby Digital/DTS/PCM (96kHz/24-bit-capable)
Component video output
2 sets of A/V inputs (composite and S-video), including 1 front-panel set
1 set of A/V outputs (composite, S-video, and 480i/480p component video)
RF input/output for antenna/cable signals

(not for NTSC)
Dimensions:
430mm Wide X 78.5mm High X 260mm Deep, 4.5KG weight
Includes:
Remote

Batteries for Remote

Instruction manual

Stereo AV cables