Details
International Region Free DVD Player Model SC25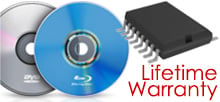 Region Free Playback Guaranteed for Life!
Unlike software or firmware solutions, our region free hardware modifications are guaranteed to play DVD Discs and DVD's from any region for the life of your player!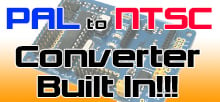 This DVD Player Requires No Extra Video Converter!
No matter where in the world you are, this player works with any TV. Built in NTSC to PAL and PAL to NTSC conversion guarantees DVD playback anywhere!
International Region Free DVD Player Model 25 Product Description:
Plays DVD-R/DVD/DVD-R/DVD-RW/DVD+R/DVD+RW Compatible, SVCD/VCD/CD/CD-R/CD-RW Compatible, DVD
Plays All-Region DVDs: Region 1, 2, 3, 4, 5, 6, 0
Plays PAL and NTSC Region DVDs on all TVs.
Built-in PAL to NTSC Converter
64 MB Video Converter
Component/Coaxial Output
PAL / NTSC Digital Progressive Scan
Video D/A Converter: 14-bit / 108MHz
Audio D/A Converter: 24-bit / 192KHz
Digital Cinema Progressive Scan (3:2 Pulldown)
Colorstream Pro Component output
Plays any region PAL or NTSC DVD from regions 0-6 including RCE/REA movies
This player does not need a multi-system TV or a external video converter. It will play on your TV out of the box.
Built-in 3 way 64MB PAL to NTSC video converter allows playback of PAL movies on a NTSC TV or NTSC DVDs on a PAL TV. Basically this DVD player will play any region DVD movie on an American TV without any extra equipment, even RCE and REA movies.
64MB pal to ntsc and ntsc to pal converter on board
14-Bit, 108 mhz Video Digital/Analog Converter
Guaranteed that your code free player will play any region DVD from any country in the World.
Guaranteed to play all old, current and future DVD movies including DVDs that are RCE/REA coded.
Auto sensing region code selection
Plays DVD, Audio CD, DVD-R, DVD-RW, DVD+R, Audio CD, MP-3 and WMA on CD-R/CD-RW
JPEG Digital PhotoViewer
Digital Cinema Progressive (3:2 Pulldown)
14-Bit, 108 mhz Video D/A Converter
24-Bit/192 kHz PCM Audio Compatibility
Audio Characteristics Linear PCM, MPEG Audio, Dolby Digital/DTS
Remote Control
This DVD player comes with a 90 days parts and 1 year labor warranty from the manufacturer. We also offer a 30 days exchange warranty on it.
International Region Free DVD Player Model 102 Specifications:
Designs and specifications are subject to change without notice.
DivX Format Playback:
Plays DivX format or AVI files from a CD or DVD disc or on a USB flash drive through the USB input in the front.
USB Input:
Connect a USB flash drive, hard drive, or other USB device to the USB port in the front of the player and play Videos, Audio, or Pictures.
Optical Audio Output & 5.1 Channel Audio Output
110/220V for Worldwide Use:
Digital Cinema Progressive Scan (3:2 Pulldown)
Colorstream Pro Component output
Plays any region PAL or NTSC DVD from regions 0-6 including RCE/REA movies
This player does not need a multi-system TV or a external video converter. It will play on your TV out of the box.
14-Bit, 108 mhz Video Digital/Analog Converter
Guaranteed that your code free player will play any region DVD from any country in the World.
Guaranteed to play all old, current and future DVD movies including DVDs that are RCE/REA coded.
Auto sensing region code selection
Plays DVD, Audio CD, DVD-R, DVD-RW, DVD+R, Audio CD, MP-3 and WMA on CD-R/CD-RW
JPEG Digital PhotoViewer
Digital Cinema Progressive (3:2 Pulldown)
14-Bit, 108 mhz Video D/A Converter
24-Bit/192 kHz PCM Audio Compatibility
Audio Characteristics Linear PCM, MPEG Audio, Dolby Digital/DTS
Remote Control
Connections
Audio Characteristics Linear PCM, MPEG Audio, Dolby Digital/DTS
Analog mixed 2-ch stereo (L, R) audio
Composite Video Yellow / Red / White output
Component Video
USBPort-connects to ext flash disk
This DVD player comes with a 90 days parts and 1 year labor warranty