Details
International SC31 HDMI 1080p Region Free DVD Player
With USB Input & Memory Card Reader
Microphone included for Karaoke features
Multiple Audio and Video Outputs
HDMI, RCA (Yellow Red White, S-video, & Component Output; Plus 5.1 Analog audio output, Coaxial Audio output
This International HD 1080P DVD player produces incomparably smooth picture with movies, concerts, and TV shows on DVD. Equipped with the ability to upconvert any HD TV's picture that has a digital video input into a higher resolution to as much as 1080p, this DVD player also has an HDMI output connection which helps keep signals clear of disruption, producing a much better image quality. This works especially well with the popular LED, LCD, and DLP televisions of today. The International HD 1080p DVD player is compact, yet fully equipped with a wide range of video connections, including analog, so even if you have a TV that doesn't have a digital video input, you won't be missing out on a great DVD picture. You can also listen to all of your favorite music on audio CDs and digital formats like MP3 and WMA (Windows® Media Audio). Additionally, if you have a home theater system, the player's digital audio output allows you to connect the player to your surround sound system so you can enjoy unprecedented sound quality.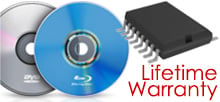 Region Free Playback Guaranteed for Life!
Unlike software or firmware solutions, our region free hardware modifications are guaranteed to play DVD Discs and DVD's from any region for the life of your player!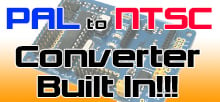 This DVD Player Requires No Extra Video Converter!
No matter where in the world you are, this player works with any TV. Built in NTSC to PAL and PAL to NTSC conversion guarantees DVD playback anywhere!
International Region Free DVD Player HDMI 1080p Model SC31 Product Description:
Plays DVD-R/DVD/DVD-R/DVD-RW/DVD+R/DVD+RW Compatible, SVCD/VCD/CD/CD-R/CD-RW Compatible, DVD
Plays All-Region DVDs: Region 1, 2, 3, 4, 5, 6, 0
Plays PAL and NTSC Region DVDs on all TVs.
Built-in PAL to NTSC Converter
128 MB Video Converter
High Definition HDMI interface 480i/480P/720P/1080P
HD Upconversion upto 1080p (watch your regular DVDs in HD quality)
DivX Playback
Component/Coaxial Output
PAL / NTSC Digital Progressive Scan
Video D/A Converter: 14-bit / 108MHz
Audio D/A Converter: 24-bit / 192KHz
Digital Cinema Progressive Scan (3:2 Pulldown)
Colorstream Pro Component output
Plays any region PAL or NTSC DVD from regions 0-6 including RCE/REA movies
This player does not need a multi-system TV or a external video converter. It will play on your TV out of the box.
Built-in 3 way 128MB PAL to NTSC video converter allows playback of PAL movies on a NTSC TV or NTSC DVDs on a PAL TV. Basically this DVD player will play any region DVD movie on an American TV without any extra equipment, even RCE and REA movies.
128 MB pal to ntsc and ntsc to pal converter on board
14-Bit, 108 mhz Video Digital/Analog Converter
Guaranteed that your code free player will play any region DVD from any country in the World.
Guaranteed to play all old, current and future DVD movies including DVDs that are RCE/REA coded.
Auto sensing region code selection
Plays DVD, Audio CD, DVD-R, DVD-RW, DVD+R, Audio CD, MP-3 and WMA on CD-R/CD-RW
JPEG Digital PhotoViewer
Digital Cinema Progressive (3:2 Pulldown)
14-Bit, 108 mhz Video D/A Converter
24-Bit/192 kHz PCM Audio Compatibility
Audio Characteristics Linear PCM, MPEG Audio, Dolby Digital/DTS
Remote Control
This DVD player comes with a 90 days parts and 1 year labor warranty from the manufacturer. We also offer a 30 days exchange warranty on it.
International HDMI 1080p Region Free DVD Player Specifications:
Designs and specifications are subject to change without notice.
DivX Format Playback:
Plays DivX format or AVI files from a CD or DVD disc or on a USB flash drive through the USB input in the front.
USB Input:
Connect a USB flash drive, hard drive, or other USB device to the USB port in the front of the player and play Videos, Audio, or Pictures.
Optical Audio Output & 5.1 Channel Audio Output
110/220V for Worldwide Use:
Digital Cinema Progressive Scan (3:2 Pulldown)
Colorstream Pro Component output
HDMI OUTPUT
Plays any region PAL or NTSC DVD from regions 0-6 including RCE/REA movies
This player does not need a multi-system TV or a external video converter. It will play on your TV out of the box.
14-Bit, 108 mhz Video Digital/Analog Converter
Guaranteed that your code free player will play any region DVD from any country in the World.
Guaranteed to play all old, current and future DVD movies including DVDs that are RCE/REA coded.
Auto sensing region code selection
Plays DVD, Audio CD, DVD-R, DVD-RW, DVD+R, Audio CD, MP-3 and WMA on CD-R/CD-RW
JPEG Digital PhotoViewer
Digital Cinema Progressive (3:2 Pulldown)
14-Bit, 108 mhz Video D/A Converter
24-Bit/192 kHz PCM Audio Compatibility
Audio Characteristics Linear PCM, MPEG Audio, Dolby Digital/DTS
Remote Control
Connections
Audio Characteristics Linear PCM, MPEG Audio, Dolby Digital/DTS
Analog mixed 2-ch stereo (L, R) audio
5.1-channel RCA audio for Home theater or Receivers
coaxial digital audio output
Composite Video Yellow / Red / White output
S-Video Output
Component Video
HDMI OUTPUT
USB Port allows playback from external USB device
Media card slot supports MS / MMC / SD card
This DVD player comes with a 90 days parts and 1 year labor warranty
← Back to product description



DVD All Regions

Region Free DVD Playback. Code Free, Multi-Region, Multi-Zone




Will play DVD movies from anywhere in the world.




Plays DVDs from any region including region 0, 1, 2, 3, 4, 5, 6, 7 and 8


Region Free Playback Guaranteed for Life!



DivX Compatible

With DivX® support, you are able to enjoy DivX® encoded videos.




Memory Card Reader

A memory card reader is a device usually having a USB interface. This allows it to access the data on a memory card such as a Compact Flash (CF), Secure Digital (SD) or MultiMedia Card (MMC). There are three categories of memory card readers sorted by the type and quantity of the card slots: single card reader, multi card reader and series card reader.



HDMI Output

HDMI output with output resolution selection to the max your tv can handle: 1080p, 720p, 1080i, or 720i




Progressive Scan

Progressive scan




PAL / NTSC conversion

Works on any TV, anywhere in the world.




Will convert NTSC to PAL and PAL to NTSC with perfect picture quality.




Plays Pal NTSC and Secam DVDs on any TV with Perfect video conversion.




World Wide Voltage

Works with world wide electricity 100-240 volts volts 50/60 hz. Can be used with electricity in North America or any other place in the world.ALL of our Multisystem TV's operate on ALL Global voltages, including 110, 120 Volts and 220, 230, 240 Volts.



USB Input

USB stands for Universal Serial Bus. A USB port is a cable connection interface used on personal computers and consumer electronics. USB ports allow stand-alone electronic devices to be connected via cables to a computer or to each other.



1080p Upconversion

HDMI upconversion will convert your analog video signals to offer a much clearer, sharper HD image, with less artifacts
← Back to product description