Details
Hitachi L47X03A Multi System LCD TV; PAL, NTSC and Secam 110 - 240 Volts
Hitachi's new 47" L47X03A offers full HD 1080p resolution with 120 hertz technology for the best multi-System Video experience. It works on any voltage and any video system world wide.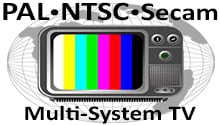 Multi-System TV - PAL, NTSC and Secam
This multisystem TV is compatible with PAL, NTSC and Secam video formats. You can use this television anywhere in the world with ANY type of video device!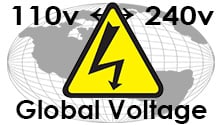 Worldwide Voltage - 110v, 120v, 220v, 230v and 240 volt!
Global Dual Voltage on this Multi-system TV means it can be used anywhere. Multi-voltage TV's can be used in any country with voltage from 110 volts to 240 volts!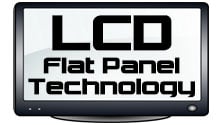 Space-Saving LCD Flat Panel Technology
Multi-System LCD TV's offer stunning video performance and a great value. Enjoy High Definition video in a space-saving flat panel design with this multisystem TV.
Hitachi L47X03A Multi System LCD TV Description:
Model: Hitachi L47X03A Multi System LCD TV
Full HD 1920 X 1080p resolution
120 Hertz for best video
Screen size 47" Wide Screen 16 X 9
High Standard in Panel Luminance and Contracts Ratio
To watch Hi definition you need a HiDef TV service like digital cable, digital satellite or HDMI DVD Player
Tunes TV channels for PAL BG, PAL I, SECAM DK, NTSC M
Video Input for PAL, SECAM, Pal-N, Pal-M, NTSC
1080p LCD panel 1920 X 1080 resolution
TV supports 1080p input
10,000:1 Contrast Ratio
50:000:1 Dynamic Contrast Ratio
Brightness : 450 cd/m2
120Hz/100Hz Conversion
Built-in Full Multi-system TV Tuners for world wide use reception in any country.
Panel Life : 60,000hrs
Unique FC5 Digital Image Pixel Processor
Digital Color Management
Horizontal / Vertical Viewing Angle : Free
Convenient Swivel Stand
Audio Volume Leveler
Detachable Speakers
47" HDMI digital inputs for Hi Definition TV (All inputs 1.3 speed)
Component Video 480i/p / 575i/p / 720p(60) / 1080i(50/60) / 1035i / 1080p
Analog RGB Signal VGA - UXGA / 1080i(50/60)
RF MultiplexNicam/A2
Power Supply: AC 110-240 Volt, 50/60 Hz
Power Consumption: 280 W
Dimension without stand 1067mm X 713mm X 113mm (W X H X D)
Dimension with stand 1150mm X 800mm X 365mm (W X H X D)
Weight : 54 kg
Hitachi L47X03A Multi System LCD TV Specifications:
Designs and specifications are subject to change without notice.
Display
Screen size: 47 inches
Effective Display Area(HxV, mm): 1039 x 584 (diagonal 1192)
Aspect Ratio: 16:9
Number of Pixels (HxV): 1920 x 1080
Pixel Pitch: 0.54 mm x 0.54 mm
Viewing Angle: 178°(all angles)
Panel Luminance (white peak): 450 cd/m2
Response time (ms): 4
Hitachi L47X03A Multisystem LCD Picture
Comb Filter: 2D 3D Comb Filter
Digital Noise Reduction
MPEG Noise Reduction
Picture Mode: 3 (Dynamic / Natural / Cinema)
White Balance: 3 (Cool / Normal / Warm)
Dynamic Contrast
3D Colour Management
Film Mode
Hitachi L47X03A Multisystem LCD Input Signal
RF: U/V Tuner x 1
System: NTSC-M; SECAM B/G, D/K, K1; PAL B/G, D/K, I, H
RF Multipex: A2 / NICAM
Teletext: 300 pages
Video Signal: PAL, SECAM, NTSC 3.58, NTSC 4.43, PAL 60, PAL-N, PAL-M
Component Signal: 480i/p, 576i/p, 720p (50/60), 1080i (50/60)
HDMI Signal (video mode): 480i/p, 576i/p, 720p (50/60), 1080i (50/60), 1080p (24/50/60)
Analogue RGB Signal: VGA-WXGA
Hitachi L47X03A Multisystem LCD Signal Input and Terminals
RGB Input (RGB): (RGB) + (L, R): Mini D-sub 15P + Mini jack
HDMI / RGB Audio (analogue) Input: (L,R) RCA Pin
Video Input:
AV1: (CVBS) + (L, R) RCA Pin
AV2: (CVBS/S-Video) + (L, R) RCA Pin
AV3: (Y, PB, PR) + (L, R) RCA Pin
AV4: (Y, PB, PR) + (L, R) RCA Pin
HDMI1
HDMI2
HDMI3
HDMI4
Hitachi L47X03A Multisystem lcd Signal Output
Headphone Jack
Subwoofer Output
A/V Output: (L, R): RCA Pin
Hitachi L47X03A Multisystem LCD Sound
Surround
Sound Correction
Sound Mode: 4 (Favourite / Movie / Music / Speech)
Audio Power (RMS): 10W + 10W
Hitachi L47X03A Multisystem LCD Operation
Timer (On / Sleep)
Freeze
Multi Picture Function: PIP, Split
Wide Mode (Picture Size): (TV/video) SD
4:3 / Panoramic 1 / Panoramic 2 / Zoom / Cinema / Full
(TV/video) HD: Full 1 / Full 2 / 4:3 Zoom
PC: 4:3 / Full
General info on Hitachi L47X03A Multisystem lcd
Power Supply: AC 110-240V, 50-60Hz
Power Consumption / Standby: 330 / <2W
Dimension (W x H x D):
1150 x 800 x 365 mm (with stand)
1150 x 748 x 97.5 mm (without stand)
Weight: 32.3 kg (with stand) / 26.8 kg (without stand)
Table-Top: Manual Swivel Stand