Details
Harman Kardon BDS-5 Region Free Blu-Ray Player with 5.1 Amplifier Receiver
High Definition Video and Audio from All Sources
Designed to bring the movie theatre experience right to your home, the Harman Kardon BDS-5 Region Free Blu-Ray Player with 5.1 Amplifier Receiver combines an impressive range of today's most sought-after features and technologies into one sleek, top-of-the-line A/V receiver. Specializing in 'wow' factor, the BDS 5 has a Blu-ray Disc player, 5.1-channel digital amplifier and the very latest in Dolby and DTS surround sound decoding all blended into a single, outstanding system. Delivering amazing sound reproduction with the highest-resolution picture and sound quality possible (thanks to an HDMI 1.3a output), the BDS 5 entertains at every turn and even has an intuitive on-screen menu to get novices up and running with the greatest of ease.
Superb 5.1-Channel A/V Receiver
Dolby Digital and DTS Surround Sound Decoding
Reads Blu-ray Disc, DVD and CD Recordings
HDMI 1.3a Output
Front-Panel USB Port
Intuitive On-Screen Menu
Stylish, Sleek and Compact Design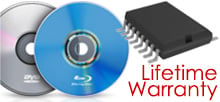 Region Free Playback Guaranteed!
Unlike software or firmware solutions, our region free hardware modifications are guaranteed to play Blu-Ray Discs and DVD's from any region!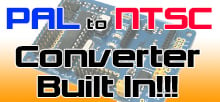 This Blu-Ray Player Requires No Extra Video Converter!
No matter where in the world you are, this player works with any TV. Built in NTSC to PAL and PAL to NTSC conversion guarantees Blu-Ray & DVD playback anywhere!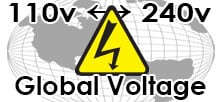 Worldwide Voltage - 110v, 120v, 220v, 230v and 240 volt!
Global Dual Voltage on this BDS5 Blu-Ray Player means it can be used anywhere. A Multi-voltage Blu-Ray Player can be used in any country with voltage from 110 volts to 240 volts!
Region Free Harman Kardon BDS-5 Blu-Ray Player Features...
Highlights
Superb 5.1-Channel A/V Receiver – Make room for a multitalented full-line media player that plays music, movies and multimedia – from one vastly capable system
Dolby Digital and DTS Surround Sound Decoding – Hear TV or film soundtracks with superb surround sound and optimal clarity – the way the filmmaker intended
Reads Blu-ray Disc, DVD and CD Recordings – Plays most recordable media even MPEG-1, MPEG-2, MP3, WMA and JPEG files through the USB port
Stylish, Sleek and Compact Design – Complementary space-saving design fits your life and living room while performing the same as a full-size system
HDMI 1.3a Output – Enjoy the highest-quality, HD standard for digital video (1080p) and high-resolution audio
Front-Panel USB Port – Easy, temporary connection lets you play music, video and picture files from portable players or flash drives
Learning Remote – Control your entire A/V system – as well as your TV, cable box or satellite tuner – with one easy-to-use preprogrammed remote
Intuitive On-Screen Menu – Makes setting up and using the receiver easy – even for novices
Key Features
iPod/iPhone compatibility – System connects to iPod and iPhone via harman kardon The Bridge IIIP dock (not included)
Digital amplifier technology: Keeps audio signals in the digital domain from source to output – reducing conversion artifacts, improving sound quality and generating less heat
Extensive connectivity: Three digital inputs and two line outputs give you the opportunity to expand your system by connecting other audio components
Ethernet port: Connect to your home network and experience next-generation interactive content through BD-Live
Heavy-duty gold-plated binding posts: Benefit from ultra-secure speaker connections and compatibility with a variety of speaker wire
Playlist function: Automatically recalls your favourite files stored on USB or CD-R discs, with minimal button pushing
Dot matrix information display: Delivers status messages and allows you to listen to music on the BDS system – without having to turn on the TV
Cover art display function: See album cover and artist info while playing audio files with ID3 tags
Screen-saver function: Prevents image burn-in on CRT and plasma displays
Detachable IEC power cord: Simplify installation by running the power cord to the installation site – before installing the unit
Upgradable firmware: Get system upgrades via the on-screen display to constantly keep your BDS receiver up to date
Headphone jack: Enjoy private listening when you plug stereo headphones directly into the BDS receiver
Specifications
Audio Section
Continuous average power, stereo mode: 65 watts per channel
20Hz – 20kHz, @ <0.1% THD, both channels driven into 6 ohms
Multichannel power: 65 watts per channel, 20Hz – 20kHz, @ <0.1% THD, all channels driven into 6 ohms
Input sensitivity/impedance (line inputs): 250mV/46k ohms
Signal-to-noise ratio (IHF-A): –90dB
Frequency response @ 1W (±0.5dB): 20Hz – 20kHz
Slew rate: 40V/µsec
FM Tuner Section
Frequency range: 87.5MHz – 108.0MHz (US and EU)
Usable sensitivity IHF: >14dBf
Signal-to-noise ratio (mono/stereo): –60dB/–55dB
Distortion mono/stereo: 0.3%/0.5%
Stereo separation: –45dB @ 1kHz
Image rejection: –70dB
IF rejection: –80dB
Disc Player Section
Supported disc formats: 12cm (5-inch) or 8cm (3-inch) BD-Video (single-layer or double-layer), DVD-Video, DVD+R/+RW, DVD-R/-RW, CDDA (CD audio), CD-R/RW discs
Region code (BD/DVD): A/1 (USA); B/2 (EU)
Audio formats: Dolby Digital, Dolby Digital Plus, Dolby TrueHD, DTS Digital, DTS-HD High Resolution Audio, DTS-HD Master Audio, PCM, WMA (DRM-free version only): WMA9, CBR @192kbps, VBR @ 355kbps, MP3: 32kbps – 320kbps bitrates, including variable-bitrate encoding
Still-image format: JPEG
Video signal system: nTSC (USA) or PAL (EU)
Frequency response: 20Hz – 20kHz ±0.5dB
Signal-to-noise ratio: –90dB (A-weighted)
Dynamic range: 90dB (16-bit)
THD/1kHz: DVD/CD: 0.1%
Wow & flutter: Below measurable limits
Video Section
Television format: nTSC or PAL (selectable)
HDMI version: 1.3a, with 30/36-bit Deep Colour
General
Power requirement: 110 – 240V AC, 50/60Hz
Power consumption: 110W maximum; <1W standby
Dimensions (H x W x D): 102mm x 401mm x 260mm (4" x 15-25/32" x 10-1/4")
Weight: 6.5kg (14.3 lb)
← Back to product description



DVD All Regions

Region Free DVD Playback. Code Free, Multi-Region, Multi-Zone




Will play DVD movies from anywhere in the world.




Plays DVDs from any region including region 0, 1, 2, 3, 4, 5, 6, 7 and 8


Region Free Playback Guaranteed for Life!



Blu-ray All Regions

Region Free Blu-ray Playback. Code Free, Multi-Region, Multi-Zone
Will play Any Blu-ray Disc from anywhere in the world.
Plays Blu-rays from any region including regions A, B, & C




World Wide Voltage

Works with world wide electricity 100-240 volts volts 50/60 hz. Can be used with electricity in North America or any other place in the world.ALL of our Multisystem TV's operate on ALL Global voltages, including 110, 120 Volts and 220, 230, 240 Volts.



PAL / NTSC conversion

Works on any TV, anywhere in the world.




Will convert NTSC to PAL and PAL to NTSC with perfect picture quality.




Plays Pal NTSC and Secam DVDs on any TV with Perfect video conversion.




HDMI Output

HDMI output with output resolution selection to the max your tv can handle: 1080p, 720p, 1080i, or 720i




USB Input

USB stands for Universal Serial Bus. A USB port is a cable connection interface used on personal computers and consumer electronics. USB ports allow stand-alone electronic devices to be connected via cables to a computer or to each other.



1080p Upconversion

HDMI upconversion will convert your analog video signals to offer a much clearer, sharper HD image, with less artifacts

Shipping Group: Bluray
← Back to product description