Details
Toshiba 40AV700 Multi System LCD TV; PAL, NTSC and Secam 100-240 Volts:
The new Toshiba 40AV700 HD 1080p LCD TV breaks new ground with their newest 40" LCD TV. It has all the high end features at a really affordable price.
Full HD 1920 X 1080 Resolution
480i, 576i, 480p, 576p, 1080i, 720p, 1080p Video Signal INPUT
World-Wide NTSC/PAL BG/PAL I/Secam BG, DK/ PAL DK TV tuners
110-240 Volts for world wide use
50,000:1 Dynamic Contrast Ratio for superb quality Picture
Meta Brain Pro Engine, Newly designed for the best picture quality, vivid, smooth, brilliant image, with crystal clear clarity
ONLY 2 Inches thick LCD panel, can be wall mounted
Intelligent backlight control
4 HDMI inputs with newest HDMI version 1.3 compatibility
Incorporates HDMI V1.3 (High-Definition Multimedia Interface) which provides the ideal full-digital signal connection between digital video and audio sources. It combines the advantages of exceptional picture quality, user-friendliness and compatibility into one advanced digital cable and terminal.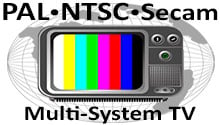 Multi-System TV - PAL, NTSC and Secam
This multisystem TV is compatible with PAL, NTSC and Secam video formats. You can use this television anywhere in the world with ANY type of video device!
Worldwide Voltage - 110v, 120v, 220v, 230v and 240 volt!
Global Dual Voltage on this Multi-system TV means it can be used anywhere. Multi-voltage TV's can be used in any country with voltage from 110 volts to 240 volts!
Space-Saving LCD Flat Panel Technology
Multi-System LCD TV's offer stunning video performance and a great value. Enjoy High Definition video in a space-saving flat panel design with this multisystem TV.
Toshiba 40AV700 Multi System LCD TV; PAL, NTSC and Secam 100-240 Volts Description:
Power Meta Brain:
True to Toshiba's effort in continually producing high picture quality, now the latest Power Meta Brain engine not only houses the technologies which perfectly answer the 5 core visual aspects of display goals: Real, Clean, Clear, Smooth and Original but also encompasses the 10-Bit Video Processing technology to create 1 billion colors and smoother gradation.
Full HD:
Toshiba REGZA Full High Definition LCD TV seizes the maximum potential of the HD resolution. The LCD panel holds the exact number of pixels (1920 x 1080) to allow pixel-to-pixel reproduction of 1080i/1080p HD contents. Standard definition contents can also be enriched to fit the HD resolution, resulting in finer images on screen.
AutoView
AutoView is Toshiba's most advanced solution for achieving the best possible picture quality at all times. It monitors room brightness and automatically adjusts the backlight and various picture parameters accordingly. It also continually analyses the image (light and dark pixels), adjusting to maintain maximum contrast. AutoView monitors, analyses and "fine tunes" the picture for highest quality at all times. AutoView monitors, analyses and "fine tunes" the picture for highest quality at all times.
10-Bit video processing
10-Bit Video Processing maintains the 10-bit quality of input data quality during video processing which produces over 1 billion colours, resulting in more natural picture creation.
10-Bit Video Processing and panel (right) provides richer, more natural colours.
The Power Meta Brain / Meta Brain Pro 100 engines deploy a powerful LSI that uses 5 advance technologies to achieve 10-bit processing for all stages from input to output. While 8-bit technology can produce 16 million colours, 10-bit produces 64 times as many, or over 1 billion colours. This much larger quantity of data means that the colours you see are more accurate and the transitions between colours are smoother. The result is a much more realistic picture, delivering all the vivid colour intensity that was present in the original source.
Exact Scan Mode
The Exact Scan Mode maximizes the performance of Full HD panels by displaying the full HD image of 1920 x 1080 in REGZA Full HD models.When a HD video signal (1080i/1080p) is input into a conventional WXGA LCD panel (1366 x 768), the signal undergoes a scaling process, which does not output the true quality of the HD 1080i/1080p signal. Consequently, there will only be 92% of the original picture displayed on screen after scaling with Exact Scan Mode, uncompromising pixel-to-pixel reproduction is created, achieving a true-to-original 1080i/1080p input signal quality.
Intelligent Backlight Control
Precise adjustment of the backlight behind the pixel array is necessary to obtain optimum picture quality. In REGZA LCD TVs, the brightness of the backlight is automatically adjusted according to a sophisticated histogram analysis of the brightness and location of dark portions in each scene. Deeper blacks in dark scenes (where dark portions cover most of the screen) are reproduced by reducing the intensity of the backlight, resulting in greatly improved contrast. Intelligent Backlight Control (right photo) improves the contrast in dark scenes.
3D Colour Management
Most TVs have a colour adjustment knob, but REGZA LCD TVs go much further, enabling you to adjust hue, saturation and colour brightness for each of the six basic colours separately. You can perfectly adjust skin colour or grass colour, for example, without affecting the other colours.
3D Colour Management (right photos) lets you achieve the best possible colour balance
Regza Link
With REGZA link function, REGZA TV remote control unit will be able to communicate with other devices with HDMI-CEC functions connected via the HDMI terminals to operate the functions of connected components like a DVD player and PC.
SRS WOW
Enjoy true home theatre experience with the built-in SRS WOW sound system. SRS WOW is a combination of three unique sound field enhancements. SRS 3D creates a wider sound field. SRS TruBass boosts bass frequency perpception for more dramatic low frequency effects. SRS FOCUS enhances the precise localization and clarity of sound based on the standard speaker system.
Toshiba 40AV700 40' Multi System LCD TV; PAL, NTSC and Secam 100-240 Volts Specifications:
Designs and specifications are subject to change without notice.
Key Features:
World-Wide NTSC/PAL/SECAM Color System - Watch any video signal on this TV!
World-Wide NTSC/PAL BG/PAL I/Secam BG, DK/ PAL DK TV tuners
If DVBT or ATSC is required a cable box, satellite receiver, or TV tuner must be used.
Full HD 40-inch LCD TV with 1920 x 1080 1080p Resolution
Widescreen 16 X 9 Format
Intelligent Back light control
Exact Scan Mode
Toshiba 40AV700 Multi system LCD TV has excellent video and sound quality.
Multi Language OSD- English / French / Russian / Simplified Chinese/
Thai / Malay / Vietnamese / Arabic/ Persian On screen Display
Native scan Capture (1080P 60/50/24 Hz)
3D color Management
4 HDMI 1.3 Terminals
REGZA Link (HDMI CEC)
Super Slim Speaker System
SRS Now
Piano Black Finish
Toshiba 40AV700 has aexcellent 50,000:1 Dynamic Contrast Rationwhich provides incredible images whether you're watching dark or bright scenes!
60,000-Hour Lamp Life
1.07 Billion Colors (1,024 Tones)
1/60 second Real Speed Progressive
6.22 Million Pixels Over-sampling and Scaling System
Real digital picture
New Digital Platform
Magic Square Algorithm
Real speed Progressive Scan
RGB PC Terminal
Over Sampling Scaling
Nicam Stereo receiver
176 degree Wide Viewing Angle
Toshiba's LCD backlight life is long enough to give you viewing pleasure for many years.
Image Inverter for Custom Installations
allows you to invert the image upside-down or "mirror" image if you need to hang it in an unconventional manner.
PC Inputlets you connect your computer and view your PC images on the 40" WXGA panel
Lamp Life:60,000 hours
Viewing Angles:176
Comb Filter 3D Y/C
PC Input
Audio System:10W + 10W
4 HDMI inputs New version V1.3
RF input for PAL, NTSC and Me-secam
2Component Input (Y/Pr/Pb )
S-Video Input
2 Composite (AV) Video Input
Composite (AV) Video Output
3.5mm Mini Jack Head Phone Jack
Power Consumption AC:250W
Audio Output: RCA: L/R x 1
ENERGY STAR® Compliant
Dimensions
Dimension (W x H x D) mm without Stand: 976 x 623 x 78
Dimension (W x H x D) mm with Stand: 976 x 666 x 241
Weight (Net) kg without Stand 12.9
Weight (Net) kg with Stand 14.0
World-wide Dual Voltage 110-240 volts 50-60 hertz
All Multi system TVs have:

90 days labor
1 year parts warranty from our company in USA
1 year Limited warranty from Toshiba, in applicable countries

This is a multisystem TV. All Multi System TVs in the market do not have a ATSC digital TV tuner: What does this mean?To watch digital channels (ATSC Broadcasting in US) you need a digital source/tuner like a cable box, digital tuner, satellite service, etc. If you don't have this, you will need to purchase a Set Top TV converter box. You may purchase one of these from us for $49 if you wish. However, to get the best quality video on this TV you need a source that has a digital connection like HDMI or component.
← Back to product description



Full HD 1080p

1920x1080p resolution is an HDTV high-definition video mode characterized by 1080 horizontal lines of vertical resolution. As of 2012, most consumer televisions being sold provide 1080p inputs mainly with HDMI and support full high-def resolutions. 1080p resolution is available in all types of televisions, including plasma, LCD and LED.



Built-In Analog Pal, NTSC, and Secam TV tuner

Analog Pal, NTSC, and Secam tuner built in for world wide use for analog tuning. If you are in a country that utilizes digital tuning such as DVBT or ATSC a Cable Box or Satellite receiver is needed. If You have any questions regarding this please call us. With the appropriate setup this TV can be used anywhere in the world.




USB Input

USB stands for Universal Serial Bus. A USB port is a cable connection interface used on personal computers and consumer electronics. USB ports allow stand-alone electronic devices to be connected via cables to a computer or to each other.
← Back to product description