May we suggest
This is a 39" 1920 x 1080 Resolution Full HD LED TV with the REGZA Engine and World Wide Dual Voltage!Shop Now >>
Details
Toshiba 40BP200 Multi-System LED TV
Toshiba 40BP200 Multi-System LED TV is built for the 110-240 volt market! This Toshiba has the REGZA Engine developed by Toshiba which reproduces high resolution images to enhance the signals to reach the highest video quality. The LED backlight makes colors more vibrant, and also reduces the amount of energy consumption. It has full HD 1080P, a 10-Bit video processor allows for 1 billion colors, 64 times as many colors as the conventional 8-bit processor, Contrast Booster automatically fixes the picture from being too dark or too light, to ensure for an incredible and unforgettable viewing experience.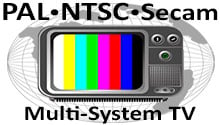 Multi-System TV - PAL, NTSC and Secam
This multisystem TV is compatible with PAL, NTSC and Secam video formats. You can use this television anywhere in the world with ANY type of video device!
Worldwide Voltage - 110v, 120v, 220v, 230v and 240 volt!
Global Dual Voltage on this Multi-system TV means it can be used anywhere. Multi-voltage TV's can be used in any country with voltage from 110 volts to 240 volts!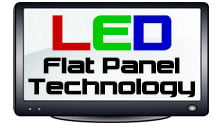 Space-Saving LED Flat Panel Technology
Multi-System LED TV's offer stunning video performance and a great value. Enjoy High Definition video in a space-saving flat panel design with this multisystem TV.
Toshiba 40BP200 Multi-System LED TV Description:
REGZA Engine
REGZA Engine is the advanced video processing circuit developed by Toshiba. This advanced video processing technology reproduces high resolution images by using complex calculations to enhance the received signals to the highest video quality.
10 Bit Video Processing
10-bit Video Processing maintains the 10-bit quality of input data quality during video processing and produces over 1 billion colours, or more that 64 times as many colours as the conventional 8-bit processors. This much larger quantity of data means that the colours you see are more accurate and the transition between colours are much smoother. The result is more realistic picture, delivering all the colour intensity and smoothness of the original source.
Full HD 1080P
Toshiba REGZA Full High Definition LCD TV seizes the maximum potential of the HD resolution. The LCD panel holds the exact number of pixels (1920 x 1080) to allow pixel-to-pixel reproduction of 1080i/1080p HD contents. Standard definition contents can also be enriched to fit the HD resolution, resulting in finer images on screen.
LED Backlight
LED technology is an advanced backlighting system that guarantees new levels of picture clarity by constantly adapting to the images on the screen. Colours are made more vibrant and contrast between light and dark is more pronounced, providing dramatically improved performance, while overall energy consumption is reduced
HDMI Terminals
HDMI TERMINALS (High Definition Multimedia Interface) - is the industry-first uncompressed, all-digital video and audio connection which supports high definition video signals and multi-channel audio signals. HDMI combines the advantages of originality, high picture quality, user-friendliness, and compatibility into one advance digital cable and terminal. All Toshiba REGZA LCD TVs are equipped with HDMI terminal.
Contrast Booster
When adjusting the contrast of the picture, the original colour of the picture is affected together with the adjustment. These contrast adjustments can result in the picture colour being too dark or too bright. With the new Contrast Booster, a complex luminance and chrominance adjustment process selects the optimal colour on the picture contrast without affecting the original colour settings.
20W Audio Output
Any great TV should sound as good as it looks. Whether it's the two smartly hidden built-in speakers or the dedicated sound bar that houses 20W high power speakers, the stylish speaker profile completes the aesthetics to complement the narrow bezel design.
Toshiba 40BP200 40" Multi-System LED TV Specifications
Key Features:
Worldwide NTSC, PAL BG, PAL I, Secam BG, DK/ PAL DK TV tuners
Worldwide NTSC/PAL/SECAM Color System
Full HD 1920 X 1080p resolution
Intelligent Backlight Control with 3D Colour Management
10-Bit Video Processing
1 HDMI input
14-bit Video Processing 
Invisible Speakers
Worldwide voltage: 100-240 Volts 50/60 HZ
Main Specs
Product Type : LED
Screen Type : 40
Aspect Ratio : 16:9
Dynamic Contrast Ratio : 10,000:1
Brightness : 250
Resolution : 1920 x 1080
Viewing Angles (Degrees):178
Panel Response Speed (ms):14
Signals
Receiving System : PAL I/ BG/ DK, SECAM BG/ DK, NTSC M/ BG 4.43
Colour System : PAL, SECAM, NTSC 3.58 / 4.43
Video Signal : 480i/480p (60Hz), 576i/576p (50Hz), 720p (50/60Hz), 1080i (50/60Hz), 1080p (50/60Hz) through HDMI
RGB Signal* : VGA, SVGA, XGA, WXGA, SXGA
Video
Video Engine : REGZA ENGINE
Video processing : 10 BIT
Autoclean : O
Auto Signal Booster : O
Contrast Booster : O
3D Colour Management : O
Comb Filter : 3D Y/C (PAL & NTSC)
Intelligent Backlight Control : O
Mpeg Noise Reduction : O
Real Digital Picture : O
Picture Mode : AutoView / Dynamic / Standard / Mild / Movie / Eco mode / Game / PC
Audio
Power Bass Booster : O
Stereo System : NICAM B/G, I, D/K, & German Stereo B/G, D/K
Speakers : (4.0 x 12cm) x 2
Audio Output : 10W X 2
Connection
Antenna Input : 1
EXT 1 : Input : Composite Video + Component + RCA Audio
EXT 2 : Input : Composite Video + RCA Audio
EXT 3 : Input : HDMI 1
EXT 4 : Input : HDMI 2 (3.5mm Mini Jack, Common with PC Audio)
PC Input : D-Sub 15 Pin (3.5mm Mini Jack common with HDMI 2 Audio)
Output : RCA Audio
Digital input : USB (Side)
General
Automatic Voltage Regulator : 110-240V 50/60Hz
Power Consumption (W) : 40
Dimension (W x H x D) mm without Stand : 548 x 396 x 46
Dimension (W x H x D) mm with Stand : 548 x 423 x 135
Weight (Net) kg without Stand : 3.9
Weight (Net) kg with Stand : 4.4
← Back to product description



Full HD 1080p

1920x1080p resolution is an HDTV high-definition video mode characterized by 1080 horizontal lines of vertical resolution. As of 2012, most consumer televisions being sold provide 1080p inputs mainly with HDMI and support full high-def resolutions. 1080p resolution is available in all types of televisions, including plasma, LCD and LED.



Built-In Analog Pal, NTSC, and Secam TV tuner

Analog Pal, NTSC, and Secam tuner built in for world wide use for analog tuning. If you are in a country that utilizes digital tuning such as DVBT or ATSC a Cable Box or Satellite receiver is needed. If You have any questions regarding this please call us. With the appropriate setup this TV can be used anywhere in the world.




USB Input

USB stands for Universal Serial Bus. A USB port is a cable connection interface used on personal computers and consumer electronics. USB ports allow stand-alone electronic devices to be connected via cables to a computer or to each other.
← Back to product description