Details
Toshiba 32HV10 Multi System LCD TV; PAL, NTSC and Secam 110 - 240 Volts:
Toshiba's new 32HV10 panel offers a amazing 50,000:1 contrast ratio and has HDMI input and Analog inputs allowing you to connect HD and Normal devices making you totally equipped for present and future HD needs. The Toshiba 32HV10e Multi system lcd tv is an excellent Multi system TV for the price. Excellent build in design quality, outstanding 50,000:1 Contrast ratio, and extra slim and light weight design puts this LCD ahead of any other in it's class in the same price range. Of course this model will work anywhere in the world and has Pal/NTSC/Secam support and 110-240 volts so you can use it in the USA or take it abroad.
32-inch Multi-System LCD TV
10-Bit Video Processing
Intelligent Backlight Control
3D Management
HDMI and Analog inputs
HD Ready
Power Meta Brain
AutoView
Auto Signal Booster
Widescreen 16 X 9 Format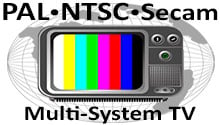 Multi-System TV - PAL, NTSC and Secam
This multisystem TV is compatible with PAL, NTSC and Secam video formats. You can use this television anywhere in the world with ANY type of video device!
Worldwide Voltage - 110v, 120v, 220v, 230v and 240 volt!
Global Dual Voltage on this Multi-system TV means it can be used anywhere. Multi-voltage TV's can be used in any country with voltage from 110 volts to 240 volts!
Space-Saving LCD Flat Panel Technology
Multi-System LCD TV's offer stunning video performance and a great value. Enjoy High Definition video in a space-saving flat panel design with this multisystem TV.
Toshiba 32HV10 Multi System LCD TV Description:
Meta Brain Pro:
True to Toshiba's effort in continually producing high picture quality, now the latest Power Meta Brain engine not only houses the technologies which perfectly answer the 5 core visual aspects of display goals: Real, Clean, Clear, Smooth and Original but also encompasses the 10-Bit Video Processing technology to create 1 billion colors and smoother gradation.
10Bit Processing
10-Bit Video Processing maintains the 10-bit quality of input data quality during video processing which produces over 1 billion colours, resulting in more natural picture creation.
10-Bit Video Processing and panel (right) provides richer, more natural colours.
Intelligent Backlight Control
Precise adjustment of the backlight behind the pixel array is necessary to obtain optimum picture quality. The Intelligent Backlight Control does this automatically, using a sophisticated histogram analysis of the brightness and location of dark portions in each scene. Deeper blacks in dark scenes are reproduced by reducing the intensity of the backlight, resulting in greatly improved contrast.
3D Colour Management
This advanced technology allows you to adjust hue, saturation and colour brightness for each of the six basic colours separately. You can perfectly adjust skin colour or grass colour, for example, without affecting the other colours.
3D Colour Management (right photos) lets you achieve the best possible colour balance.
Toshiba 32HV10 Multi System LCD TV; PAL, NTSC and Secam 110 - 240 Volts Specifications:
Designs and specifications are subject to change without notice.
Features
World-Wide NTSC/PAL/SECAM Color System
World-Wide NTSC/PAL BG/PAL I/Secam BG, DK/ PAL DK TV tuners
World-wide Dual Voltage 110-240 volts 50-60 hertz
32-inch Multi-System LCD TV
Built-in NTSC/PAL BG/PAL I/Secam BG, DK/ PAL DK TV tuners enables you to plug your cable TV line right into the TV and start watching.
Widescreen 16 X 9 Format
50,000:1 contrast ratio provides incredible images whether you're watching dark or bright scenes!
Power Meta Brain
WXGA Panel 1366x768
HD Ready (1080p/1080i/720p)
10-Bit Video Processing
Auto Signal Booster
AutoView
Intelligent Backlight Control
3D Colour Management
Dimensions with Stand (WxHxD) 786 x 568 x 221 mm
Aspect Ratio 16:9
Dynamic Contrast Ratio 50,000 : 1
Brightness (cd/m2) 420
Resolution (H x V) 1366 x 768
Viewing Angle (Degrees) 178
Panel Response Speed (ms) 20

Visual

Video Engine Meta Brain Pro
Video processing 8 Bit
Comb Filter 2D Y/C (PAL & NTSC)
Real Digital Picture

Audio

Stereo System NICAM B/G, I, D/K, & German Stereo B/G, D/K
Speakers Main (4 x 12cm) x 2
Audio Output 5W X 2

Features

Multilingual OSD English / French / Russian / Thai / Malay / Vietnamese / Arabic/ Persian
Hotel Mode** O

Connection

Antenna Input 1
EXT 1 Composite Video + RCA Audio
EXT 2 Composite Video + Component + RCA Audio
EXT 3 HDMI

Signals

Receiving System PAL I/ BG/ DK, SECAM BG/ DK, NTSC M/ BG 4.43
Colour System PAL, SECAM, NTSC 3.58 / 4.43
Video Signal 480i/480p (60Hz), 576i/576p (50Hz), 720p (50/60Hz), 1080i (50/60Hz), 1080p (50/60Hz) through HDMI

General

Automatic Voltage Regulator 110-240V 50/60Hz
Power Consumption (W) 85
Dimension (W x H x D) mm without Stand: 784 x 510 x 76 mm
Dimension (W x H x D) mm with Stand: 784 x 518 x 160 mm
Weight (Net) kg without Stand: 7.7 KG
Weight (Net) kg with Stand: 8.0 KG
← Back to product description
Featured Products




HD 720

720p is a progressive HDTV resolution signal format with 720 horizontal lines. All major HDTV broadcasting standards include a 720p format which has a resolution of 1280×720. The number 720 stands for the 720 horizontal scan lines of image display resolution (also known as 720 pixels of vertical resolution), while the letter p stands for progressive scan.



Built-In Analog Pal, NTSC, and Secam TV tuner

Analog Pal, NTSC, and Secam tuner built in for world wide use for analog tuning. If you are in a country that utilizes digital tuning such as DVBT or ATSC a Cable Box or Satellite receiver is needed. If You have any questions regarding this please call us. With the appropriate setup this TV can be used anywhere in the world.
← Back to product description