Details
Toshiba 32AV800 Multi System LCD TV; PAL, NTSC and Secam 110 - 240 Volts:
Toshiba advanced image processing engine analyses each scene to give optimum colour and contrast.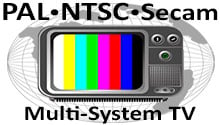 Multi-System TV - PAL, NTSC and Secam
This multisystem TV is compatible with PAL, NTSC and Secam video formats. You can use this television anywhere in the world with ANY type of video device!
Worldwide Voltage - 110v, 120v, 220v, 230v and 240 volt!
Global Dual Voltage on this Multi-system TV means it can be used anywhere. Multi-voltage TV's can be used in any country with voltage from 110 volts to 240 volts!
Space-Saving LCD Flat Panel Technology
Multi-System LCD TV's offer stunning video performance and a great value. Enjoy High Definition video in a space-saving flat panel design with this multisystem TV.
Toshiba 32AV800 Multi System LCD TV Description:
Toshiba's new 32AV800 panel offers a amazing18,000:1contrast ratio. The 32AV800 is an excellent Multi system TV for the price. Excellent build in design quality, with 2 HDMI inputs, and a outstanding18,000:1Contrast ratio puts thi LCD ahead of any other in it's class in the same price range. Of course this model will work anywhere in the world and has Pal/NTSC/Secam support and 110-240 volts so you can use it in the USA or take it abroad.
Meta Brain
True to Toshiba"s effort in continually producing high picture quality, now the latest Power Meta Brain engine not only houses the technologies which perfectly answer the5 core visual aspectsof display goals:Real, Clean, Clear, Smooth and Originalbut also encompasses the 10-Bit Video Processingtechnology to create 1 billion colors and smoother gradation.
10-Bit Video Processing
10-Bit Video Processing maintains the 10-bit quality of input data quality during video processing which produces over 1 billion colours, resulting in more natural picture creation.
10-Bit Video Processing and panel (right) provides richer, more natural colours.
Intelligent Backlight Control
Precise adjustment of the backlight behind the pixel array is necessary to obtain optimum picture quality. In REGZA LCD TVs, the brightness of the backlight is automatically adjusted according to a sophisticated histogram analysis of the brightness and location of dark portions in each scene. Deeper blacks in dark scenes (where dark portions cover most of the screen) are reproduced by reducing the intensity of the backlight, resulting in greatly improved contrast.
3D Colour Management
3D Colour Management (right photos) lets you achieve the best possible colour balance.
Toshiba 32AV800 Multi System LCD TV; PAL, NTSC and Secam 110 - 240 Volts Specifications:
Designs and specifications are subject to change without notice.
Key Features:
World-Wide NTSC/PAL/SECAM Color System - Watch any video signal on this TV!
World-Wide NTSC/PAL BG/PAL I/Secam BG, DK/ PAL DK TV tuners
32-inch Multi-System LCD TV
Built-inNTSC/PAL BG/PAL I/Secam BG, DK/ PAL DK TV tunersenables you to plug your cable TV line right into the TV and start watching.
Widescreen 16 X 9 Format
30,000:1 contrast ratioprovides incredible images whether you're watching dark or bright scenes!
450cd/m2 High Brightness
60,000-Hour Lamp Life
1.07 Billion Colors (1,024 Tones)
1/60 second Real Speed Progressive
1366 X 768 Pixels
6.22 Million Pixels Over-sampling and Scaling System
Real digital picture
New Digital Platform
Magic Square Algorithm
Real speed Progressive Scan
RGB PC Terminal
Over Sampling Scaling
Nicam Stereo receiver
7ms High Response Rate
178 degree Wide Viewing Angle
30 degree Horizontal Swivel Table Stand
Toshiba's LCD backlight life is long enough to give you viewing pleasure for many years.
Image Inverter for Custom Installations
178º/178º Viewing Anglesare so wide you can view Liquid Crystal Televisions from anywhere in the room!
Lamp Life:60,000 hours
Viewing Angles:170ºH / 170º V
Audio System:2.5W + 2.5W
2 HDMI input for HDTV
RF input for PAL, NTSC and Me-secam
2 Component Input (Y/Pr/Pb )
S-Video Input
Composite (AV) Video Input
Composite (AV) Video Output
Power Consumption AC:65W
Audio Output: RCA: L/R x 1
ENERGY STAR Compliant
World-wide Dual Voltage 110-240 volts 50-60 hertz
Main
Product Type: HD Ready LCD TV
Screen Type: 32"
Aspect Ratio: 16:9
Dynamic Contrast Ratio: 18,000:1
Panel Contrast Ratio: 2000:1
Brightness: 450
Resolution: 1366 X 768
Viewing Angles (Degrees): 176
Panel Response Speed (ms): 7
Signals
Receiving System: PAL I, BG, DK, SECAM BG, DK, NTSC M, B/G 4.43
Colour System: PAL, SECAM, NTSC, 3.58 / 4.43
Video Signal: 480i/480p (60Hz), 576i/576p (50Hz), 720p (50/60Hz), 1080i (50/60Hz)
RGB Signal
VGA: 640 X 480 /60Hz
60 / 72/ 75Hz
SVGA: 800 X 600 /60Hz
60 / 72 / 75Hz
XGA: 1024 X 768 /60Hz
60 / 72 / 75Hz
S-XGA: 1280 X 1024 /60Hz
60 / 75 Hz (Compressed)
W-XGA: 1360 X 768 /60Hz
60Hz
W-XGA: 1052 X 768 (60Hz/70/75Hz)
W-XGA: 1280x768 (60/75Hz)
60Hz (@68.25MHz, @79.5MHz) / 75Hz
Visual
Meta Brain Pro
Power Meta Brain
3D Colour Management
Comb Filter: 3D Y/C (PAL & NTSC)
Intelligent Backllight Control
Perfect 10-bit Processing
Audio
Stereo System: NICAM B/G, I, D/K, & German Stereo B/G, D/K
Speakers: Main (3.5 x 12cm) x2
Audio Output (10% RMS): 10W x 2
Connection
Antenna Input: 1
EXT 1 - Input: Component Video + RCA Audio
EXT 2 - Input: S-Video + Composite Video + RCA Audio
EXT 3 - Input: Component Video + RCA Audio
EXT 4 - Input: HDMI + RCA Audio (Audio Common with PC Input)
EXT 5 - Input: HDMI
PC Input: D-Sub 15-Pin + RCA Audio (Audio Common with HDMI Input)
Monitor Output:Composite Video + RCA Audio
Headphone: 3.5 mm Mini Jack
Features
Teletext
Multilingual OSD: English / Simplified Chinese / Malay / Thai / Vietnamese / Arabic / Persian / French
Hotel Mode
General
Dimensions (W x H x D)mm without Stand: 796 x 512 x 99
Dimensions (W x H x D)mm with stand: 796 x 552 x 224
Weight (Net) kg without stand: 11.5
Weight (Net) kg with stand: 12.5
← Back to product description



HD 720

720p is a progressive HDTV resolution signal format with 720 horizontal lines. All major HDTV broadcasting standards include a 720p format which has a resolution of 1280×720. The number 720 stands for the 720 horizontal scan lines of image display resolution (also known as 720 pixels of vertical resolution), while the letter p stands for progressive scan.



Built-In Analog Pal, NTSC, and Secam TV tuner

Analog Pal, NTSC, and Secam tuner built in for world wide use for analog tuning. If you are in a country that utilizes digital tuning such as DVBT or ATSC a Cable Box or Satellite receiver is needed. If You have any questions regarding this please call us. With the appropriate setup this TV can be used anywhere in the world.




USB Input

USB stands for Universal Serial Bus. A USB port is a cable connection interface used on personal computers and consumer electronics. USB ports allow stand-alone electronic devices to be connected via cables to a computer or to each other.
← Back to product description