Details
Toshiba 22EV700 Multi System LCD TV; PAL, NTSC and Secam 110 - 240 Volts:
Toshiba's new 22EV700 panel offers a amazing 30,000:1 contrast ratio. The 22EV700 is an excellent Multi system TV for the price. Excellent build in design quality, with 2 HDMI inputs, and an outstanding 30,000:1 Contrast ratio puts this LCD ahead of any other in it's class in the same price range. Of course this model will work anywhere in the world and has Pal/NTSC/Secam support and 110-220/240 volts so you can use it in the USA or take it abroad.
Model 22EV700
Product Type LCD TV
Screen Type 22
Resolution (H x V) 1366 x 768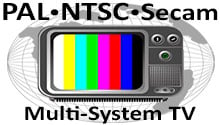 Multi-System TV - PAL, NTSC and Secam
This multisystem TV is compatible with PAL, NTSC and Secam video formats. You can use this television anywhere in the world with ANY type of video device!
Worldwide Voltage - 110v, 120v, 220v, 230v and 240 volt!
Global Dual Voltage on this Multi-system TV means it can be used anywhere. Multi-voltage TV's can be used in any country with voltage from 110 volts to 240 volts!
Space-Saving LCD Flat Panel Technology
Multi-System LCD TV's offer stunning video performance and a great value. Enjoy High Definition video in a space-saving flat panel design with this multisystem TV.
Toshiba 22EV700 Multi-System TV Specifications
Designs and specifications are subject to change without notice.
Key Features:
World-Wide NTSC/PAL/SECAM Color System - Watch any video signal on this TV!
World-Wide NTSC/PAL BG/PAL I/Secam BG, DK/ PAL DK TV tuners
22-inch Multi-System LCD TV
Built-in NTSC/PAL BG/PAL I/Secam BG, DK/ PAL DK TV tuners enables you to plug your cable TV line right into the TV and start watching.
Widescreen 16 X 9 Format
2 HDMI INPUTS
30,000:1 contrast ratio provides incredible images whether you're watching dark or bright scenes!
450cd/m2 High Brightness
60,000-Hour Lamp Life
1.07 Billion Colors (1,024 Tones)
1/60 second Real Speed Progressive
1366 X 768 Pixels
6.22 Million Pixels Over-sampling and Scaling System
Real digital picture
New Digital Platform
Magic Square Algorithm
Real speed Progressive Scan
RGB PC Terminal
Over Sampling Scaling
Nicam Stereo receiver
178 degree Wide Viewing Angle
30 degree Horizontal Swivel Table Stand
Toshiba's LCD backlight life is long enough to give you viewing pleasure for many years.
Image Inverter for Custom Installations
178º/178º Viewing Angles are so wide you can view Liquid Crystal Televisions from anywhere in the room!
PC Input lets you connect your computer and view your PC images on the 42" WXGA panel
Lamp Life: 60,000 hours
Viewing Angles: 170ºH / 170º V
Audio System: 2.5W + 2.5W
2 HDMI input for HDTV
RF input for PAL, NTSC and Me-secam
World-wide Dual Voltage 110-240 volts 50-60 hertz
Meta Brain Pro
HD Ready (1080p/1080i/720p)
WXGA Panel 1366x768
8-Bit Video Processing
Intelligent Backlight Control
2 HDMI Terminals
Video
Video Engine Meta Brain Pro
Intelligent Backlight Control
Picture Mode Dynamic, Standard, Mild, Movie, User
Audio
Stereo System NICAM B/G, I, D/K, & German Stereo B/G, D/K
Audio Output 5W X 2
Features
Teletext
Multilingual OSD English / French / Russian / Simplified Chinese/ Thai / Malay / Vietnamese / Arabic/ Persian
Hotel Mode
Connectivity
Antenna Input 1
EXT 1 Input: S-Video + Composite Video + RCA Audio
EXT 2 Input: Component Video + RCA Audio
EXT 3 Input: HDMI 1
EXT 4 Input: HDMI 2
PC Input D-Sub 15 Pin + 3.5mm Mini Jack (Common with HDMI 1 Audio)
Headphone 3.5mm Mini Jack
Signals
Receiving System PAL I/ BG/ DK, SECAM BG/ DK, NTSC M/ BG 4.43
Video Signal 480i/480p (60Hz), 576i/576p (50Hz), 720p (50/60Hz), 1080i (50/60Hz), 1080p (50/60Hz) through HDMI
RGB Signal VGA, SVGA, XGA, WXGA, SXGA
General
Automatic Voltage Regulator 110-240V 50Hz
Power Consumption (W) 90
Dimension (W x H x D) mm without Stand: 555 x 358 x 67mm
Dimension (W x H x D) mm with Stand: 555 x 400 x 195mm
Weight (Net) kg without Stand: 5.0kg
Weight (Net) kg with Stand: 6.0kg