Details
Sony KLV-32S310 Multi System LCD TV; PAL, NTSC and Secam 110 - 240 Volts:
KLV-32S310A Sony BRAVIA LCD TV BRAVIA S-Series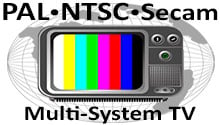 Multi-System TV - PAL, NTSC and Secam
This multisystem TV is compatible with PAL, NTSC and Secam video formats. You can use this television anywhere in the world with ANY type of video device!
Worldwide Voltage - 110v, 120v, 220v, 230v and 240 volt!
Global Dual Voltage on this Multi-system TV means it can be used anywhere. Multi-voltage TV's can be used in any country with voltage from 110 volts to 240 volts!
Space-Saving LCD Flat Panel Technology
Multi-System LCD TV's offer stunning video performance and a great value. Enjoy High Definition video in a space-saving flat panel design with this multisystem TV.
Sony KLV-32S310 Multi System LCD TV; PAL, NTSC and Secam 110 - 240 Volts Description:
Designs and specifications are subject to change without notice.
32" wide LCD Screen
2 HDMI inputs, PC input 8,000:1 Dynamic Contrast Ratio Excellent Picture quality
Newly Developed Real 16x9 WXGA (1366 x 768) ASV & Black TFT LCD Panel
World-Wide NTSC/PAL/SECAM Color System - Watch any video signal on this TV!
NTSC M, PAL BG/PAL I/Secam BG, DK/ PAL DK TV tuners
The Sony KLV-32S200A 32" 16:9 1080i Multi-System BRAVIA LCD HD-Ready Television has a fashionable display that brings advanced video technology to your fingertips. Use it as a TV or a computer display that also enhances your room's decor with its sleek design. The KLV-32S200A is a HDTV Ready TV that delivers a high-definition picture and impressive stereo sound. It features a BRAVIA video processing engine, an advanced video processor, for improved picture.
In addition to 3D comb filter and image panel driver, the Sony KLV-32S200A has three distinct imaging circuits including one-chip video processor to enhance video quality, reduce video noise and image blur. More over, you also get motion adaptive I/P converter, and Closed caption to enhance your video enjoyment. The SRS TruSurround XT audio system provides the effect of surround sound with built-in oval-cone speakers.
PC and TV Display - Can be used as a multifunction display. It's suitable for use both as a TV with HD connectivity or as a display for personal computer.
HD 1366 x 768 Pixel Resolution
It has a high pixel count that provides fine detail for outstanding HDTV as well for video reproduction from your computer. This TV requires a HDTV decoder and displays HDTV program images in 720p and 1080i.
Key Features:
Sony KLV-32S310 Multi-System LCD TV
32 inch WEGA LCD TV with 2 HDMI input and PC input
World-Wide NTSC/PAL/SECAM Color System - Watch any video signal on this TV!!
World-Wide NTSCM, PAL BG, PAL I, Secam BG, DK/ PAL DK TV tuners
Widescreen 16 X 9 Format
World-wide Dual Voltage 110-240 volts 50-60 hertz
HDTV monitor (HDTV tuner required for HD reception)
WEGA GATE:Easy Operation Guide is a new feature that allows you to easily navigate to the most convenient TV functions: favorite channels, TV channel list, external input list or settings.
CineMotion® technology provides an optimized picture by automatically detecting film content and applying a reverse 3:2 pulldown process. Moving pictures will appear clearer and more natural-looking.
Wide Screen Mode allows you to watch conventional 4:3 aspect ratio broadcasts in wide screen (16:9) mode.
VESA compliant mounting holes.
Favorite Channels with the WEGA GATE function, allows you to select from eight of your favorite channels.
Steady Sound® equalizes volume levels so there is consistent output between programs and commercials.
Built-in Speakers includes 2 (5W x 2) speakers to deliver dynamic sound.
Component Video Input offers the best video quality for DVD (480p and 480i), and digital set-top box (1080i, 720p, 480p and 480i) connections.
Parental Control V-chip technology allows parents to block unsuitable programming from younger viewers.
Caption Vision/Info Banner allows closed caption and/or Channel Programming information to be displayed.
Light Sensor allows the picture brightness level to be optimized to ambient light. The effect from the Light Sensor depends on the setting of Picture Mode and Power Saving.
PC Input allows you to connect your PC and display the PC screen on your TV.
SRS® TruSurround® Audio Effect
Sony KLV-32S310 Multi System LCD TV; PAL, NTSC and Secam 110 - 240 Volts Specifications:
Designs and specifications are subject to change without notice.
Video Features
Video Signal System: NTSC, PAL, Secam
1 Mega Pixel Panel
Display Resolution: 1366 x 768
Native Resolution: 1080p, 1080i, 720p
BRAVIA Engine; Full Digital Image Processor
450cd/m² Brightness
178° Viewing Angle
8ms Response Time
Wide Viewing Angle 178 degrees
3D Y/C Comb Filter
CineMotion 3:2 Pull down technology
PIP (for Freeze Function)
WEGA GATE Easy Operation Guide
Vertical Frequency (Hz): 56 / 60 / 72 / 73 / 75
Horizontal Scan (KHz) for PC: 31/ 31.5 / 35.2 / 37.9 / 46.9 / 47.4 / 47.7 / 47.8 / 56.5 / 60 / 60.3
Overscan: Normal, +1, +2
Vertical Size: +10 to -10 (TV) +50 to -50 (PC)
Vertical Center: +10 and -10 (Zoom) +10 and -10 (Wide Zoom)
Horizontal Center: +10 to -10 (TV) +50 to -50 (PC)
Screen or Display Technology: LCD
Video Processing: One-chip Video Processor
Color Temperature: Cool, Neutral, Warm
Dynamic PictureT Processor Circuitry: Black Corrector
Noise Reduction
CineMotion Reverse 3:2 Pulldown Technology
Screen Modes (4:3): Wide Zoom, Normal, Full, Zoom
Screen Modes (16:9): Wide Zoom, Normal, Full, Zoom, Off
Wide Mode (16:9): Wide Zoom, Full, Zoom
Wide Mode (4:3): Wide Zoom, Normal, Full, Zoom
Comb Filter: 3D Digital Comb Filter
Phase (PC Only
Pitch (PC Only
Light Sensor
Picture Modes: Vivid, Standard, Pro
Audio
Speaker Type: Oval cone
Speakers (Total): 2
Full Range Speaker Size: 55 x 150mm (Oval)
Audio Power Output: 20W Total (10W x 2)
Audio Features
Tone Control(s): Treble and Bass
Sound Mode: Dynamic, Natural, Clear Voice, Mode Memory, Simulated
MTS Stereo Decoder
Digital Amplifier
Audio Mute
Speaker On/Off
Simulated Surround
SRS WOW
SRS TruSurround Audio Effect
Convenience Features
Channel Label
Channel Skip/Add
Channel Jump
Favorite Channel
Speed Surf Channel Selection
WEGA GATE Technology
Program Guide Access
Auto Channel Programming
Multiple Language Display: English; Español; Français
Mode Memory
Info Banner
Sleep Timer: 15, 30, 45, 60, 90, Off
Timer Events: Timer 1, Timer 2
Freeze Memo Screen Freeze(with PIP)
Clock
Picture-in-Picture
Power Save Mode: Standard, Reduced, Picture Off
Built-In AC Adaptor
Inputs and Outputs
HDMI input X 2
PC Input x 1
Audio Out x 1
S Video In X 1
Composite In x 2
Composite Out x 1
Headphone Out x 1
RF Connection Input
Power:
World Wide Voltage Supply AC 100-240V, 50/60Hz
Internal Power Supply
Power Consumption (in Operation): Less than 155W
Power Consumption (in Standby): Less than 1W
Regulation and Standard Compliance
Approximate Weight:
With stand: 48 lbs.
Without stand: 42 lbs
Dimensions (W x H x D):
Dimensions (W x H x D) with Stand: Approx. 760 x 577 x 214 mm
Dimensions (W x H x D) without Stand: Approx. 790 x 530 x 106 mm
Supplied Accessories:
Remote Control
Battery (Type AA, x2)
AC Power Cord
← Back to product description



HD 720

720p is a progressive HDTV resolution signal format with 720 horizontal lines. All major HDTV broadcasting standards include a 720p format which has a resolution of 1280×720. The number 720 stands for the 720 horizontal scan lines of image display resolution (also known as 720 pixels of vertical resolution), while the letter p stands for progressive scan.



Built-In Analog Pal, NTSC, and Secam TV tuner

Analog Pal, NTSC, and Secam tuner built in for world wide use for analog tuning. If you are in a country that utilizes digital tuning such as DVBT or ATSC a Cable Box or Satellite receiver is needed. If You have any questions regarding this please call us. With the appropriate setup this TV can be used anywhere in the world.




USB Input

USB stands for Universal Serial Bus. A USB port is a cable connection interface used on personal computers and consumer electronics. USB ports allow stand-alone electronic devices to be connected via cables to a computer or to each other.
← Back to product description