Details
Sony KDL-46HX925 46" Multi-System Full HD 3D LED TV 110-220 Volts Description:
Sony's 46 inch KDL-46HX925 is a high-performance, Full HD 3D TV designed and manufactured with one thing in mind - excellence. From the flawless life-like picture quality featuring enhanced detail to the built-in Wi-Fi with streaming media capability, this is the model that does everything you could imagine.
This TV delivers a 3D viewing experience quite unlike any other by offering an extra wide viewing angle, crisp imagery, and rechargeable 3D glasses with ActiveShutter to reduce and eliminate ambient light. MotionFLow XR800 serves up supercharged viewing speeds for fast-action video by giving you the equivalent of nearly 800 frames per second for reduced blur. Integrated microphone and USB camera lets you Skype with friends or relatives directly on your TV from the comfort of your couch.
In addition to the high-tech features, this is a multi-system TV that lends you the ability to:
- Use your TV with any player, cable box, gaming system or antenna in the world without the need for an external video converter thanks to built-in PAL, NTSC and SECAM recognition.
- Power your TV from any area in the world, regardless of voltage thanks to worldwide Voltage compatibility that lets your TV run on either 110 or 220 volt electrical standards.
Additional features of the KDL-46HX925 by Sony include a X-Reality pro processor 1920 x 1080 Resolution, Intelligent Peak auto-dimming picture, gorilla glass screen system, swivel system, tilt, 13 different picture modes, advanced contrast enhancer, live color technology, quad HDMI input, dual USB input, Ethernet port, composite video input, component video input, PC input (D-sub and PCMCIA), analog audio input, headphone output, Built-in Wi-Fi, DLNA, Web browser, facial recognition, smartphone remote ready, USB media player, Picture in picture, and more. The KDL-46HX925 is the absolute ultimate in flexible, cutting-edge home theater performance.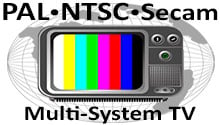 Multi-System TV - PAL, NTSC and Secam
This multisystem TV is compatible with PAL, NTSC and Secam video formats. You can use this television anywhere in the world with ANY type of video device!
Worldwide Voltage - 110v, 120v, 220v, 230v and 240 volt!
Global Dual Voltage on this Multi-system TV means it can be used anywhere. Multi-voltage TV's can be used in any country with voltage from 110 volts to 240 volts!
Bright, vivid images and exceptional contrast
The 3D backlight on the ES6200 series is automatically adjusted according to the video signal to help to deliver exceptional contrast and bright, clear images.
Sony KDL-46HX925 46" Multi-System Full HD 3D LED TV 110-220 Volts Specifications:
Screen Size: 46" (117cm), 16:9
TV System: Digital: DVB-T Analog: B/G, D/K, I, L, M
Colour System: NTSC 3.58, NTSC 4.43, PAL, SECAM
Video Signal480/60i, 480/60p, 576/50i, 576/50p, 720/50p, 720/60p, 1080/50i, 1080/60i, 1080/24p (HDMI™ only), 1080/50p (HDMI™ / Component), 1080/60p (HDMI™ / Component)
Picture
Display Resolution:  Full HD 1080 (1920 x 1080)
Video Processing: X-Reality PRO picture engine
Motionflow™: Motionflow™ XR 800
Backlight Module: Intelligent Peak LED
OptiContrast Panel  (CORNING Gorilla Glass Panel)
Live Colour™    
Deep Color 
Intelligent Image Enhancer    
Intelligent MPEG Noise Reduction   
Advanced Contrast Enhancer (ACE)
24P True Cinema™     
PhotoTV HD
Viewing Angle: 178° (Right/Left), 178° (Up/Down)
Screen Format: TV: Full/ Normal/ Wide Zoom/ Zoom/ Caption/ 14:9, PC: Full 1/ Full 2/ Normal
Picture Mode: Vivid/ Standard/ Custom/ Cinema/ Game-Standard/ Game-Original/ Graphics/ Sports/ Animation/ Photo-Vivid/ Photo-Standard/ Photo-Original/ Photo-Custom
CineMotion/Film Mode/Cinema Drive
3D Comb Filter  
Full HD 3D *1
3D Sync Transmitter Integrated  
Simulated 3D  
   
Audio
Sound Mode: Dynamic / Standard / Clear Voice
Surround Mode: Cinema / Music / Sports / Game
Sound Enhancer  
S-Master 
S-Force: S-Force Front Surround 3D
Dolby®: Dolby® Digital/ Dolby® Digital Plus/ Dolby® Pulse
Simulated Stereo  
Stereo System: NICAM, A2
Audio Output Power: 30W (10W x 3)
Terminals
HDMI™ / Audio In: 4 (2 Side/ 2 Bottom)
USB 2.0: 2 (Side)
Ethernet Connection: 1 (Bottom)
Composite Video Input(s): 2 (Adaptor/Bottom/1 Hybrid)
Component Video (Y/Pb/Pr) Input(s): 1 (Adaptor/Bottom/Hybrid)
RF Connection Input(s): 1 (Bottom)
HD15 PC Input / Audio: 1 (Side)
Analog Audio Input(s): 2 (Adaptor/Bottom)
Digital Audio Output(s): 1 (Side)
Audio Out: 1 (Side)
Headphone Out: 1 (Side)
Other Features
BRAVIA Sync    
DLNA
Photo Map  
Quick Start & Viewing  
Remote Keyboard (VAIO)
Picture Frame Mode     
USB Play (Video, Music, Photo)
Scene Select: Photo/ Music/ Cinema/ Game/ Graphics/ Sports/ Animation
Parental Control
Clock 
Sleep Timer
On/Off Timer
Teletext    (2000 pages)
PAP (Picture And Picture), PAP (Variable)
PIP (Picture In Picture)
OSD Language: English, Simplified Chinese, Thai, Arabic, Persian, Vietnamese, French, Russian
Swivel / Tilt (Left 20°/ Right 20°) / (0°-6° Flexible)
Network Features
Wi-Fi Connectivity: Wi-Fi Integrated
Wi-Fi Direct: Network Update
Skype™ Ready  (requires Camera CMU-BR100)
TrackID™
Video Search     
Media Remote    (Network Update)
What's New (Network Update)
Sony Entertainment Network
Internet Video    
Facebook and Twitter   
ECO Features
Backlight Off Mode 
Intelligent Presence Sensor   
Presence Sensor with FACE DETECTION 
Ambient Sensor
Energy Saving Switch 
Packaging Materials: Recycled Carton (more than 70%)
General
Power Requirements: AC 110-240V, 50/60Hz
Power Consumption: Approx. 139W (In operation)
Dimensions (W x H x D) with Stand: Approx. 1081 x 692 x 258 mm
Dimensions (W x H x D) without Stand: Approx. 1081 x 660 x 38(36.4) mm
Weight with Stand: Approx. 24kg
Weight without Stand: Approx. 19.4kg
Worldwide NTSC/PAL/SECAM Color System
Worldwide NTSC, PAL BG, PAL I, Secam BG, DK/ PAL DK TV tuners
World Wide Voltage Supply AC 100-240V, 50/60Hz
← Back to product description



Full HD 1080p

1920x1080p resolution is an HDTV high-definition video mode characterized by 1080 horizontal lines of vertical resolution. As of 2012, most consumer televisions being sold provide 1080p inputs mainly with HDMI and support full high-def resolutions. 1080p resolution is available in all types of televisions, including plasma, LCD and LED.



Built in DVBT and PAL Tuner

Built IN DVBT and Pal Tuner. Excellent for use outside North America with Analog Pal RF signals and DVBT RF Signals. For use in North America to watch television a Cable, box or Satellite receiver from your cable company is necessary. Or if you will not subscribe to any paid cable a ATSC digital cable converter box can be used to tune TV channels when in North America. If using outside of North America in Africa, Asia, Europe, Middle East, Oceania, or other countries with Pal or DVBT tuning, this TV will work directly with RF Antenna signal. If You have any questions regarding this please call us. With the appropriate setup this TV can be used anywhere in the world.




TV 3D




USB Input

USB stands for Universal Serial Bus. A USB port is a cable connection interface used on personal computers and consumer electronics. USB ports allow stand-alone electronic devices to be connected via cables to a computer or to each other.



Smart WiFi Built In

WiFi built-in means that the hardware needed is already built into the device. WiFi Built-in tv's already have the WiFi card/adapter inside. It is ready to connect to Wi-Fi networks straight out of the box. If you have a WiFi network, just plug in the TV, set it up and you have internet access.
← Back to product description