Details
Sony KDL-46HX750 46" Multi System LED TV
Entertainment never looked this good
Sony KDL-46HX750 46" Multi System LED TV offers vivid picture quality and access to entertainment with simple connectivity to other devices and new eco-friendly features packed into a sleek, frameless design. The KDL-46HX750 Multi System LED TV's exclusive X-Reality™ picture engine takes picture quality to the next level by bringing astonishing color and detail to life for an authentic view into reality. 240Hz enhanced by Motionflow™ XR 480 greatly reduces blur for action so clear, you'll feel like you're right there watching it in person. With built-in Wi-Fi®, gain access the best selection of online entertainment is only a click away. Can't find the KDL-46HX750 Multi System LED TV manual? Not to worry. The iManual is available through the menu system on the TV, so you will never lose your TV manual again.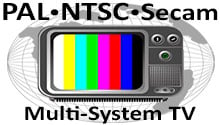 Multi-System TV - PAL, NTSC and Secam
This multisystem TV is compatible with PAL, NTSC and Secam video formats. You can use this television anywhere in the world with ANY type of video device!
Worldwide Voltage - 110v, 120v, 220v, 230v and 240 volt!
Global Dual Voltage on this Multi-System TV means it can be used anywhere. Multi-voltage TV's can be used in any country with voltage from 110 volts to 240 volts!
Space-Saving 3D LED Flat Panel Technology
Multi-System 3D LED TV's offer stunning video performance and a great value. Enjoy High Definition video in a space-saving 3D panel design with this multisystem TV.
Sony KDL-46HX750 46" Multi System LED TV Description:
Get Real
Take a glimpse into reality with a picture so lifelike, you won't believe it's TV. Skin tones, landscape foliage and countless details come alive as Sony's exclusive X-Reality Engine displays realistic images. The processor optimizes four key characteristics—texture, outline, contrast and color—so each scene looks wonderfully authentic.
Slim Design, Stunning Picture
It's all about perfecting a natural look. Dynamic Edge LED backlighting with frame dimming delivers pitch-black night scenes and illuminates bright scenes so they pop with vibrant color—all in a slimmer, more attractive design. Rather than illuminating the entire screen, lighting is boosted in just the right areas for greater contrast and a more realistic picture.
Moves Like Real Life
Watch sprinters break off the blocks without losing image detail. Quick motion appears amazingly realistic as 240Hz refresh rate is enhanced by Motionflow XR 480 to double the motion effect for lifelike clarity—so you see all the action from your games and movies more clearly.
3D Reality
Brace yourself for 3D excitement so lifelike you'll feel like you're part of the scene. Advanced Active technology delivers Full HD 1080p clarity and phenomenal 3D picture quality. Or relive your child's first steps with the realism of 3D. Auto 3D Depth Adjustment precisely recreates the moment, making even 3D home movies look amazing.
All Devices, Together as One
Don't all of your photos and videos deserve the big screen? Experience your content on a grand scale by easily connecting your Sony Tablet™ S, compatible smartphone or computer via your existing Wi-Fi network. "Throw" videos, photos and music files to your beautiful HDTV, then gather around for a personalized show everyone's sure to love.
Sony KDL-46HX750 46" Multi System LED TV Specifications:
3D Features
3D : Active
3D Sync Transmitter Integrated : Yes
4x High Speed 3D Panel : Yes
Auto 3D Depth Adjustment : Yes
Full HD 3D : Yes
Simulated 3D : Yes
Broadcast Features
TV Guide On-Screen : Yes(Rovi)
Display
Aspect Ratio : 16:9
Display Resolution : Full HD
Dynamic Contrast Ratio : Infinite
Refresh Rate : 240 Hz with Motionflow™ XR 480
Screen Size (measured diagonally) : 46"(46.0")
Viewing Angle (Right/Left) : 178(89/89)
Viewing Angle (Up/Down) : 178(89/89)
General Features
Audio Return Channel : Yes
Closed Captions (CC) : Yes
Finish (Surface Color) : Black
HDMI™ InstaPort : Yes
Hotel Mode Menu : Yes
Start Up Sony Logo Display : Yes
Network Features
Apps : Yes
BIVL (System) : Yes
BRAVIA® Internet Video : Yes
BRAVIA® Internet Widgets : Yes
DLNA Content : MPEG1, MPEG2PS, MPEG2TS, AVCHD, MP4Part10, MP4Part2, WMV, MP3, WMA, LPCM, JPEG
Google TV Sync : Yes
Internet_Browser : Yes(Opera)
Media Remote : Yes
Music Search : Yes
Photo MAP : Yes
Skype™ : Ready
Sony Entertainment Network : Yes
TrackID : Yes
Video Search : Yes
What's New : Yes
Wi-Fi Certified : Yes
Wi-Fi Direct : Yes
Wireless LAN : Integrated
X2 Widget (System) : Yes
Yahoo! Widgets : Yes
Regulation and Standards Compliance
VESA® Hole Pitch : 300 x 300 mm
VESA® Hole Spacing Compatible : Yes
Weights (Approx.)
Gross (Package Carton) : 50.7 lb / 23.0 Kg
TV only : 32.2 lb / 14.6 Kg
TV with Stand : 38.8 lb / 17.6 Kg
Audio
Audio Power Output : 10W + 10W
Speaker Configuration : 2 Full Range(30x150mm)x2
Speaker Position : Rear Facing
Convenience Features
Auto Shut-off : Yes
BRAVIA® Sync™ : Yes
Channel Block (with password) : Analog & Digital
Channel Jump : Yes
Channel Surf : Yes
Edit Channel Labels : Yes
Favorites : Yes
Info Banner : Yes
Input Skip : Automatic
Label Inputs : Yes
Multiple Language Display : English/Spanish /French
On-Screen Clock : Yes
On-Screen Display for External Input : Yes
On-Screen Operating Instructions : Yes
On/Off Timer : Yes
Panorama : Yes
Parental Control : Yes
Picture Adjustments Lock : Yes
Picture Frame Mode : Yes
Scene Select : Photo; Music; Cinema; Game; Graphics; Sports; Animation
Show/Hide Channels : Yes
Skin Naturalizer : Photo
Sleep Timer : Yes
Twin Picture : PAP(Variable)
USB Play : Yes
Display Features
Backlight Type : Dynamic Edge LED
Dimming Type : Frame Dimming
Display Device : LCD
Inputs and Outputs
AC Power Input : 1 (Rear)
Analog Audio Input(s) (Total) : 3 (2 Rear/1 Side)
Analog Audio Input(s) for HDMI : 1 (Side Hybrid w/ PC)
Audio Out : 1 (Side/Hybrid w/ HP)
Component Video (Y/Pb/Pr) Input(s) : 1 (Rear Hybrid w/ Composite)
Composite Video Input(s) : 2 (1 Rear/1 Rear Hybrid w/ Component)
Digital Audio Output(s) : 1 (Bottom)
Ethernet Connection(s) : 1 (Bottom)
HDMI™ Connection(s) (Total) : 4 (2 Side/2 Bottom)
HDMI™ PC Input : Yes
Headphone Output(s) : 1 (Side/Hybrid w/ Audio Out)
PC In (D-Sub) + Audio In (Stereo Mini) : 1 (D-Sub : Side, Audio IN : Side Hybrid w/HDMI)
PC Input Format Support : 640x480@60Hz; 800x600@60Hz; 1280x768@60Hz-R; 1280x768@60Hz; 1360x768@60Hz; 1024x768@60Hz; 1280x1024@60Hz; 1920x1080@60Hz
RF Connection Input(s) : 1 (Bottom)
USB 2.0 : 2 (Side)
Power
Power Consumption (in Download Acquisition Mode) : 0.02kWh / Day
Power Consumption (in Operation) max. : 132W
Power Consumption (in Standby) : 120V : 0.15W
110-240 volts
LightSensor™ Technology : Yes
Video
Video Signal : 1080/24p (HDMI™ only); 720/60p; 1080/30p (HDMI™ only); 720/30p (HDMI™ only); 720/24p (HDMI™ only); 1080/60i; 1080/60p (HDMI™ / Component); 480/60i; 480/60p
Audio Features
5.1 Channel Audio Out : Yes
5.1ch Through Out (Handycam) : Yes
Advanced Auto Volume : Yes
Alternate Audio (Digital) : Yes
Audio Out : Fixed/Variable
Clear Phase Speaker : Yes
Dolby® : Dolby DigitalDolby Didital PlusDolby Pulse
Headphone/Speaker Link : Yes
Invisible Speaker : Yes
S-Master : Yes
Sony Original Surround : S-Force Front Surround 3D
Sound Booster : Yes
Sound Enhancer : Yes
Sound Mode : Dynamic; Standard; Clear Voice; Custom
Stereo System : MTS(AUTO SAP)
Surround Effect : Cinema; Sports; Music; Game
Design Features
Stand Swivel : Yes
Stand Swivel Range : Left 15°/Right 15°
Energy Saving & Efficiency
Backlight Off Mode : Yes
Dynamic Backlight Control : Yes
Energy Star® compliant : Meets Energy Star® version 5.3
Power Consumption (On Mode) for Energy Star : 65.1W
Power Consumption (Standby Mode) for Energy Star : 0.1W
Measurements (Approx.)
Package Carton (W x H x D) : 48 1/4 x 29 1/2 x 6 inches (1223 x 748 x 150 mm)
TV only (W x H x D) : 42 3/8 x 25 5/8 x 2 3/8 (1 7/8) inch (1076 x 650 x 60 (46.7) mm)
TV with Stand (W x H x D) : 42 3/8 x 27 1/8 x 10 inch (1076 x 687 x 252 mm)
Recycled & Recyclable Materials
Packaging Materials : Recycled Carton (more than 40%)
24p True Cinema™ Technology : Yes
3D Comb Filter : Yes
4:3 Default : Yes
Advanced Contrast Enhancer (ACE) : Yes
Auto Wide : Yes
Blinking Type : Frame Blinking
CineMotion® Reverse 3:2 Pulldown Technology : Yes
Clear Mode : Yes
Deep Color : Yes
Impulse Mode : Yes
Intelligent Image Enhancer : Yes
Intelligent MPEG Noise Reduction : Yes
Live Color™ Technology : Yes
Motionflow™ Technology : Motionflow XR 480
PhotoTV HD : Yes
Picture Mode : Vivid; Game-Standard; Game-Original; Graphics; Sports; Animation; Standard; Custom; Photo-Vivid; Photo-Standard; Photo-Original; Photo-Custom; Cinema1; Cinema2
Portable Game Mode : FineFull; FineNormal; PortableGame1; PortableGame2
Scene Optimized Energy Saving : Yes
Video Processing : X-Reality™
Wide Mode : FULL; Normal; Wide Zoom; Zoom; Caption; Normal/Full1/Full2 for PC
← Back to product description



Full HD 1080p

1920x1080p resolution is an HDTV high-definition video mode characterized by 1080 horizontal lines of vertical resolution. As of 2012, most consumer televisions being sold provide 1080p inputs mainly with HDMI and support full high-def resolutions. 1080p resolution is available in all types of televisions, including plasma, LCD and LED.



Built in DVBT and PAL Tuner

Built IN DVBT and Pal Tuner. Excellent for use outside North America with Analog Pal RF signals and DVBT RF Signals. For use in North America to watch television a Cable, box or Satellite receiver from your cable company is necessary. Or if you will not subscribe to any paid cable a ATSC digital cable converter box can be used to tune TV channels when in North America. If using outside of North America in Africa, Asia, Europe, Middle East, Oceania, or other countries with Pal or DVBT tuning, this TV will work directly with RF Antenna signal. If You have any questions regarding this please call us. With the appropriate setup this TV can be used anywhere in the world.




TV 3D




USB Input

USB stands for Universal Serial Bus. A USB port is a cable connection interface used on personal computers and consumer electronics. USB ports allow stand-alone electronic devices to be connected via cables to a computer or to each other.



Smart WiFi Built In

WiFi built-in means that the hardware needed is already built into the device. WiFi Built-in tv's already have the WiFi card/adapter inside. It is ready to connect to Wi-Fi networks straight out of the box. If you have a WiFi network, just plug in the TV, set it up and you have internet access.
← Back to product description