Details
Sony KDL-46HX720 46" Multi System LED TV; PAL, NTSC and Secam 100-240Volts: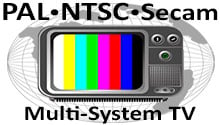 Multi-System TV - PAL, NTSC and Secam
This multisystem TV is compatible with PAL, NTSC and Secam video formats. You can use this television anywhere in the world with ANY type of video device!
Worldwide Voltage - 110v, 120v, 220v, 230v and 240 volt!
Global Dual Voltage on this Multi-system TV means it can be used anywhere. Multi-voltage TV's can be used in any country with voltage from 110 volts to 240 volts!
Space-Saving 3D Flat Panel Technology
Multi-System 3D TV's offer stunning video performance and a great value. Enjoy High Definition video in a space-saving flat panel design with this multisystem TV.
Sony KDL-46HX720 46" Multi System LED TV Description:
Picture excellence in 2D and 3D
See lifelike Full HD quality in 2D and 3D. Get a smooth view of fast-action sports and movies with Motionflow XR 400. Enjoy a high contrast picture on a slim Dynamic Edge LED screen. Every pixel of your 2D or 3D picture is enhanced by our unique picture technology.
Let us simplify your home living
Need to make a call during an ad break? Make free video calls on your TV in clear detail with Skype™. You can even link a smartphone to your TV to find details about the TV programme you're watching.
The best of the web on the big screen
Enjoy the web from the comfort of your sofa. Easily stream Internet videos directly to your TV using Wi-Fi® and watch them in enhanced quality for the big screen thanks to X-Reality PRO. With more channels being added all the time it's now even easier to enjoy what you want, when you want.
Full HD picture with crisp detail
Enjoy 2D and 3D pictures in high definition with Full HD 1080 technology
Superior 3D picture
Enjoy lifelike 3D action in Full HD quality. 3D from Sony delivers the clearest, brightest 3D pictures from a wide viewing angle
Dynamic Edge LED for enhanced picture contrast
Enjoy a high quality picture with strong, detailed black levels thanks to local dimming LED backlight technology
Smooth action scenes with Motionflow XR 400
Follow the action at the equivalent of 400 frames a second and catch every detail as it happens
Enhanced image quality with boost for Internet TV
True-to-life detail and colour with X-Reality PRO, a dual chip image processor which even boosts lower resolution Internet images
Enjoy the best of the web on the big screen
Connect your TV to the web and stream full-screen Internet videos or keep up-to-date on social networks (firmware upgrade needed)
Ready for video and voice calls with Skype™
Add a voice control camera and microphone and make free Skype™ calls to friends and family from the comfort of your sofa
Browse the Internet on your TV screen
Visit your favourite websites and search the Internet using a simple web browser (display of embedded video not supported)
Ready for wireless connection to the Internet
Wireless LAN-Ready so you can add a UWA-BR100 USB Wi-Fi® Adaptor from Sony and connect to your Internet router without cables
Control your TV using free mobile phone apps
Use a smartphone as a TV remote control or second display screen for online video with Media Remote (firmware upgrade needed)
Sony KDL-46HX720 46" Multi System LED TV Specifications:
Designs and specifications are subject to change without notice.
Supplied accessories
Remote control : RM-ED044
Batteries : Type AAA x 2
AC power cable
Dimensions
TV without table-top stand (W x H x D cm): 107.8 x 66.0 x 4.2
TV with table-top stand (W x H x D cm) : 107.8 x 69.0 x 26.0
Box dimensions (W x H x D cm): 117.4 x 82.4 x 13.6
Display
Screen type: LCD
Backlight type: Dynamic Edge LED
Resolution: 1920 x 1080
Screen size (inch): 46
Screen size (cm): 117
Aspect ratio :16:9
Dynamic contrast ratio: Mega
Design features
Colour finish : Black
Swivel
Swivel range: Left 20°/Right 20°
Tilt
Tilt positions: 0°- 6° Flexible
Picture quality
Picture mode settings: Vivid / Standard / Custom / Photo-Vivid / Photo-Standard / Photo-Original / Photo-Custom / Cinema /Game-Standard / Game-Original / Graphics / Sports / Animation
Wide mode settings
Wide mode settings for PC: Normal / Full1 / Full2
Auto wide mode
3D picture display: YES (3D glasses required)
Motion enhancer: Motionflow XR 400
Frames per second (Hz): 200
Picture processing engine: X-Reality PRO
Advanced Contrast Enhancer
Live Colour technology
Scene select :Photo / Music / Cinema / Game / Graphics / Sports / Animation
24p True Cinema™
CineMotion / Film Mode / Cinema Drive
Noise reduction
3D comb filter
Audio quality
Speaker type : Invisible speaker (with Sound Elevation)
Audio power output:30W (10W x 3)
Sound mode settings:Dynamic / Standard / Clear Voice
Surround mode settings:Cinema / Sports / Music / Game
S-Force Front Surround 3D
S Master
Dolby®: Dolby® Digital / Dolby® Digital Plus / Dolby Pulse
Stereo system: A2 / NICAM
Inputs and outputs
AC power input :1 (Rear)
RF connection input : 1 (Rear)
HDMI input :4( 1 Side/3 Bottom)
HDMI PC input
SCART input (without Smartlink) : 1(Rear)
USB 2.0 input: 2 (Side)
Ethernet input : 1(Rear)
Composite video input : 1(Rear)
Component video (Y/Pb/Pr) input : 1(Rear)
PC in (D-Sub) + Audio in (Stereo Mini) : 1 (Rear)
PCMCIA input : 1 (Side)
Analog audio input: 1(Rear)
Optical digital output: 1 (Rear)
Audio output : 1 (Side)
Headphone output : 1 (Side)
Network features
Wireless LAN (Wi-Fi®):YES (with optional dongle)
Wi-Fi® Direct : YES (Requires firmware update)
DLNA
Photo Map
BRAVIA Internet Video
BRAVIA Internet Widgets
Web browser: YES (display of embedded video not supported)
Media Remote (iPhone / Android) :YES (firmware upgrade needed)
Skype™: YES (firmware upgrade needed)
Eco and energy saving
Energy Label Rating :A
Screen size (measured diagonally) (approx. in inch): 46"
Screen size (measured diagonally) (approx. in cm): 117
Power consumption (in operation) (Home mode) (W): 83.0
Power consumption (in operation) (Shop mode) (W): 153
Annual energy consumption (kWh*) : 115
Power consumption (Standby) (W) :0.25
Screen resolution: 1920 x 1080
Peak luminance ratio :68%
Mercury content (mg): 0
Lead content
Presence sensor
Dynamic backlight control
Backlight off mode
*Energy consumption XYZ kWh per year, based on the power consumption of the television operating 4 hours per day for 365 days. The actual energy consumption will depend on how the television is used.
Special features
Electronic programme guide (EPG) :YES (not Gemstar)
On-screen clock
Sleep timer
On / off timer
On-screen instruction manual
BRAVIA Sync
Auto photo mode
Picture and picture (PAP):YES (1 tuner only)
Picture in picture (PIP):YES (1 tuner only)
Position control
Distance alert
Parental control
USB Photo Viewer
USB Music Player
USB Video Player
USB HDD Recording: YES (Firmware upgrade needed)
Picture Frame mode
Multiple language display :YES (27 languages)
Favourites
Quick start
Weight
TV without table-top stand (kg) : 14.4
TV with table-top stand (kg) : 18.8
Built-in tuners
DVB-T (digital terrestial)
DVB-C (digital cable)
CI+
Analog
Video signal
480/60i
480/60p
576/50i
576/50p
720/50p
720/60p
1080/60i
1080/50i
1080/60p (HDMI™ / Component)
1080/50p (HDMI™ / Component)
1080/24p (HDMI™)
← Back to product description



Full HD 1080p

1920x1080p resolution is an HDTV high-definition video mode characterized by 1080 horizontal lines of vertical resolution. As of 2012, most consumer televisions being sold provide 1080p inputs mainly with HDMI and support full high-def resolutions. 1080p resolution is available in all types of televisions, including plasma, LCD and LED.



Built in DVBT and PAL Tuner

Built IN DVBT and Pal Tuner. Excellent for use outside North America with Analog Pal RF signals and DVBT RF Signals. For use in North America to watch television a Cable, box or Satellite receiver from your cable company is necessary. Or if you will not subscribe to any paid cable a ATSC digital cable converter box can be used to tune TV channels when in North America. If using outside of North America in Africa, Asia, Europe, Middle East, Oceania, or other countries with Pal or DVBT tuning, this TV will work directly with RF Antenna signal. If You have any questions regarding this please call us. With the appropriate setup this TV can be used anywhere in the world.




TV 3D




USB Input

USB stands for Universal Serial Bus. A USB port is a cable connection interface used on personal computers and consumer electronics. USB ports allow stand-alone electronic devices to be connected via cables to a computer or to each other.



Smart WiFi Built In

WiFi built-in means that the hardware needed is already built into the device. WiFi Built-in tv's already have the WiFi card/adapter inside. It is ready to connect to Wi-Fi networks straight out of the box. If you have a WiFi network, just plug in the TV, set it up and you have internet access.



Smart TV

A smart TV, also known as a connected TV or hybrid TV, describes the combining of the Internet and Web 2.0 features into television sets, as well as the integration between computers and these television sets. These devices focus on online interactive media, Internet TV, over-the-top content, as well as on-demand streaming media, and less focus on traditional broadcast media than traditional television sets.
← Back to product description