Details
Sony FWD-42V1 42" Multi-System Plasma TV 110-240 Volts: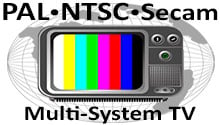 Multi-System TV - PAL, NTSC and Secam
This multisystem TV is compatible with PAL, NTSC and Secam video formats. You can use this television anywhere in the world with ANY type of video device!
Worldwide Voltage - 110v, 120v, 220v, 230v and 240 volt!
Global Dual Voltage on this Multi-system TV means it can be used anywhere. Multi-voltage TV's can be used in any country with voltage from 110 volts to 240 volts!
Space-Saving Plasma Flat Panel Technology
Multi-System Plasma TV's offer stunning video performance and a great value. Enjoy High Definition video in a space-saving flat panel design with this multisystem TV.
Sony FWD-42V1 42" Multi-System Plasma TV 110-240 Volts Description:
Wide Viewing Angle
The FWD-42V1 offers a completely flat viewing surface with a 160 degree viewing angle. The expansive viewing angle means that you can watch your favorite programs from nearly anywhere in your living room without distortions common to rear-projection TV's or TFT monitors.
Cure for Sore Eyes
Traditionally, video signals are transmitted using an interlacing format where two separate frames are transposed to create one single frame. This results in flicker that can lead to eye fatigue and soreness. This flicker problem is eliminated with the progressive scanning process where video images are transmitted in one single complete frame. This plasma is compatible with all progr essive scanning signals from high quality DVD players and HDTV decoders, and other high-end video equipment to produce brilliant flicker-free images.
PC Ready
The Sony FWD-42PV1PN (PAL/NTSC) is PC ready. You now have the ability to use your plasma TV with any SXGA, XGA, SVGA, or VGA computer video signals*. With Pioneer's PDP-424MV you not only have a TV, but a 42" computer monitor as well.
Digital Television for Today and Tomorrow
The Sony FWD-42PV1PN (PAL/NTSC) allows you to enjoy your favorite TV programming today while being prepared for the future. This Plasma is an HDTV ready monitor and can support both HDTV (1080i and 720p) and EDTV/SDTV (480p and 480i) input signals**. This allows you to enjoy the shows of today, with much better picture quality, and be prepared for the future of HDTV offerings. Multi System: Can you connected to any Pal, Secam or NTSC source. Then can be used anywhere in the world. Also you can play VHS and DVD movies that are Pal or NTSC as long as you have a Multi system VCR or Code Free dvd player.
42" Plasma Monitor - 852 x 480 Resolution 16:9 plasma panel (viewable area, measured diagonally)
High Contrast - Ultra-high panel brightness and contrast (10,000:1 contrast ratio). Ideal for television, HD content or PC signals
Ultra Bright Picture Output
The FWD-42PV1 offers ultra-high brightness and a 10,000:1 contrast ratio. It recognizes over a billion different colors for delicate image reproduction realism. With its standard digital input the monitor offers economical HDTV and multi-media content output.
Screen Saver Functions - Full Screen Saver Functions including Auto Dimmer functions and on/off timer.
Standard Definition and High Definition Formats - Displays Standard Definition and High Definition Formats Including 1080/60i, 720/60P, 1080/24Psf, and 480/60p Video
General Features
Picture-In-Picture or Side-by-Side Viewing
This plasma screen was designed to meet most professional applications whether for retail advertising, boardroom multi-media display or video post production. It can be used to display two images on the single screen in a variety of modes. Images can be displayed small picture over large (picture-in-picture) or split screen style where 2 programs are viewed side by side.
Mounting Flexibility - All models can be mounted in various positions to meet different user applications - whether placed on an optional table stand, installed on a wall, or hung from the ceiling.
Sophisticated Style - Versatile and Stylish Design with its simple yet sophisticated appearance, the PlasmaPro Series offers a stylish, high-impact way to convey graphical messages.
Superb Quality, Minimal Space - With excellent installation flexibility, these slim and lightweight displays provide large, superb-quality images in minimal space.
Network Expansion and Other Options
The FWD-42PV1 has two expansion slots on its reverse side to accommodate optional cards for network interface and other functions. The NSP-100 card provides the video/data, monitor status, monitor control and storage over a network. The optional EBS-N100 provides just monitor status and control over the network. There are also options for a television tuner, video/data loop-through and a variety of mounting solutions. Matching side-mount speakers are also on the options list.
Audio Features
High-Quality Digital Audio Amplifier
The PFM-42V1 provides exceptionally clear audio reproduction through integrated digital amplifiers driving 7 watts per stereo channel. Speaker Out (L/R) connectors are provided to connect optional speakers, which are available in black or silver to match the sleek looks of your PFM42V1 plasma monitor.
Other Features
Picture Zoom Control
Zoom in to a section of a picture for a closer look using the Picture Zoom Control function. This also allows up to 16 units arranged in a 4 by 4 matrix to be used in video-wall applications.
Size and Position Adjustment
If a picture is not properly sized or correctly positioned on the screen, the size and position of the image can be manually adjusted.
Picture Setting Memory
Up to 20 individual patterns of picture settings can be saved and loaded. This function is convenient for multiple users, or you can save settings for each separate source, be it TV, HDTV, DVD or PC inputs.
Precise Color Temperature Control
Up to three color temperature settings can be registered to meet the specific needs of your display environment, whether its a cozy living room or corporate boardroom.
Six-Language On-Screen Display
A quick and simple setup is available in English, French, German, Italian, Spanish, and Japanese.
Closed Caption Decoder
This enables the closed caption data embedded in a video signal to be displayed.
Screen Saver
Residual images are reduced effectively with Picture Orbiting and Picture Inversion.
Energy-Saving Mode
The energy-saving mode decreases the power consumption by reducing the emission level of the Plasma panel saving cost throughout the lifespan of the display.
24-Hour On/Off Timer
The power can conveniently be turned on and off using the built-in 24-hour on/off timer.
Dot Phase Adjustment (for analog RGB input from a PC) The sampling phase for signal digitizing can be precisely adjusted to the input RGB analog signal, creating clearer pictures. When the display receives an input signal, it automatically adjusts the picture's sharpness (phase/pitch) and ensures that a clear picture appears on the screen. Users can also adjust the setting manually.
Multi-Layer, AR-Coated Protection Panel The anti-reflection (AR) coating on the glass protection panel reduces light reflection for clear, high-contrast picture viewing whether you're watching the game on Saturday afternoon, or viewing a DVD movie with the lights turned low.
Sony FWD-42V1 42" Multi-System Plasma TV 110-240 Volts Specifications:
Screen Size
42" diagonal
Screen Aspect
16:9
Contrast Ratio
10000:1
Brightness
5000cd/m2
Color Palette
1.07 billion
Data Signals Accepted
VGA, SVGA, WVGA, XGA
TV Signals Accepted
480i, 480p, 720p, 1080i
Connections
Composite Video
1 (RCA)/ BNC
S-Video
1 (4-pin mini DIN)
PC VGA / COMPONENT
1 (15-pin d-sub VGA) IF YOU WOULD LIKE TO USE THIS TV WITH -COMPONENT INPUT A SPECIAL CABLE IS REQUIRED. PLEASE CALL US 877-578-0587
DVI
1 (24-pin DVI Interface)
Serial (RS232C)
1 (9-pin mini d-Sub)
Dimensions and General Specs.
Power Supply
100-120V, 200-240V @ 50-60Hz
Power Consumption
260 Watts
Weight
66.00 lbs.
FCC Class
FCC Class A, Commercial Use
← Back to product description



HD 720

720p is a progressive HDTV resolution signal format with 720 horizontal lines. All major HDTV broadcasting standards include a 720p format which has a resolution of 1280×720. The number 720 stands for the 720 horizontal scan lines of image display resolution (also known as 720 pixels of vertical resolution), while the letter p stands for progressive scan.
← Back to product description