Details
Sharp LC90LE740X LED TV 90" Multisystem SMART TV
This Sharp LC90LE740 was built for the 110-240 Volt 50/60 hertz market! Sharp has designed the Sharp LC90LE740X to provide 90" of full HD and is 3D capable! This Sharp 90" LED TV has SMART functionality and is Skype ready, and has a web browser available. The LC90LE740X has 1,920 x 3 x 1080 resolution and will give you an incredible TV viewing experience!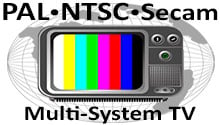 Multi-System TV - PAL, NTSC and Secam
This multisystem TV is compatible with PAL, NTSC and Secam video formats. You can use this television anywhere in the world with ANY type of video device!
Worldwide Voltage - 110v, 120v, 220v, 230v and 240 volt!
Global Dual Voltage on this Multi-system TV means it can be used anywhere. Multi-voltage TV's can be used in any country with voltage from 110 volts to 240 volts!
Sharp LC90LE740X LED TV 90" Multisystem SMART TV Features
Features
Designs and specifications are subject to change without notice.
The full HD Ultra Brilliant Full Array LED backlight system, provides even brightness across the screen
New "UV2A X-Gen Panel"
Full HD Dual Core processor
3D to 2D Conversion
USB Multimedia Player for Movie, Music and Photo
2D-3D Convert effect for Adjusting 3D effect to desired level
Automatic 3D Depth control for comfortable 3D viewing experience
Wireless ready
AquoMotion 200- 100Hz panel plus 200 Hz Backlight scanning system
AQUOS Link for one touch control of Aquos Bluray player
1080/24P signal Input for reproducing film frames just like the theaters
SRS TruSurround HD, Bass Enhancer and Audio Engine LSI by Yamaha for better sound quality
Home Network for Music, Photo and Movie(DLNA)
USB Timeshift plus function for recording digital broadcast
Web Browsing and Youtube function
Skype Function
Inbuilt HD Digital TV Tuner
7 day EPG (Electronic Program Guide) enables you to search for a program
Advanced Optical Picture Control and Eco function reduces power consumption
Energy Star Rating:9
Aspect Ratio:16:9
Dimensions (W x H x D) with Stand: 2054 x 1243 x 445 mm
Weight With Stand: 68kgs
Weight without Stand: 64kgs
← Back to product description



Full HD 1080p

1920x1080p resolution is an HDTV high-definition video mode characterized by 1080 horizontal lines of vertical resolution. As of 2012, most consumer televisions being sold provide 1080p inputs mainly with HDMI and support full high-def resolutions. 1080p resolution is available in all types of televisions, including plasma, LCD and LED.



Built-In Analog Pal, NTSC, and Secam TV tuner

Analog Pal, NTSC, and Secam tuner built in for world wide use for analog tuning. If you are in a country that utilizes digital tuning such as DVBT or ATSC a Cable Box or Satellite receiver is needed. If You have any questions regarding this please call us. With the appropriate setup this TV can be used anywhere in the world.




TV 3D




WiFi Ready

WiFi ready means that the device is able to use WiFi but requires an adapter. WiFi adapters are fairly inexpensive and usually plug into the USB port. WiFi Ready TV's will always have a standard LAN port to utilize internet features without using WiFi.



Smart TV

A smart TV, also known as a connected TV or hybrid TV, describes the combining of the Internet and Web 2.0 features into television sets, as well as the integration between computers and these television sets. These devices focus on online interactive media, Internet TV, over-the-top content, as well as on-demand streaming media, and less focus on traditional broadcast media than traditional television sets.
← Back to product description