May we suggest
Regular Price: $1,422.00
Now only: $1,075.00
This is a 3D Multisystem TV with Full HD 1920 X 1080 resolution and is World Wide Dual Voltage with Built in Wifi and SMART Hub!Shop Now >>
Details
Sharp LC46LE830M Multi-System LED 3D TV
The Sharp LC46LE830M Multi-System LED 3D TV with its Worldwide NTSC/PAL/SECAM Color System is a 46" Full HD LCD 3D TV with LED edge backlight. Sharps Quattron Technology utilizes a yellow fourth color subpixel (RGBY) which increases the range of displayable colors. A Quad Pixel Plus 1920x1080 resolution provides more precise control of the LED pixels, further reducing jagged edges and delivering smoother transitions. In addition, the Sharp LC46LE830M Multi-System LED 3D TV gives you Skype on your TV, so you can enjoy large screen video calls. Enjoy crisp, clear sound with a built-in 15W Subwoofer, SRS TS HD & YAMAHA 3D Surround System. The Sharp LC46LE830M Multi-System LED 3D TV is the total package for those who want to enjoy the very best in audio and video performance at a great value.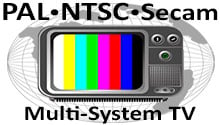 Multi-System TV - PAL, NTSC and Secam
This multisystem TV is compatible with PAL, NTSC and Secam video formats. You can use this television anywhere in the world with ANY type of video device!
Worldwide Voltage - 110v, 120v, 220v, 230v and 240 volt!
Global Dual Voltage on this Multi-system TV means it can be used anywhere. Multi-voltage TV's can be used in any country with voltage from 110 volts to 240 volts!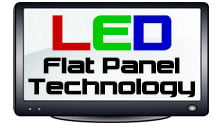 Space-Saving LED Flat Panel Technology
Multi-System LED TV's offer stunning video performance and a great value. Enjoy High Definition video in a space-saving flat panel design with this multisystem TV.
Sharp LC46LE830M Multi-System LED TV Description:
Display
Visible screen size: 117 cm (46 inches)

Resolution: 1920 x 1080

HD-ready 1080p

Brightness (cd/m²) / Contrast ratio: High Brighteness and High Contrast

Backlight System LED/Multi/RGB+: Edge LED backlight

Viewing angle (horizontal/vertical): Wide Viewing Angle

Digital combfilter: 3D Y/C
Receiving System
DVB-T / Analogue: Yes

PAL-B/G, PAL-D/K, PAL-I: Yes/Yes/Yes

SECAM-LL, SECAM-B/G, SECAM-D/K: Yes/Yes (plus K/K1)

NTSC, PAL 60 Hz: Yes/Video Input
Station Presetting
Automatic Channel sorting
Presets analogue tuner/digital tuner: Yes/No
Audio System
Digital Technology:

Automatic Volume Control:

NICAM+A2-Stereo-Decoder/Virtual Dolby/Surround: (SRS TruSurround HD)
Output power: 10W + 10W + 5W
Videotext
Text memory capacity: Teletext
Interfaces
USB Photo Viewer: USB plays Video/Music and View Photo

S-Video/Video (Cinch) / Y/PB(CB)/PR(CR) via VGA Adapter: /2/1 (Plus 3 USB)

Headphone (3,5-mm-Mini socket): Yes

PC-Input Analog / HDMI / RS-232C: 1/4/1 (Plus LAN)

General
Other Features: 110-240 V 50/60Hz

Cabinet Colour: Black

Power Consumption Stand-by (W): 0.3W

Dimensions with Stand in mm (W x H x D): 1072 x 711 x 293

Dimensions (W x H x D) in mm: 1072 x 663 x 26.4

Weight incl. Stand (kg): 22.5 kg

Wallmount: 400mm x 400mm
← Back to product description



Full HD 1080p

1920x1080p resolution is an HDTV high-definition video mode characterized by 1080 horizontal lines of vertical resolution. As of 2012, most consumer televisions being sold provide 1080p inputs mainly with HDMI and support full high-def resolutions. 1080p resolution is available in all types of televisions, including plasma, LCD and LED.



Built-In Analog Pal, NTSC, and Secam TV tuner

Analog Pal, NTSC, and Secam tuner built in for world wide use for analog tuning. If you are in a country that utilizes digital tuning such as DVBT or ATSC a Cable Box or Satellite receiver is needed. If You have any questions regarding this please call us. With the appropriate setup this TV can be used anywhere in the world.




TV 3D




USB Input

USB stands for Universal Serial Bus. A USB port is a cable connection interface used on personal computers and consumer electronics. USB ports allow stand-alone electronic devices to be connected via cables to a computer or to each other.
← Back to product description