Details
Sharp LC-46A85M Aquos 46" Multi-System LCD HDTV; PAL, NTSC and Secam 100-240 Volts:
TRUE FULL HD 46" wide LCD Screen with 1080i/1080p HDMI input PC input
Highly Sophisticated Elegant Design and First Class Performance to enjoy Home Entertainment
46"Hi definitionwide LCD Screen Made in Sharps New Kameyama Plant located in Japan. The LCD panel of this tv is made in Japan.
3 HDMI Inputs, Buttom Speakers
Newly Developed Real 16x9 WXGA (1920 x 1080) ASV & Black TFT LCD Panel
World-Wide NTSC/PAL/SECAM Color System - Watch any video signal on this TV!
NTSC M, PAL BG/PAL I/Secam BG, DK/ PAL DK TV tuners
50,000:1 Dynamic Contrast Ratio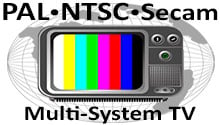 Multi-System TV - PAL, NTSC and Secam
This multisystem TV is compatible with PAL, NTSC and Secam video formats. You can use this television anywhere in the world with ANY type of video device!
Worldwide Voltage - 110v, 120v, 220v, 230v and 240 volt!
Global Dual Voltage on this Multi-system TV means it can be used anywhere. Multi-voltage TV's can be used in any country with voltage from 110 volts to 240 volts!
Space-Saving LCD Flat Panel Technology
Multi-System LCD TV's offer stunning video performance and a great value. Enjoy High Definition video in a space-saving flat panel design with this multisystem TV.
Sharp LC-46A85M Aquos 46" Multi-System LCD HDTV Specifications:
Designs and specifications are subject to change without notice.
Sharp's new LC-46A85M 46" LCD TV. The LC4A85M provides one of the
best HD experiences in the 46" LCD screen size. Slim style LCD Panel from Sharp's new Kameyama LCD Plant in Japan.
Key Features:
Sharp LC-46A85M 42" Multi System TV
100/120 hz for excellent picture even in fast moving video
3HDMI Inputs
FULL HD 1920 X 1080 resolution
Beautiful Piano Black Finish
Supports upto 1080p resolution
World-Wide NTSC/PAL/SECAM Color System - Watch any video signal on this TV!
World-Wide NTSC M, PAL BG/PAL I/Secam BG, DK/ PAL DK TV tuners
Brightness:450 cd/m
50,000:1 dynamic contrast ratioprovides incredible images whether you're watching dark or bright scenes!
Digital audio amplifier with high audio output 10w X 2
Built-inNTSC/PAL BG/PAL I/Secam BG, DK/ PAL DK TV tunersenables you to plug your cable TV line right into the TV and start watching.
46" Active Matrix TFT ASV (Advanced Super View) LCD Panel
WXGA ASV LCD Panel by Sharp ASV LCD Technology
AQUOS Liquid Crystal Televisions are very bright, so you can put them anywhere -- even
near windows, doors or other light sources and their picture will still be vivid.
60,000-Hour Lamp Life,Sharp's LCD backlight life is long enough to give you viewing pleasure for many years.
Crystal-Clear LCD Picture Quality
Full HD New ASV Super Lucent Panel (1,920 x 1,080 Pixels)
Panels made in Japan - Sharp's Kameyama Plant
RGB Backlight delivers natural colour
10-bit Video Processor & 10-bit Panel
High Brightness of 450cd/m2and dynamic contrast ratio of 50,000:1
Wide Viewing Angle of 176° horizontally and vertically
3D Y/C comb filter
Pure black filter reproduces deeper black
High -Fidelity Sound
SRS Trusurround XT
Bass Enhancer
10W x 2 audio output
Advanced digital interface with three HDMI Inputs
1080P/24P HD Signals supported
HDMI version 1.3
Environmentally conscious design
The advanced optical picture control (OPC) automatically adjusts luminance according to room brightness or lighting conditions as well as power consumption saving
Long-life backlight and eco-oriented materials and design convenient for recycling
More TV Entertainment Quality
Built-in TELETEXT
Multi Format TV and Video System (PAL, NTSC, SECAM)
PC-input
Built-in RS-232C
Built-in advanced OPC
AQUOS LINK
1080P/24P
Video
Panel: Kameyama ASV Superlucent Panel
Screen Size: 46"
Panel/Video Proccessor: 10/10bit
Resolution: 1920x1080
Luminance (cd/m2): 450
Dynamic Contrast Ratio: 50,000:1
Viewing Angle: H; 176 deg., V;176 deg.
24P Cinema
Lamp Life: 60,000 hrs
RGB Backlight
100Hz/120Hz
Deep Colour
Tuner
TV Receiving Systems: PAL-B/G, -D/K, -I, -60, NTSC-M, SECAM-B/G, -D/K, -K/KI
Video Colour System: PAL/SECAM/NTSC 3.58/NTSC 4.43/PAL 60
Tuner (Preset Channels): Auto Channel Sort
Audio
Amplifier: Digital
Audio Output: 10W + 10W
Speakers: 10 x 4cm x 2
Stereo System: NICAM / A2
Surround System: SRS Trusurround XT
Bass Enhancer
Convenience Functions
OSD Language: English/Simplified Chinese/Traditional Chinese/Arabic
TELETEXT
Picture and Picture
Picture and Text
OPC (Optical Picture Control): Yes (Advanced)
AQUOS Link (HDMI-CEC Compliance)
Terminals
Video In: 3
S Video In: 1
Component In: 2
HDMI (Ver. 1.3): 3 (Rear)
HDMI (Ver. 1.3)-PC Compliance
RS-232C: 1
D-sub 15 pin (PC input): 1
Digital Audio Output: 1
AV Output: 1
Power Supply: 110-240V 50Hz / 60Hz
Power Consumption: Approx. 250W
Dimensions (mm) (WxHxD)
Without stand: 1113 x 706 x 95
With Stand: 1113 x 773 x 325
Net Weight (kg)
Without stand: 18.5 kg
With Stand: 22.0 kg
← Back to product description



Full HD 1080p

1920x1080p resolution is an HDTV high-definition video mode characterized by 1080 horizontal lines of vertical resolution. As of 2012, most consumer televisions being sold provide 1080p inputs mainly with HDMI and support full high-def resolutions. 1080p resolution is available in all types of televisions, including plasma, LCD and LED.



Built-In Analog Pal, NTSC, and Secam TV tuner

Analog Pal, NTSC, and Secam tuner built in for world wide use for analog tuning. If you are in a country that utilizes digital tuning such as DVBT or ATSC a Cable Box or Satellite receiver is needed. If You have any questions regarding this please call us. With the appropriate setup this TV can be used anywhere in the world.
← Back to product description