Details
Sharp LC-40LE700 40" 4 HDMI multi-system LED TV, PAL, NTSC and Secam 100-240 Volts: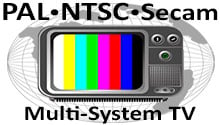 Multi-System TV - PAL, NTSC and Secam
This multisystem TV is compatible with PAL, NTSC and Secam video formats. You can use this television anywhere in the world with ANY type of video device!
Worldwide Voltage - 110v, 120v, 220v, 230v and 240 volt!
Global Dual Voltage on this Multi-system TV means it can be used anywhere. Multi-voltage TV's can be used in any country with voltage from 110 volts to 240 volts!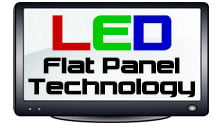 Space-Saving LED Flat Panel Technology
Multi-System LED TV's offer stunning video performance and a great value. Enjoy High Definition video in a space-saving flat panel design with this multisystem TV.
Sharp LC-40LE700 40" LED Multi System TV Descriptions:
Key Features:
Worldwide NTSC/PAL/SECAM Color System
Worldwide NTSC, PAL BG, PAL I, Secam BG, DK/ PAL DK TV tuners
40" Full HD LED-LCD TV with BORDERLESS™ Design and TruMotion 100Hz
Clear Voice II
Smart Energy Saving Plus
Intelligent Sensor
24p Real Cinema
Simplink
USB 2.0 (JPEG/MP3/DivX)
DivX HD
Voltage: automatic switching between 100-240 volts 50/60Hz for use world wide
Sharp LC-40LE700 40" LED Multi System TV Specifications:
Designs and specifications are subject to change without notice.
General
Display Type LCD TV Screen Size (Inch) 40
PICTURE
Colors Reproduction (R,G,B) 10bit
Response Time(MPRT) 2ms
WCC (Wide Color Control)
Digital DVB-T (MPEG-4) MPEG 2/4
Life Span (hr) 60,000h
VIDEO
Dual XD Engine
Aspect Ratio Correction 7 Modes (16:9/Just Scan/Original/4:3/ 14:9/Zoom/CinemaZoom)
Just Scan (0% overscan)
Film Mode (3:2 Pull down)
Fresh White
AV Mode II (Cinema/Game/Sport)
SOUND
Speaker System 2 Way 4 Speakers
Dolby Digital Decoder
Surround System SRS Trussuround
Clear Voice II
Smart Volume Leveler
FEATURES
Smart Energy Saving Plus
Bluetooth
1080P Source Input HDMI 60p/30p,50p/24p Component 60p/30p,50p/24p RGB 1920x1080(60p)
AV Input Navigation
SIMPLINK (HDMI CEC)
Swivel (°) +20° / 20°
MP3/JEPG
Subtitle for DivX (HD/SD)
USB 2.0 MP3/JEPG, MPEG 2/4, Subtitile for DivX(HD/SD)
INTERFACE
HDMI/HDCP Input
USB 2.0
RF In
AV In
RGB In (D-sub 15pin)
Component in (Y,Pb,Pr) + Audio
HDMI Input : 4
Digital Audio Out
PC Audio Input
RS-232C (Control / SVC)
Additional Information
MPN LC-40LE700
Manufacturer : Sharp
Color: Black
Product Type: LED TV
Screen Size: 40"
Resolution: 1920 X 1080
Brightness: 500cd/m2
HDMI Inputs : 4
Audio Outputs: 10W+10W
USB Port
Number of Speakers: 2 Way 4 Speakers
Contrast Ratio: 2,000,000:1
Aspect Ratio : 16:9
Response Time: 2ms
Viewing Angle: 178/178
Remote Control
Voltage 100-240V 50/60 Hz
Dimensions Dimension without Stand : 964mm x 612mm x 93mm (W x H x D)
Dimension with Stand : 964mm x 664mm x 270mm (W x H x D)
Product Weight : 16.2000
← Back to product description



Full HD 1080p

1920x1080p resolution is an HDTV high-definition video mode characterized by 1080 horizontal lines of vertical resolution. As of 2012, most consumer televisions being sold provide 1080p inputs mainly with HDMI and support full high-def resolutions. 1080p resolution is available in all types of televisions, including plasma, LCD and LED.



Built-In Analog Pal, NTSC, and Secam TV tuner

Analog Pal, NTSC, and Secam tuner built in for world wide use for analog tuning. If you are in a country that utilizes digital tuning such as DVBT or ATSC a Cable Box or Satellite receiver is needed. If You have any questions regarding this please call us. With the appropriate setup this TV can be used anywhere in the world.




USB Input

USB stands for Universal Serial Bus. A USB port is a cable connection interface used on personal computers and consumer electronics. USB ports allow stand-alone electronic devices to be connected via cables to a computer or to each other.
← Back to product description