May we suggest
Regular Price: $299.00
Now only: $266.00
LED televisions are newer and more improved than regular LCD televisions. They are slimmer, last longer, and offer a better picture quality while using less energy. Shop Now >>
Details
Sharp LC-32M400M Multi System Full HD LCD TV; PAL, NTSC and Secam 100-240Volts:
Sharp LC-32M400M advanced image processing engine analyses each scene to give optimum colour and contrast.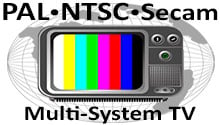 Multi-System TV - PAL, NTSC and Secam
This multisystem TV is compatible with PAL, NTSC and Secam video formats. You can use this television anywhere in the world with ANY type of video device!
Worldwide Voltage - 110v, 120v, 220v, 230v and 240 volt!
Global Dual Voltage on this Multi-system TV means it can be used anywhere. Multi-voltage TV's can be used in any country with voltage from 110 volts to 240 volts!
Space-Saving LCD Flat Panel Technology
Multi-System LCD TV's offer stunning video performance and a great value. Enjoy High Definition video in a space-saving flat panel design with this multisystem TV.
Sharp LC-32M400M Multi System Full HD LCD TV Product Description
Sharp's new LC-32M400M 100 Hertz LCD TV provides the best HD experience with smooth reproduction of fast moving images.
Worldwide NTSC/PAL/SECAM Color System Worldwide PAL BG, PAL I, Secam BG, DK/ PAL DK TV tuners World-wide Dual Voltage 110-240 volts 50-60 hertz 1080/24P Signal Input 3 X HDMI terminal Advanced OPC (Optical Picture Control) Antena Booster 5W X 2 Speakers Built-in RS-232C Tuner TV Receiving Systems: PAL-B/G, PAL-D/K, PAL-I,-60, NTSC-M, SECAM-B/G, SECAM-D/K, SECAM-K/K1' Video Color Systems: PAL / SECAM / NTSC 3.58 / NTSC 4.43 / PAL 60Hz
TRUE Hi Def 32" wide LCD Screen
3 X HDMI input, PC input, USB input
32" Hi definition wide LCD Screen
Newly Developed Real 16x9 WXGA (1366 x 768) ASV & Black TFT LCD Panel
World-Wide NTSC/PAL/SECAM Color System - Watch any video signal on this TV!
NTSC M, PAL BG/PAL I/Secam BG, DK/ PAL DK TV tuners
WXGA ASV LCD Panel by Sharp ASV LCD Technology (1366 x 768)
Piano Black Finishing to match any rooms Elegance
Dynamic Contrast Ratio 25,000:1
3 X HDMI terminal (V1.3)for digital and simple connection with AV equipment
6ms Response Time
Digital Amplifier for producing clear sound
Power saving ecological features such as OPC (Optical Picture Control)
Built In TELETEXT Circuit (TOP/FLOF)
Muilt System TV Tuner (PAL/SECAM/NTSC)
Complied withRoHS
10-Bit Video Processing
Intelligent Backlight Control
3D Management
3 HDMI Terminals
Aquos Engine
AutoView
Auto Signal Booster
15,000:1 Screen Contrast Ratio
50,000:1 Dynamic Contrast Ratio
Sharp Aquos Technology offers excellent picture and Panel made in Japan
Made in Japan LCD Panel
Analogue image quality improvement / Upscalling
High Sensitivity Tuner
USB easy connection for photo/music
Ecological features, such as Advanced OPC (Optical Picture Control)
1080/24p Signal Input for theatre-like film frames
HDMI terminal for simple digital connection with AV equipments
D-sub 15 pin terminal for PC and analogue RGB signals (Auto On/Off)
Selectable Multilingual On-Screen Display
(English / Simplified-Chinese / Arabian / Persian / French / Thai / Portuguese / Vietnamese / Indonesian / Russian)
Corresponding to Hotel-mode (responding of setting, public mode, Maginet)
Built in Teletext
Complied with RoHS
Sharp LC-32M400M Multi system Full HD LCD TV Specifications
Designs and specifications are subject to change without notice.
General Features:
Viewing Angle: H: 176 deg., V: 176 deg.

Audio Output: 5W + 5W
Stereo System: NICAM (I/DK/BG) / A2 / BTSC for Philippine
Power Source: AC 100-240V, 50/60Hz
Power Consumption: 102W
Stand by: 0.8W
Dimensions (W x H x D): without stand: 792 x 540 x 113 (mm)/ with stand: 792 x 576 x 242 (mm)
Weight: without stand : 8.5 kg/ with stand : 9.2 kg
Terminals
HDMI x3, AV-In x 2, Component x1, S-Video x1 (shared with AV-In), PC x1, RS-232C x1, USB x1, Audio Output x1
← Back to product description



HD 720

720p is a progressive HDTV resolution signal format with 720 horizontal lines. All major HDTV broadcasting standards include a 720p format which has a resolution of 1280×720. The number 720 stands for the 720 horizontal scan lines of image display resolution (also known as 720 pixels of vertical resolution), while the letter p stands for progressive scan.



Built-In Analog Pal, NTSC, and Secam TV tuner

Analog Pal, NTSC, and Secam tuner built in for world wide use for analog tuning. If you are in a country that utilizes digital tuning such as DVBT or ATSC a Cable Box or Satellite receiver is needed. If You have any questions regarding this please call us. With the appropriate setup this TV can be used anywhere in the world.




USB Input

USB stands for Universal Serial Bus. A USB port is a cable connection interface used on personal computers and consumer electronics. USB ports allow stand-alone electronic devices to be connected via cables to a computer or to each other.
← Back to product description