Details
Sharp LC-26A37M Multi System LCD TV HDTV HD; PAL, NTSC and Secam 100-240 Volts:
TRUE Hi Def 26" wide LCD Screen with 1080i
HDMI input, PC input
26"Hi definitionwide LCD Screen
2 HDMI Inputs, Side Speakers
Newly Developed Real 16x9 WXGA (1366 x 768) ASV & Black TFT LCD Panel
World-Wide NTSC/PAL/SECAM Color System - Watch any video signal on this TV!
NTSC M, PAL BG/PAL I/Secam BG, DK/ PAL DK TV tuners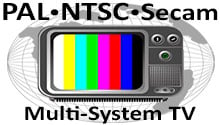 Multi-System TV - PAL, NTSC and Secam
This multisystem TV is compatible with PAL, NTSC and Secam video formats. You can use this television anywhere in the world with ANY type of video device!
Worldwide Voltage - 110v, 120v, 220v, 230v and 240 volt!
Global Dual Voltage on this Multi-system TV means it can be used anywhere. Multi-voltage TV's can be used in any country with voltage from 110 volts to 240 volts!
Space-Saving LCD Flat Panel Technology
Multi-System LCD TV's offer stunning video performance and a great value. Enjoy High Definition video in a space-saving flat panel design with this multisystem TV.
Sharp LC-26A37M 26" Multi system LCD TV Specifications:
Designs and specifications are subject to change without notice.
Sharp LC-26A37M 26" Multi System TV
2 HDMI Inputs for Hi Definition 1080i TV
Beautiful Piano Black Finish
World-Wide NTSC/PAL/SECAM Color System - Watch any video signal on this TV!
World-Wide NTSC M, PAL BG/PAL I/Secam BG, DK/ PAL DK TV tuners
100/120Hz Fine Motion Advanced for smooth reproduction of fast-moving picture
Digital Comb Filter
Brightness:450 cd/m
6MS responce Time
10,000:1 contrast ratioprovides incredible images whether you're watching dark or bright scenes!
Digital audio amplifier with high audio output 10w X 2
Built-inNTSC/PAL BG/PAL I/Secam BG, DK/ PAL DK TV tunersenables you to plug your cable TV line right into the TV and start watching.
26" Active Matrix TFT ASV (Advanced Super View) LCD Panel
WXGA ASV LCD Panel by Sharp ASV LCD Technology
AQUOS Liquid Crystal Televisions are very bright, so you can put them anywhere -- even near windows, doors or other light sources and their picture will still be vivid.
60,000-Hour Lamp Life,Sharp's LCD backlight life is long enough to give you viewing pleasure for many years.
Audyssey Spatial EQ for theater-like surround sound
Dual Picture Function (P & P)
Digital Amplifier for producing clear sound
Power saving ecological features, such as Advanced OPC (Optical Picture Control)
Built-In TELETEXT Circuit (TOP/FLOF)
RoHS Compliant
Image Inverter for Custom Installationsallows you to invert the image upside-down or "mirror" image if you need to hang it in an unconventional manner.
176º/176º Viewing Anglesare so wide you can view AQUOS Liquid Crystal Televisions from anywhere in the room!
Power Consumption AC:158W
Audio Output: RCA: L/R x 1
ENERGY STAR Compliant
World-wide Dual Voltage 110-240 volts 50-60 hertz
1 year parts and laborLimited Warranty from Sharp
Built-in Connections:
HDMI Input X 2
PC Input
Optical Audio out X 1
Component Input (Y/Pr/Pb ) X 2
S-Video Input X 1
Composite (AV) Video Input X 2
Composite (AV) Video Output X 1
RS232C Terminal X 1
Other Features
Cabinet Colour: Black
Power Consumption Operation (W): 88
Dimensions with Stand in mm (W x H x D): 652 x 504 x 235
Dimensions (W x H x D) in mm: 652 x 445 x 123
Weight incl. Stand (kg): 9
← Back to product description



Built in DVBT and PAL Tuner

Built IN DVBT and Pal Tuner. Excellent for use outside North America with Analog Pal RF signals and DVBT RF Signals. For use in North America to watch television a Cable, box or Satellite receiver from your cable company is necessary. Or if you will not subscribe to any paid cable a ATSC digital cable converter box can be used to tune TV channels when in North America. If using outside of North America in Africa, Asia, Europe, Middle East, Oceania, or other countries with Pal or DVBT tuning, this TV will work directly with RF Antenna signal. If You have any questions regarding this please call us. With the appropriate setup this TV can be used anywhere in the world.
← Back to product description