Details
Sanyo 42K40 42" Multi System LCD TV; PAL, NTSC and Secam 110 - 240 Volts:
Sanyo 42K40 is a 42" Full HD 1920 X 1080 Multi-System LCD TV. With a design that is simply refined, the Sanyo 42K40 MultiSystem LCD TV delivers delight to your eyes. Its slim style refreshes your living space and uplifts your emotions, creating entertainment that is more enjoyable. Its pristine picture quality offers an outstanding HDTV experience that redefines how you connect to the digital world.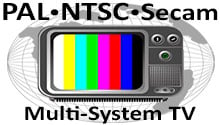 Multi-System TV - PAL, NTSC and Secam
This multisystem TV is compatible with PAL, NTSC and Secam video formats. You can use this television anywhere in the world with ANY type of video device!
Worldwide Voltage - 110v, 120v, 220v, 230v and 240 volt!
Global Dual Voltage on this Multi-system TV means it can be used anywhere. Multi-voltage TV's can be used in any country with voltage from 110 volts to 240 volts!
Space-Saving LCD Flat Panel Technology
Multi-System LCD TV's offer stunning video performance and a great value. Enjoy High Definition video in a space-saving flat panel design with this multisystem TV.
Sanyo 42K40 42" Multi System LCD TV Description
Key Features:
Model: Sanyo 42K40 MultiSystem LCD TV
World-Wide NTSC/PAL/SECAM Color System - Watch any video signal on this TV!!
World-Wide NTSC M, PAL BG, PAL I, Secam BG, DK/ PAL DK TV tuners
Full HD 1920 X 1080p Resolution
42 inch LCD TV with 4 HDMI inputs and PC input
Piano Black Finish
60.000 : 1 Dynamic Contrast: While viewing either very bright or very dark scenes, it can be difficult to distinguish main images which blend into the background. Dynamic Contrast dramatically mitigates this problem by adjusting the backlight intensity, providing up to a 4X improvement in contrast.
Widescreen 16 X 9 Format
World-wide Dual Voltage 110-240 volts 50-60 hertz
HDTV monitor (HDTV tuner required for HD reception)
This is a multisystem TV. All Multi System TVs in the market do not have a digital TV tuner: What does this mean?To watch digital channels (ATSC Broadcasting in US and DVBT broadcasting overseas) you need a digital source/tuner like a cable box, digital tuner, satellite service, etc. To get the best quality video on this TV you need a source that has a digital connection like HDMI or component.
Wide Screen Mode allows you to watch conventional 4:3 aspect ratio broadcasts in wide screen (16:9) mode.
Steady Sound equalizes volume levels so there is consistent output between programs and commercials.
Built-in hidden speakers includes 2 (5W x 2) speakers to deliver dynamic sound.
Component Video Input offers the best video quality for DVD (480p and 480i), and digital set-top box (1080p, 1080i, 720p, 480p and 480i) connections.
PC Input allows you to connect your PC and display the PC screen on your TV.
Surround Sound Audio Effect
Sanyo 42K40 42" Multi System LCD TV Specification
Specifications:
Video Signal System: NTSC, PAL, Secam
Display Resolution: 1920 x 1080
Native Resolution: 1080p, 1080i, 720p
Full Digital Image Processor
10-bit processor with 12.8 billion colors
Wide Viewing Angle 178 degrees
Brightness 500cd/m2
3D Y/C Comb Filter
3:2 Pulldown technology
PIP (for Freeze Function)
Vertical Frequency (Hz): 56 / 60 / 72 / 73 / 75
Contrast Ratio: TBD
Horizontal Scan (KHz) for PC: 31/ 31.5 / 35.2 / 37.9 / 46.9 / 47.4 / 47.7 / 47.8 / 56.5 / 60 / 60.3
Overscan: Normal, +1, +2
Viewing Angle: Right/Left: 170°, Up/Down: 170°
Display Response Time: TBD
Vertical Size: +10 to -10 (TV) +50 to -50 (PC)
Vertical Center: +10 and -10 (Zoom) +10 and -10 (Wide Zoom)
Horizontal Center: +10 to -10 (TV) +50 to -50 (PC)
Screen or Display Technology: LCD
Tuner: Analog
Video Processing: One-chip Video Processor
Color Temperature: Cool, Neutral, Warm
Noise Reduction
Screen Modes (4:3): Wide Zoom, Normal, Full, Zoom
Screen Modes (16:9): Wide Zoom, Normal, Full, Zoom, Off
Wide Mode (16:9): Wide Zoom, Full, Zoom
Wide Mode (4:3): Wide Zoom, Normal, Full, Zoom
Comb Filter: 3D Digital Comb Filter
Phase (PC Only)
Pitch (PC Only)
Light Sensor
Picture Modes: Vivid, Standard, Pro
Audio
Speaker Type: Oval cone
Speakers (Total): 2
Full Range Speaker Size: 55 x 150mm (Oval)
Audio Power Output: 20W Total (10W x 2
Audio Features
Tone Control(s): Treble and Bass
Sound Mode: Dynamic, Natural, Clear Voice, Mode Memory, Simulated
Digital Amplifier
Audio Mute
Speaker On/Off
Simulated Surround
Convenience
Stand Tilt Range: L/R: 15°
Stand Swivel Range: Forward 3° / Back 8°
Convenience Features
Inputs and Outputs
HDMI input X 3
USB Terminal
PC Input x 1
Component X 2 (Y/Pb/Pr )
Audio In x 2
Composite In x 2
S-Video X 1
Composite Out x 1
Headphone Out x 1
RF Connection Input
Power
World Wide Voltage Supply AC 100-240V, 50/60Hz
Internal Power Supply
Power Consumption (in Operation): Less than 155W
Power Consumption (in Standby): Less than 1W
Regulation and Standard Compliance
Dimensions and Weight:
Dimensions with stand (WxHxD):1015 mm Wide x 616 mm High x 157 mm Deep
Weight with stand: 15.5Kg
Supplied Accessories:
Remote Control
Battery (Type AA, x2)
AC Power Cord
← Back to product description



Full HD 1080p

1920x1080p resolution is an HDTV high-definition video mode characterized by 1080 horizontal lines of vertical resolution. As of 2012, most consumer televisions being sold provide 1080p inputs mainly with HDMI and support full high-def resolutions. 1080p resolution is available in all types of televisions, including plasma, LCD and LED.



Built-In Analog Pal, NTSC, and Secam TV tuner

Analog Pal, NTSC, and Secam tuner built in for world wide use for analog tuning. If you are in a country that utilizes digital tuning such as DVBT or ATSC a Cable Box or Satellite receiver is needed. If You have any questions regarding this please call us. With the appropriate setup this TV can be used anywhere in the world.




USB Input

USB stands for Universal Serial Bus. A USB port is a cable connection interface used on personal computers and consumer electronics. USB ports allow stand-alone electronic devices to be connected via cables to a computer or to each other.
← Back to product description