May we suggest
Regular Price: $525.00
Now only: $390.00
This LED TV is World Wide Dual Voltage with Multisystem World-Wide Color Systems PAL/NTSC/SECAM and a Full HD 1920 x 1080p Resolution!Shop Now >>
Details
Samsung UE39EH5003 39" Multi-System Full HD LED TV 110-220 Volts Description:
The Samsung UE39EH5003 is a Smart TV providing a high quality viewing experience in a small package. Full 1080P HD resolution is supplemented by Samsung's Wide Color enhancer Plus, boosting image quality and revealing the fine details of high resolution imagery. Featuring dual HDMI ports and SRS theater sound, there's no limitations in video or audio quality. With ConnectShare, you can use your USB port to watch your favorite video files directly on the TV screen with ease.
Features of the UE39EH5003 include Game mode, 1920 x 1080 resolution, dual HDMI ports, USB port, DTS 2.0 digital output, Dolby Digital Plus/Digital Pulse, and digital noise filtering.
This is a multi-system TV model that is equipped with Worldwide Voltage ability, allowing it to operate at either 110 or 220 volts so it can be taken anywhere in the world. Built-in PAL, NTSC and SECAM color recognition eliminates the need for an external video converter and allows this TV to work with any color format. If you're looking for high quality, reliability and flexibility in a 39 inch unit than this is the model for you.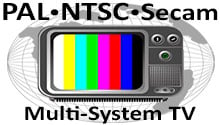 Multi-System TV - PAL, NTSC and Secam
This multisystem TV is compatible with PAL, NTSC and Secam video formats. You can use this television anywhere in the world with ANY type of video device!
Worldwide Voltage - 110v, 120v, 220v, 230v and 240 volt!
Global Dual Voltage on this Multi-system TV means it can be used anywhere. Multi-voltage TV's can be used in any country with voltage from 110 volts to 240 volts!
Bright, vivid images and exceptional contrast
The 3D backlight on the ES6200 series is automatically adjusted according to the video signal to help to deliver exceptional contrast and bright, clear images.
Samsung UE39EH5003 39" Multi-System Full HD LED TV 110-220 Volts Specifications:
Audio
Dolby Digital Plus / Dolby Pulse
SRS TheaterSound
Dts 2.0 + Digital output available
Output power (RMS): 10W x 2
Down Firing + Full Range
EQ automatic volume available
Power Supply
AC 220 - 240 V 50/60 Hz
Energy efficiency class A
Power Consumption (Energy Saving Mode): 21 W
Auto Power Off available
Less than 0.5 W
Clock & Timer on / off available
Sleep Timer available
Typical power consumption: 55 W
Annual Consumption (EU standard, kWh): 80 kWh
Accessories
TM1240 remote
Batteries (for remote control) included
VESA wall mount supported
Power cable included
Instructions included
Electronic manual included
Mini wall mount supported
Series
Series 5
Connectivity
2 HDMI
1 USB
Component in (y / pb/ pr) X 1
Composite in (AV) X 1 (common use for component)
RF input (Input Terrestrial / Cable) x 1 unit
Dimensions (WxHxD)
Unit Dimensions (W x H x D) without stand: 89.59 x 53.25 x 9.32 cm
Unit Dimensions (W x H x D) with stand: 89.59 x 58.93 x 22.76 cm
Box (W x H x D): 902 x 530 x 162 mm 90.2 x 53 x 16.2 cm
Smart Convenience
ConnectShare ™ Movie
Game mode available
29 European languages
Video
50 inches
Resolution: 1920 x 1080
Wide Color Enhancer Plus
Digital noise filter available
Clear Motion Rate 50 Hz
Design
Color: black
Type square foot
Frame type 17.5 mm
Weight
Device without stand: 7.8 kg
Device with stand: 9.8 kg
Fund: 11.6 kg
Tuner / Broadcasting
DVB-T / C
Analogue tuner available
EPG available
Clone USB channel list available
CI +
Auto Channel Search available
Teletext (TTX) (1,000 pages) available
← Back to product description



Full HD 1080p

1920x1080p resolution is an HDTV high-definition video mode characterized by 1080 horizontal lines of vertical resolution. As of 2012, most consumer televisions being sold provide 1080p inputs mainly with HDMI and support full high-def resolutions. 1080p resolution is available in all types of televisions, including plasma, LCD and LED.



Built-In Analog Pal, NTSC, and Secam TV tuner

Analog Pal, NTSC, and Secam tuner built in for world wide use for analog tuning. If you are in a country that utilizes digital tuning such as DVBT or ATSC a Cable Box or Satellite receiver is needed. If You have any questions regarding this please call us. With the appropriate setup this TV can be used anywhere in the world.




Built in DVBT and PAL Tuner

Built IN DVBT and Pal Tuner. Excellent for use outside North America with Analog Pal RF signals and DVBT RF Signals. For use in North America to watch television a Cable, box or Satellite receiver from your cable company is necessary. Or if you will not subscribe to any paid cable a ATSC digital cable converter box can be used to tune TV channels when in North America. If using outside of North America in Africa, Asia, Europe, Middle East, Oceania, or other countries with Pal or DVBT tuning, this TV will work directly with RF Antenna signal. If You have any questions regarding this please call us. With the appropriate setup this TV can be used anywhere in the world.




USB Input

USB stands for Universal Serial Bus. A USB port is a cable connection interface used on personal computers and consumer electronics. USB ports allow stand-alone electronic devices to be connected via cables to a computer or to each other.
← Back to product description