Details
Samsung UA75ES8000 75" Multi-System LED 3D HD TV Description:
The Samsung ES8000 is a highly sophisticated 75 inch 3D Smart Tv that has taken ingenuity to the next level. Equipped with new smart interaction technology, this model gives you the ability to conveniently operate your TV using nothing more than voice and motion. Featuring a Built-in camera with facial recognition, the ES8000 lets you login to your personal and media accounts with no need to type usernames and passwords. Additionally, this model uses Smart Evolution which allows you to literally upgrade your hardware, software and firmware each year without the need to replace the whole TV - Simply insert the Evolution Kit and enhance your TV's capability instantly. To say that this extraordinary TV is cutting-edge would truly be an understatement.
In addition to the impressive high-tech features that make the UA75ES8000 unit so appealing, its multi-system capability takes it even further. Worldwide voltage (110 and 220 volt compatibility) lets you use this TV at any electrical voltage, anywhere in the world. It's also PAL, NTSC and SECAM ready so it functions with Blu-ray, DVD, gaming and cable systems from anywhere in the world with no need for an external video converter.
Features include 3D Sound, 1920 x 1080 resolution, triple HDMI ports, triple USB ports, Ethernet port, digital audio out, web browser, picture-in-picture, built-in camera, built-in Wi-Fi, voice control, smartphone remote capable, and more. The ES8000 has so much to offer, it's unreal. If you're looking for a TV that can literally do everything, and then some; this is it.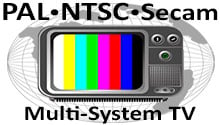 Multi-System TV - PAL, NTSC and Secam
This multisystem TV is compatible with PAL, NTSC and Secam video formats. You can use this television anywhere in the world with ANY type of video device!
Worldwide Voltage - 110v, 120v, 220v, 230v and 240 volt!
Global Dual Voltage on this Multi-system TV means it can be used anywhere. Multi-voltage TV's can be used in any country with voltage from 110 volts to 240 volts!
Space-Saving 3D Flat Panel Technology
Multi-System 3D TV's offer stunning video performance and a great value. Enjoy High Definition video in a space-saving flat panel design with this multisystem TV.
Samsung UA75ES8000 75" Multi-System LED 3D HD TV Specifications:
General
Product positioning: full hd TV, LED TV, 3D television, network television
Screen size: 75 inches
Screen scale: 16:9
Resolution: 1920 x 1080
The LCD panel: VA panel
A backlight type: LED light-emitting diode
The best viewing distance: 5.0 meters
Video
Support format: 1080p (Full HD)
Sound parameters
Sound mode: support for multiple sound mode
Intelligent volume control: support automatic volume control
Stereo: support
Speaker: built-in
Function parameters
3D display: active shutter type
USB media: support
Intelligent backlight control: support backlight control
TV interface
HDMI interface: 3 * HDMI
Network interface: 1 x network interface
Other parameters
Appearance design: silver
Worldwide NTSC/PAL/SECAM Color System
Worldwide PAL BG, PAL I, Secam BG, DK/ PAL DK TV tuners
World Wide Voltage Supply AC 100-240V, 50/60Hz
← Back to product description



Full HD 1080p

1920x1080p resolution is an HDTV high-definition video mode characterized by 1080 horizontal lines of vertical resolution. As of 2012, most consumer televisions being sold provide 1080p inputs mainly with HDMI and support full high-def resolutions. 1080p resolution is available in all types of televisions, including plasma, LCD and LED.



Built in DVBT and PAL Tuner

Built IN DVBT and Pal Tuner. Excellent for use outside North America with Analog Pal RF signals and DVBT RF Signals. For use in North America to watch television a Cable, box or Satellite receiver from your cable company is necessary. Or if you will not subscribe to any paid cable a ATSC digital cable converter box can be used to tune TV channels when in North America. If using outside of North America in Africa, Asia, Europe, Middle East, Oceania, or other countries with Pal or DVBT tuning, this TV will work directly with RF Antenna signal. If You have any questions regarding this please call us. With the appropriate setup this TV can be used anywhere in the world.




TV 3D




Memory Card Reader

A memory card reader is a device usually having a USB interface. This allows it to access the data on a memory card such as a Compact Flash (CF), Secure Digital (SD) or MultiMedia Card (MMC). There are three categories of memory card readers sorted by the type and quantity of the card slots: single card reader, multi card reader and series card reader.



USB Input

USB stands for Universal Serial Bus. A USB port is a cable connection interface used on personal computers and consumer electronics. USB ports allow stand-alone electronic devices to be connected via cables to a computer or to each other.



Smart WiFi Built In

WiFi built-in means that the hardware needed is already built into the device. WiFi Built-in tv's already have the WiFi card/adapter inside. It is ready to connect to Wi-Fi networks straight out of the box. If you have a WiFi network, just plug in the TV, set it up and you have internet access.



Smart TV

A smart TV, also known as a connected TV or hybrid TV, describes the combining of the Internet and Web 2.0 features into television sets, as well as the integration between computers and these television sets. These devices focus on online interactive media, Internet TV, over-the-top content, as well as on-demand streaming media, and less focus on traditional broadcast media than traditional television sets.
← Back to product description