Details
Samsung UA-50J5500 50" Full HD MultiSystem Smart LED TV
Using the Samsung UA-50J5500 50" Full HD Multi-System Smart LED TV TV you will be able to love the Internet streaming content and comprehensive 1080p images thru NTSC, PAL, and SECAM TV systems. This model contains a huge 50" and includes a 1920 x 1080 resolution for watching high-definition content. Clear Motion Rate 100 technology is used for diminishing distortion on quick moving images like televised sporting events. This LED TV uses Wide Color Enhancer Plus for intense and realistic color reproduction.
Being a Smart TV, this model has integrated Wi-Fi and Ethernet for using Samsung's on-board apps and streaming services. The Smart TV interface is maintained by an integrated quad-core processor. With component video, two USB, and three HDMI ports, you have many possibilities for uniting high-resolution audio and video sources. On-board MHL connectivity lets you emulate and charge compatible smart devices. This model has stereo speakers, which supplies 20W of full power. This multi-system TV comes with a European plug and has a plug adapter for US use.
Worldwide Voltage - 110v, 120v, 220v, 230v and 240 volt!
Global Dual Voltage on this Multi-system TV means it can be used anywhere. Multi-voltage TV's can be used in any country with voltage from 110 volts to 240 volts!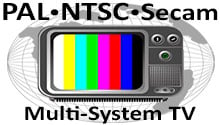 Multi-System TV - PAL, NTSC and Secam
This multisystem TV is compatible with PAL, NTSC and Secam video formats. You can use this television anywhere in the world with ANY type of video device!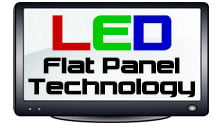 Space-Saving LED Flat Panel Technology
Multi-System LED TV's offer stunning video performance and a great value. Enjoy High Definition video in a space-saving flat panel design with this multisystem TV.
Smart TV
This Samsung Smart TV permits you the right to use an extensive assortment of music, TV shows, movies, and games. Using Instant switch back, you can simply switch between numerous types of content.
Wide Color Enhancer Plus
With Wide Color Enhancer Plus, you can own a broader color spectrum and view movies like it was originally intended, which enables you to see enriched colors while viewing your beloved movies and shows.
ConnectShare Movie
View videos, hear music or see photos from a USB connection with ConnectShare Movie. No PC necessary, simply plug your USB device straight into your Samsung TV's USB port and have fun with family and friends.
Samsung UA-50J5500 50" Full HD MultiSystem Smart LED TV
Display
Screen Size: 50.0" / 127.0 cm
Panel Type: LED LCD
Backlight Technology: Micro dimming pro
Refresh Rate: Not Specified By Manufacturer
Native Resolution: 1920 x 1080
TV Systems: NTSC, PAL, SECAM
Connectivity
Wi-Fi: Yes
Inputs: 3 x HDMI, 2 x USB, 1 x Component video, 1 x Composite video, 1 x Stereo RCA, 1 x RF
Outputs: 1 x Digital optical, 1 x 1/8" (3.5 mm) audio
Other: 1 x Power, 1 x Ethernet
HDMI CEC: Yes (ANYNET+)
Mobile High-Definition Link (MHL): Yes
Audio
Speakers: 2 x 10 W (down-firing, bass-reflex)
Support: HD Audio
General
Picture-in-Picture: Yes
Bezel: Not Specified By Manufacturer
Power Requirements: 100 to 240 VAC, 50/60 Hz
Power Consumption: Maximum: 154 W, Standby: 0.3 W
Dimensions (WxHxD): With Stand: 44.0 x 27.7 x 12.2" / 1,117.8 x 703.6 x 310.5 mm, Without Stand: 44.0 x 25.5 x 2.7" / 1,117.8 x 647.0 x 67.5 mm
Weight: With Stand: 29.5 lb / 13.4 kg, Without Stand: 27.3 lb / 12.4 kg
Video Enhancements
HyperReal picture engine
Mega Contrast technology
Micro dimming pro backlight technology
Film modes
Natural modes
Additional Features
Samsung Smart View
Instant on
Accessibility (enlarge and high-contrast)
Digital clean view
Analog clean view
Auto channel search and power off
BD Wise Plus
ConnectShare USB 2.0 and HDD
Game mode
Advanced sports mode
Embedded POP
Extended PVR
BT and USB HID support
TV SoundConnect
Time shift
Eco sensor
Floor stand, mini wallmount, and VESA wallmount compatible with removable stand
Packaging Info
Package Weight: 37.4 lb
Box Dimensions (LxWxH): 53.0 x 29.3 x 6.0"
← Back to product description



Full HD 1080p

1920x1080p resolution is an HDTV high-definition video mode characterized by 1080 horizontal lines of vertical resolution. As of 2012, most consumer televisions being sold provide 1080p inputs mainly with HDMI and support full high-def resolutions. 1080p resolution is available in all types of televisions, including plasma, LCD and LED.



Built in DVBT and PAL Tuner

Built IN DVBT and Pal Tuner. Excellent for use outside North America with Analog Pal RF signals and DVBT RF Signals. For use in North America to watch television a Cable, box or Satellite receiver from your cable company is necessary. Or if you will not subscribe to any paid cable a ATSC digital cable converter box can be used to tune TV channels when in North America. If using outside of North America in Africa, Asia, Europe, Middle East, Oceania, or other countries with Pal or DVBT tuning, this TV will work directly with RF Antenna signal. If You have any questions regarding this please call us. With the appropriate setup this TV can be used anywhere in the world.




USB Input

USB stands for Universal Serial Bus. A USB port is a cable connection interface used on personal computers and consumer electronics. USB ports allow stand-alone electronic devices to be connected via cables to a computer or to each other.



WiFi Ready

WiFi ready means that the device is able to use WiFi but requires an adapter. WiFi adapters are fairly inexpensive and usually plug into the USB port. WiFi Ready TV's will always have a standard LAN port to utilize internet features without using WiFi.



Smart WiFi Built In

WiFi built-in means that the hardware needed is already built into the device. WiFi Built-in tv's already have the WiFi card/adapter inside. It is ready to connect to Wi-Fi networks straight out of the box. If you have a WiFi network, just plug in the TV, set it up and you have internet access.



Smart TV

A smart TV, also known as a connected TV or hybrid TV, describes the combining of the Internet and Web 2.0 features into television sets, as well as the integration between computers and these television sets. These devices focus on online interactive media, Internet TV, over-the-top content, as well as on-demand streaming media, and less focus on traditional broadcast media than traditional television sets.
← Back to product description