Details
Samsung PS42B430 42" Multi System HDTV Plasma TV; PAL, NTSC and Secam 100-240 Volts: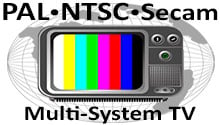 Multi-System TV - PAL, NTSC and Secam
This multisystem TV is compatible with PAL, NTSC and Secam video formats. You can use this television anywhere in the world with ANY type of video device!
Worldwide Voltage - 110v, 120v, 220v, 230v and 240 volt!
Global Dual Voltage on this Multi-system TV means it can be used anywhere. Multi-voltage TV's can be used in any country with voltage from 110 volts to 240 volts!
Space-Saving Plasma Flat Panel Technology
Multi-System Plasma TV's offer stunning video performance and a great value. Enjoy High Definition video in a space-saving flat panel design with this multisystem TV.
Samsung PS42B430 42" Multi System HDTV Plasma TV Description:
Key Features for Samsung PS42B430 42" Multi-System HDTV Plasma TV
Mega Dynamic Contrast Ratio
The Mega Dynamic Contrast Ratio provides better clarity than you ever thought possible. It provides you deeper, richer dark colors and bright, more vibrant light colors.
600Hz Subfields
600Hz subfields manages to show 10 subfields per frame which eliminates flicker in 24p mode.
2 HDMI
High-Definition Multimedia Interface (HDMI) enables simple and easy connection of digital devices with a single cable that transfers uncompressed audio and visual contents without data loss.
Wide Color Enhancer 2
SAMSUNG"s Wide Color Enhancer extended to display the natural green and blue. Additionally, Wide Color Enhancer 2 technology is upgraded to reproduce the red area also.
18bit (262,144 gradation)
SAMSUNG PDP TV's 18-bit processing capacity broadens the color palette to deliver unbelievably natural & true colors.
World-Wide NTSC/PAL/SECAM Color System -Watch any video signal on this TV!!
World-Wide NTSC M, PAL BG, PAL I, Secam BG,DK/ PAL DK TV tuners
42 inch LCD TV with HDMI inputs and PC input
2,000,000:1 Dynamic Contrast: While viewing either very brightor very dark scenes, it can be difficult to distinguish main images whichblend into the background. Dynamic Contrast dramatically mitigates thisproblem by adjusting the backlight intensity, providing up to a 4X improvementin contrast.
Widescreen 16 X 9 Format
World-wide Dual Voltage 110-240 volts 50-60hertz
HDTV monitor (HDTV tuner required for HDreception)
Wide Screen Mode allows you to watchconventional 4:3 aspect ratio broadcasts in wide screen (16:9) mode.
Steady Sound equalizes volume levels so thereis consistent output between programs and commercials.
Built-in hidden speakers includes 2 (5W x 2)speakers to deliver dynamic sound.
Component Video Input offers the best videoquality for DVD (480p and 480i), and digital set-top box (1080i, 720p, 480pand 480i) connections.
Parental Control V-chip technology allowsparents to block unsuitable programming from younger viewers.
PC Input allows you to connect your PC anddisplay the PC screen on your TV.
Surround Sound Audio Effect
600Hz subfields / 2 HDMI.
Samsung PS42B430 42" Multi System HDTV Plasma TV Specifications:
Designs and specifications are subject to change without notice.
Video
Screen Size: 42"
Resolution: 1024 x 768
Brightness(cd/m2): 1,500
Dynamic Contrast Ratio: 2,000,000:1
Contrast Ratio: 40,000:1
600Hz Subfield Motion
100Hz
Wide Color Enhancer: WCE 2
Number of colors (Expressed): Natural true color (18bit)
Grey Level (Gradation): 262,144
Film Mode (Cinema Progressive)
Digital Comb Filter: 3D
Digital Noise Reduction
Audio
Sound Effect System: SRS trusurround HD & Dolby digital plus
Speaker Type: Down firing
Sound Output (RMS): 10W x 2
Feature
Anti Burn-in Technology
Teletext (TTXT): 1,000P
User Interface: Single
OSD Language: Europe 25 language
Sleep Timer
Clock & On/Off Timer
Auto Channel Search
Auto Power Off
Intelligent Power Saving
EPG
Auto Volume Leveler
Detail Settings
LNA Plus
System
DTV Type: DVB-T / DVB-T/C / MPEG4
DTV Tuner Built-in
Input & Output (Side)
CI Slot
Composite (AV): 1
Input & Output (Back)
HDMI: 2
SERVICE: 2 (RS-232C & USB)
DVI Audio Input: 1 (Mini Jack)
Component (Y/Pb/Pr): 1
Digital Audio (Optical): 1
RF Input: 1
Audio Out: 1
Scart: 1
Design
Type: High glossy
Color: Black
Stand Type: High glossy
Stand Neck Type: High glossy
Swivel (Left/Right) (20° / 20°)
Power
Operation(Max.) Power Consumption: 240W
Operating(Average) Power Consumption: 170W
Stand-by Power Consumption: < 0.3W
Dimension
Set Size (WxHxD) with Stand: 1,055 x 728.7 x 316mm
Set Size (WxHxD) without Stand: 1,055 x 667.4 X 73mm
Package Size (WxHxD): 1,316 x 780 x 270mm

Weight

Set Weight with Stand: 28kg
Set Weight without Stand: 24.3kg

Accessory

Vesa Wall Mount
Remote Controller Model: TM940
Batteries
Power Cable
Instruction Book
← Back to product description



HD 720

720p is a progressive HDTV resolution signal format with 720 horizontal lines. All major HDTV broadcasting standards include a 720p format which has a resolution of 1280×720. The number 720 stands for the 720 horizontal scan lines of image display resolution (also known as 720 pixels of vertical resolution), while the letter p stands for progressive scan.



Built in DVBT and PAL Tuner

Built IN DVBT and Pal Tuner. Excellent for use outside North America with Analog Pal RF signals and DVBT RF Signals. For use in North America to watch television a Cable, box or Satellite receiver from your cable company is necessary. Or if you will not subscribe to any paid cable a ATSC digital cable converter box can be used to tune TV channels when in North America. If using outside of North America in Africa, Asia, Europe, Middle East, Oceania, or other countries with Pal or DVBT tuning, this TV will work directly with RF Antenna signal. If You have any questions regarding this please call us. With the appropriate setup this TV can be used anywhere in the world.




USB Input

USB stands for Universal Serial Bus. A USB port is a cable connection interface used on personal computers and consumer electronics. USB ports allow stand-alone electronic devices to be connected via cables to a computer or to each other.
← Back to product description