May we suggest
Regular Price: $252.00
Now only: $185.00
This is a 24" 1366 x 768p Screen Resolution LED TV with 720p HD Resoultion and10 Bit Video Processing and the REGZA engine!Shop Now >>
This is the newer Full HD version of this Multisystem TV!Shop Now >>
Details
Samsung LA-22C350 22" Multi System TV; PAL, NTSC and Secam 110 - 240 Volts:
Samsung LA-22C350 22" Multi System TV offers outstanding high-definition pictures to your Home or Office.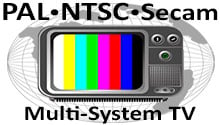 Multi-System TV - PAL, NTSC and Secam
This multisystem TV is compatible with PAL, NTSC and Secam video formats. You can use this television anywhere in the world with ANY type of video device!
Worldwide Voltage - 110v, 120v, 220v, 230v and 240 volt!
Global Dual Voltage on this Multi-system TV means it can be used anywhere. Multi-voltage TV's can be used in any country with voltage from 110 volts to 240 volts!
Space-Saving LCD Flat Panel Technology
Multi-System LCD TV's offer stunning video performance and a great value. Enjoy High Definition video in a space-saving flat panel design with this multisystem TV.
Samsung LA-22C350 22" Multi System TV; PAL, NTSC and Secam 110 - 240 Volts:
The Samsung LA-22C350 is a excellent Small Sized multi system LCD TV. It supports all Pal/NTSC/Secam inputs, and has world wide tuners for almost every part of the world. It is 110-220 volts like all our televisions and can be used anywhere in the world. It's elegant Piano black finish and wonderful picture quality sets it apart from all other models in it's range.
Key Features:
Compatibility:

Worldwide NTSC/PAL/SECAM Color System
Worldwide NTSC, PAL BG, PAL I, Secam BG, DK/ PAL DK TV tuners
World Wide Voltage Supply AC 100-240V, 50/60Hz

Video

Screen Size- 22" (54cm)
Resolution- 1,366 x 768
Wide Color Enhancer

Audio

SRS- SRS TruSurround HD
Sound Output - (RMS) 3 watts x 2
Speaker Type: Down Firing

Feature

Auto Channel Search
Auto Power Off
Auto Volume Leveler
Clock & On/Off timer
Game mode
OSD language- Local Languages
Picture-in-Picture- 1 Tuner PIP
Sleep Timer
USB - JPEG
Digital Noise Filter
Teletext (TTXT)

Input & Output

Component In (Y/Pb/Pr)- 1
Composite In (AV)- 2 (1 Common use for Component Y)
DVI Audio In -(Mini Jack- 1 (Common use for PC)
Headphone- 1
HDMI -1
PC Audio In (Mini Jack)- 1
PC In (D-sub)-1
RF In- 1
USB- 1

Design

Slim Type - Normal
Front Color- Black

Power

Power Supply: AC 100 - 240V 50/60Hz
Power Consumption (Stand-by)- < 1 watt

Dimension

Set Size (WxHxD) with Stand- 535.3 x 420.9 x 171.8 mm
Set Size (WxHxD) without Stand -535.3 x 365.8 x 82.2 mm

Weight

Set weight with stand - 4.2 kg
Set weight without stand - 3.9 kg

Accessory

Batteries
Instruction Book
Power Cable
Remote Controller Model- TM940
Vesa Wall Mount Support(19-20" : 75 x 75)
HDMI (High Definition Multimedia Interface) inputs turn the SAMSUNG LCD TV SERIES 3 into a powerful multimedia hub.

HDMI inputs enable pure, uncompressed streams of HD content to be transmitted from peripheral digital devices to the TV, allowing you to enjoy the highest quality multimedia content and experience pure HD pleasure.
← Back to product description



HD 720

720p is a progressive HDTV resolution signal format with 720 horizontal lines. All major HDTV broadcasting standards include a 720p format which has a resolution of 1280×720. The number 720 stands for the 720 horizontal scan lines of image display resolution (also known as 720 pixels of vertical resolution), while the letter p stands for progressive scan.



Built in DVBT and PAL Tuner

Built IN DVBT and Pal Tuner. Excellent for use outside North America with Analog Pal RF signals and DVBT RF Signals. For use in North America to watch television a Cable, box or Satellite receiver from your cable company is necessary. Or if you will not subscribe to any paid cable a ATSC digital cable converter box can be used to tune TV channels when in North America. If using outside of North America in Africa, Asia, Europe, Middle East, Oceania, or other countries with Pal or DVBT tuning, this TV will work directly with RF Antenna signal. If You have any questions regarding this please call us. With the appropriate setup this TV can be used anywhere in the world.




USB Input

USB stands for Universal Serial Bus. A USB port is a cable connection interface used on personal computers and consumer electronics. USB ports allow stand-alone electronic devices to be connected via cables to a computer or to each other.
← Back to product description