Details
Samsung LA-22B350 Multi-System LCD TV; PAL, NTSC and Secam 110–240 Volts:
The SAMSUNG LCD TV SERIES 3 LA-22B350 allows you to enjoy the finest aspects of HDTV. With Multi system abilities to support Pal, NTSC, and Secam this is a great television for international use. With a simple, yet classic design that incorporates fine lines, gentle elegance, and down firing speakers, it makes a subtle, yet powerful style statement. Its precision picture quality, high resolution imaging and digital connectivity make it a reliable and trustworthy choice.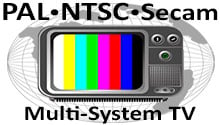 Multi-System TV - PAL, NTSC and Secam
This multisystem TV is compatible with PAL, NTSC and Secam video formats. You can use this television anywhere in the world with ANY type of video device!
Worldwide Voltage - 110v, 120v, 220v, 230v and 240 volt!
Global Dual Voltage on this Multi-system TV means it can be used anywhere. Multi-voltage TV's can be used in any country with voltage from 110 volts to 240 volts!
Space-Saving LCD Flat Panel Technology
Multi-System LCD TV's offer stunning video performance and a great value. Enjoy High Definition video in a space-saving flat panel design with this multisystem TV.
Samsung LA-22B350 Multi-System LCD TV; PAL, NTSC and Secam 110–240 Volts Description:
The Samsung LA-22B350 is a excellent Small Sized multi system LCD TV. It supports all Pal/NTSC/Secam inputs, and has world wide tuners for almost every part of the world. It is 110-220 volts like all our televisions and can be used anywhere in the world. It's elegant Piano black finish and wonderful picture quality sets it apart from all other models in it's range.
Key Features:
Samsung 22" LA-22B350 Multi System LCD TV
2 HDMI INPUTS on this LA-22B350 multisystem model
30,000 Dynamic Contrast Ratio
22" Active Matrix TFT ASV (Advanced Super View) LCD Panel
NTSC/PAL/SECAM Color System - Watch any video signal on this TV!
TV tuners for world wide use: NTSC/PAL BG/PAL I/Secam BG, DK/ PAL DK TV tuners.
All tuners are analog, and this tv can be easily connected to watch hd tv as well. Weather you are going to be in a country where you will have HD content through a Satellite box, Cable Box, and HD TV tuner, you will be able to watch HD content on this tv with great quality. The HDMI input adds easy connectivity for HD boxes with HDMI output.
Liquid Crystal Televisions are very bright, so you can put them anywhere -- even near windows, doors or other light sources and their picture will still be vivid.
60,000-Hour Lamp Life, LCD backlight life is long enough to give you viewing pleasure for many years.
High Brightness, High Contrast 3000:1 & Wide Viewing Angle
HD Ready, Resolution 1366 x 768
Response Time 6ms
TELETEXT Function
Picture in Picture 1 Tuner PIP
NICAM/A2 Stereo Sound
Multi Language OSD
Sleep Timer, Audio Only, Video Mode selection
Image Inverter for Custom Installations, allows you to invert the image upside-down or "mirror" image if you need to hang it in an unconventional manner.
170º/160º Viewing Angles are so wide you can view Liquid Crystal Televisions from anywhere in the room!
Carry Handle/Table Stand is the ultimate in convenience! Carry it easily from room to room or detach the one-piece stand for wall mounting.
Sleep Timer, Clock & On/Off timer, Still Picture, Auto Channel Search, Picture In Picture, OSD Language, Auto Volume Leveller
Brightness: 350 cd/m2
Lamp Life: 60,000 hours
Viewing Angles: 170ºH / 170º V
Audio System: 3 W + 3 W
Component Input (Y/Pr/Pb )
S-Video Input
Composite (AV) Video Output
HDMI Input
PC Input
Power Consumption AC: 65W
ENERGY STAR® Compliant
World-wide Dual Voltage 110-240 volts 50-60 hertz
1 year parts and labor Limited Warranty
Wide Colour Enhancer 2
Capturing nature is the goal of an artist. We've achieved it as well with our Wide Colour Enhancer.
Our unique 3D colour stretching technology saturates each pixel until it achieves the true colour and luminescence intended by nature. So every colour on the RGB spectrum is brought to life.
Down Firing Speakers
Better design and deeper sound creation With SAMSUNG's Down-Firing Speakers, now you can fill your room with deeper and clearer sound.
HDMI
HDMI (High Definition Multimedia Interface) inputs turn the SAMSUNG LCD TV SERIES 3 into a powerful multimedia hub.
HDMI inputs enable pure, uncompressed streams of HD content to be transmitted from peripheral digital devices to the TV, allowing you to enjoy the highest quality multimedia content and experience pure HD pleasure.
← Back to product description



Built in DVBT and PAL Tuner

Built IN DVBT and Pal Tuner. Excellent for use outside North America with Analog Pal RF signals and DVBT RF Signals. For use in North America to watch television a Cable, box or Satellite receiver from your cable company is necessary. Or if you will not subscribe to any paid cable a ATSC digital cable converter box can be used to tune TV channels when in North America. If using outside of North America in Africa, Asia, Europe, Middle East, Oceania, or other countries with Pal or DVBT tuning, this TV will work directly with RF Antenna signal. If You have any questions regarding this please call us. With the appropriate setup this TV can be used anywhere in the world.
← Back to product description