Details
Samsung 40" UA40H5500 Full HD Multisystem LED TV 110 220 240 volts pal ntsc
Enjoy the Samsung 40" UA40H5500 Full HD Multisystem LED Multisystem TV with a full HD 1920 x 1080 resolution. Experience an incredible and natural image with its wide colour enhancer plus. This Samsung has built in wifi and has a clear motion rate of 100, so you won't miss a thing during fast moving action scenes. This TV is a necessary addition to your home and will provide you a tv viewing experience you won't forget!
Worldwide Voltage - 110v, 120v, 220v, 230v and 240 volt!
Global Dual Voltage on this Multi-system TV means it can be used anywhere. Multi-voltage TV's can be used in any country with voltage from 110 volts to 240 volts!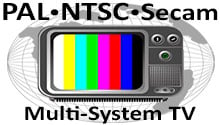 Multi-System TV - PAL, NTSC and Secam
This multisystem TV is compatible with PAL, NTSC and Secam video formats. You can use this television anywhere in the world with ANY type of video device!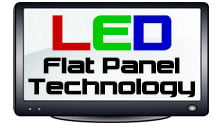 Space-Saving LED Flat Panel Technology
Multi-System LED TV's offer stunning video performance and a great value. Enjoy High Definition video in a space-saving flat panel design with this multisystem TV.
Wide Color Enhancer Plus
Wide Color Enhancer Plus lets you view the picture color the way the director had in his mind. The images look natural, lively while experiencing the entire RGB spectrum which will awaken your senses and bring life to your screen.
ConnectShare Movie
ConnectShare Movie allows you to play music, watch videos or view photos from a USB connection without using a PC or special equipment. All you need to do is to plug your USB device or drive directly into your Samsung TV's USB port and watch on the big screen with friends and family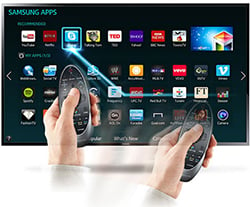 Motion Control For Your Samsung TV and Easy Touchpad
Make using your TV more intuitive, use the Samsung SMART Control. The touchpad you can switch between SMART hub panels and scroll webpages, utilize motion control to move the on screen cursor, by pointing with the remote, to navigate and enter text simply.
Use Finger and Hand Gestures with Motion Control
Samsung's motion control allows you to utitlize hand gestures and simple finger gestures. Enhanced Motion Control recognizes simple finger movements, this feature requires a TV Camera which is sold Seperately, performance varies!
Excitement of a Big Match with Soccer Mode
Soccer Mode makes it like you're actually at the event. It brings in sharp and vivid colors all around. The powerful multi surround sound effect lets you hear all the excitement. You can even zoom to see selected areas on the screen better. The push of a button allows you to make the most of your favorite events!
Samsung 40" UA40H5500 Full HD Multisystem LED TV 110 220 240 volts pal ntsc
Series
Display
Screen Size:40"
Resolution:1920 x 1080
Video
Picture Engine:HyperReal Engine
Clear Motion Rate:100/120 (PH)
Dynamic Contrast Ratio:Mega Contrast
Wide Color Enhancer (Plus):Yes
Film Mode:Yes
Natural Mode Support:Yes
Audio
Dolby MS10 / MS110:Dolby MS10
DTS Studio Sound / DNSe+:DTS Studio Sound
DTS Premium Sound / DTS Premium Sound 5.1:DTS Premium Sound 5.1
Auto Volume Leveler:Yes
Sound Output (RMS):10 watts x 2
Speaker Type:Down Firing + Full Range
Smart TV
Smart Hub:Yes
Samsung SMART TV:Yes
On TV:No
Multimedia:Yes
Apps:Yes
News On:Yes (PH, MY)
Game:No
My Space:No
Social:Yes
Fitness:Yes
Kids:No
Skype™ on Samsung TV:Yes
Web Browser:Yes
Search:Yes
Smart Interaction
Face recognition:Ready
Motion control:Ready
Smart Convergence
Contents Streaming:Yes
Screen Mirroring:Yes
Samsung SMART View:Yes
Smart Home:No
Wake On LAN:No
uner/Broadcasting
DTV Tuner:Ready
Analog Tuner:Yes
Connectivity
HDMI:3
USB:2
Component In (Y/Pb/Pr):1
Composite In (AV):1 (Common Use for Component Y)
Ethernet (LAN):Yes
Headphone:No
Audio Out (Mini Jack):Yes
Digital Audio Out (Optical):1
RF In (Terrestrial / Cable input):1/1 (Common Use for Terrestrial) / 0
Ex-Link ( RS-232C ):No
IR Out:No
CI Slot:No
Scart:No
WiFi Direct:Yes
Wireless LAN Built-in:Yes
Anynet+ (HDMI-CEC):Yes
Design
Design:RHCM
Bezel Type:VNB
Slim Type:Slim 1
Front Color:Black
Stand Type:Square Mold
Additional Feature
Quad Core+:No
Accessibility:ZOOM
Digital Clean View:Yes
Auto Channel Search:Yes
Auto Power Off:Yes
Clock&On/Off Timer:Yes
Sleep Timer:Yes
Caption (Subtitle):Yes
ConnectShare™ (USB 2.0):Movie
Sports Mode:Basic
Embeded POP:Yes
EPG:Yes
Extended PVR:Yes
Game Mode:Yes
History:Yes
Multiroom Compatible:No
OSD Language:Local Languages
Picture-In-Picture:Yes
USB HID Support:Yes
Teletext (TTXT):Yes
Time Shift:Yes
Analog Clean View:Yes
GUI:Golden Bridge
Eco Feature
Power
Power Supply:AC100 - 240V 50/60Hz
Power Consumption (Max):107 watts
Dimension
Package Size (WxHxD):1,100 x 600 x 120mm
Set with Stand (WxHxD):906.6 x 578.2 x 196.4mm
Set without Stand (WxHxD):906.6 x 532.9 x 65.1mm
Weight
Package Weight:10.3kg
Set Weight with Stand:8.3kg
Set Weight without Stand:7.7kg
Accessory
Remote Controller Model:TM1250A
Batteries (for Remote Control):Yes
Mini Wall Mount Supported:Yes
Vesa Wall Mount Supported:Yes
IR Extender Cable (Included):No
User Manual:Yes
E-Manual:Yes
ANT-Cable:No
Power Cable:Yes
← Back to product description



Full HD 1080p

1920x1080p resolution is an HDTV high-definition video mode characterized by 1080 horizontal lines of vertical resolution. As of 2012, most consumer televisions being sold provide 1080p inputs mainly with HDMI and support full high-def resolutions. 1080p resolution is available in all types of televisions, including plasma, LCD and LED.



Built-In Analog Pal, NTSC, and Secam TV tuner

Analog Pal, NTSC, and Secam tuner built in for world wide use for analog tuning. If you are in a country that utilizes digital tuning such as DVBT or ATSC a Cable Box or Satellite receiver is needed. If You have any questions regarding this please call us. With the appropriate setup this TV can be used anywhere in the world.




Built in DVBT and PAL Tuner

Built IN DVBT and Pal Tuner. Excellent for use outside North America with Analog Pal RF signals and DVBT RF Signals. For use in North America to watch television a Cable, box or Satellite receiver from your cable company is necessary. Or if you will not subscribe to any paid cable a ATSC digital cable converter box can be used to tune TV channels when in North America. If using outside of North America in Africa, Asia, Europe, Middle East, Oceania, or other countries with Pal or DVBT tuning, this TV will work directly with RF Antenna signal. If You have any questions regarding this please call us. With the appropriate setup this TV can be used anywhere in the world.




USB Input

USB stands for Universal Serial Bus. A USB port is a cable connection interface used on personal computers and consumer electronics. USB ports allow stand-alone electronic devices to be connected via cables to a computer or to each other.



Smart WiFi Built In

WiFi built-in means that the hardware needed is already built into the device. WiFi Built-in tv's already have the WiFi card/adapter inside. It is ready to connect to Wi-Fi networks straight out of the box. If you have a WiFi network, just plug in the TV, set it up and you have internet access.



Smart TV

A smart TV, also known as a connected TV or hybrid TV, describes the combining of the Internet and Web 2.0 features into television sets, as well as the integration between computers and these television sets. These devices focus on online interactive media, Internet TV, over-the-top content, as well as on-demand streaming media, and less focus on traditional broadcast media than traditional television sets.
← Back to product description