Details
Pioneer PDP-607CMX 60" Multi-System Plasma TV; PAL, NTSC and Secam 100-240 Volts:
Works in any Country!
Works with PAL, NTSC, Secam TV Systems!
No Extra Equipment needed.
World Wide Dual Voltage!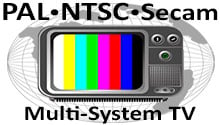 Multi-System TV - PAL, NTSC and Secam
This multisystem TV is compatible with PAL, NTSC and Secam video formats. You can use this television anywhere in the world with ANY type of video device!
Worldwide Voltage - 110v, 120v, 220v, 230v and 240 volt!
Global Dual Voltage on this Multi-system TV means it can be used anywhere. Multi-voltage TV's can be used in any country with voltage from 110 volts to 240 volts!
Space-Saving Plasma Flat Panel Technology
Multi-System Plasma TV's offer stunning video performance and a great value. Enjoy High Definition video in a space-saving flat panel design with this multisystem TV.
Pioneer PDP-607CMX 60" Multi-System Plasma TV Description:
Pioneer's new PDP-607CMX Plasma Panel with higher brightness and greater contrast:
Plasma TV image quality takes another step forward with Pioneer's new-generation plasma panels. In addition to the Pioneer-exclusive Deep Encased Cell Structure, another breakthrough technology called Crystal Emissive Layer boosts efficiency beyond that of any previous model, resulting in higher brightness and unprecedented dark-area contrast. Blacks are blacker, while light areas maintain their brightness, providing eye-catching, realistic video skin/common_files/images.
New Pure Drive Pro Video Processing:
The best possible picture quality is realized by combining color management, video scaling, and other image processing on a single chip developed exclusively for Pioneer professional plasma displays. Scaling performance has been enhanced to ensure that even high-definition signals are reproduced with minimal data loss and artifacts. In addition, ACE IV technology identifies the qualities in each image shown, and optimizes the picture to match, ensuring consistent picture quality for fast and slow motion and dark and light scenes.
Pioneer PDP-607CMX 60" Multi-System Plasma TV Specifications:
Designs and specifications are subject to change without notice.
Specifications
PC Interface: DVI, VGA (HD-15)
HDCP Compatible: Yes
Diagonal Size: 60 in
Technology: Plasma (PDP)
Resolution: 1365 x 768
Display Format: 720p
Image Aspect Ratio: 16:9
Resolution 1365 x 768
Brightness: 3000:1
Contrast: 1500:1
Widescreen Modes: 16:9, Full, Conventional 4:3
Display Menu Language: French, German, English, Italian, Spanish
Multi-channel Preview: Picture-in-picture (PIP)
HDTV Ready
Supported Computer Resolutions: 640 x 400, 720 x 400, 832 x 624, 848 x 480, 852 x 480, 1360 x 768, 640 x 480 (VGA), 1024 x 768 (XGA), 800 x 600 (SVGA), 1280 x 768 (WXGA)
Freeze Memo
Remote Control
Sound Output Mode
External Speakers Amplifier Power (Total): 18 Watt
Connections
Connector Type: 1 x RGB input ( 15 pin HD D-Sub (HD-15) ) - Rear
1 x RGB output ( 15 pin HD D-Sub (HD-15) ) - Rear
1 x DVI-Digital ( 24 pin digital DVI ) - Rear
2 x Audio line-in ( Mini-phone stereo 3.5 mm ) - Rear
1 x Audio line-out ( Mini-phone stereo 3.5 mm ) - Rear 2 x Speakers output ( Click-fit x 2 ) - Rear
1 x Serial ( 9 pin D-Sub ) - Rear
2 x Remote control ( 6 pin mini-DIN ) - Rear
Power
Power Consumption Stand by / Sleep: 0.8 Watt
Power Consumption Operational: 450 Watt
Dimensions
Width: 57.9 in
Depth: 4.8 in
Height: 34.6 in
Weight: 136.7 lbs
This Pioneer Plasma display does not contain a TV tuner but you can buy a TV tuner which can be easily fitted in the slot at the rear of the TV. Or just use an external TV tuner like a digital cable box or satellite box to receive television signals.
If you wish to view non-digital cable TV, we recommend buying a video card which has a built-in tv tuner for $249.99. Voltage: automatic switching between 100-240 volts 50/60Hz for use world wide
← Back to product description



HD 720

720p is a progressive HDTV resolution signal format with 720 horizontal lines. All major HDTV broadcasting standards include a 720p format which has a resolution of 1280×720. The number 720 stands for the 720 horizontal scan lines of image display resolution (also known as 720 pixels of vertical resolution), while the letter p stands for progressive scan.
← Back to product description