Details
Pioneer PDP428XG 42" 1080p Multi-System Plasma TV, PAL, NTSC and Secam 100-240 Volts:
8th-generation Pioneer Kuro Plasma tv. This Kuro will change the way you watch television forever. A picture so stunningly clear you can recognize faces in a crowd. Motion has never been this realistic, this pure or this clear. The revolutionary video processor takes the most demanding scenes, the fastest fast break, the most furious action, and renders every scene with a clarity that has never been seen before in a home theatre.
Crystal Emissive Layer: the highest black levels ever seen on a TV, you'll be treated to exceptional detail even in the darkest movie scenes.
Direct Colour Filter: With an industrial grade filter optically bonded directly to the plasma glass, see improved colour accuracy and better contrast in brightly lit rooms.
New ASIC video processing chip - better images than ever before
Flex CLEAR Drive, Intelligent colour/Intelligent DRE
1080p / 24Hz input compatible
Inbuilt speakers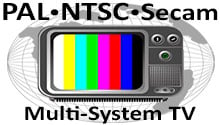 Multi-System TV - PAL, NTSC and Secam
This multisystem TV is compatible with PAL, NTSC and Secam video formats. You can use this television anywhere in the world with ANY type of video device!
Worldwide Voltage - 110v, 120v, 220v, 230v and 240 volt!
Global Dual Voltage on this Multi-system TV means it can be used anywhere. Multi-voltage TV's can be used in any country with voltage from 110 volts to 240 volts!
Space-Saving Plasma Flat Panel Technology
Multi-System Plasma TV's offer stunning video performance and a great value. Enjoy High Definition video in a space-saving flat panel design with this multisystem TV.
Pioneer PDP428XG 42" 1080p Multi-System Plasma TV Features Description:
The Pioneer Kuro 42" PDP-4288XG will change the way you watch television. A picture so stunningly clear you can recognize faces in a crowd.
Motion has never been this realistic, this pure or this clear. The revolutionary video processor takes the most demanding scenes, the fastest fast break, the most furious action, and renders every scene with a clarity that has never been seen before in a home theatre.
Everything is clear, crisp, rich, and gorgeous. And we do mean everything. Though high-definition is a major leap forward, much of what is broadcast today is still standard-definition.
With The Kuro, there is no need for compromise. The Kuro brings out the very best in analog and HD signals, noticeably improving detail, color and depth on analog signals. The TV has all inputs including HDMI inputs, as well as Component and RCA inputs. It has 3 HDMI inputs. It's 16,000:1 Contrast Ratio shows Blacks and Whites in the most stunning ways.
3 HDMI inputs on this model
HWM Gold Award - 2008: "A brilliant performance by a 42-inch plasma which offers amazing black levels and upscaling potential."
Up-converts SD video signals to 1080p signals. Delivers pictures as beautiful as those from HD video signals.
The equivalent of 3,072 steps of gradation express finely nuanced images.
Increased luminous efficiency achieves maximum contrast of 16,000:1.
KURO award winning plasma design
Put it Anywhere
The 3.9" deep Pioneer Kuro PDP-428XG gives you the luxury of choosing between hanging your TV on the wall or placing it on a stand.
Bright and Vivid Picture
The Pioneer PDP-428XG offers unrivaled picture quality for your viewing pleasure. Thanks to plasma technology you can view images with amazing clarity, brightness, and contrast. The PDP-428XG can display up to 1,070 million colors and is one of the brightest displays with a contrast ratio of 16000:1. All this leads to a much more vivid television experience.
16:9 Wide Screen
You no longer have to deal with cropped off images while watching some of your favorite movies. With its wide screen 16:9 aspect ratio you can now watch movies in their original format. In fact, the 16:9 aspect ratio is one of the most important aspects of the PDP-428XG since all future HDTV signals will be broadcast in this format.
Wide Viewing Angle
The PDP-428XG offers a completely flat viewing surface with a 160 degree viewing angle. The expansive viewing angle means that you can watch your favorite programs from nearly anywhere in your living room without distortions common to rear-projection TV's or TFT monitors.
Cure for Sore Eyes
Traditionally, video signals are transmitted using an interlacing format where two separate frames are transposed to create one single frame. This results in flicker that can lead to eye fatique and soreness. This flicker problem is eliminated with the progressive scanning process where video images are transmitted in one single complete frame. The PDP-508XG is compatible with all progressive scanning signals from high quality DVD players and HDTV decoders, and other high-end video equipment to produce brilliant flicker-free images.
PC Ready
The PDP-428XG is PC ready. You now have the ability to use your plasma TV with any SXGA, XGA, SVGA, or VGA computer video signals*. With Pioneer's PDP-428XG you not only have a TV, but a computer monitor as well.
Digital Television for Today and Tomorrow
The Pioneer PDP-428XG allows you to enjoy your favorite TV programming today while being prepared for the future. The PDP-428XG is an HDTV monitor and can support both HDTV (1080p, 1080i and 720p) and EDTV/SDTV (480p and 480i) input signals**. This allows you to enjoy the shows of today, with much better picture quality, and be prepared for the future of HDTV offerings.
Pioneer PDP428XG Kuro 42" Multisystem Plasma TV Specifications:
Designs and specifications are subject to change without notice.
PAL/NTSC/SECAM/NTSC 3.58/NTSC4.43/PAL 60 compatibility
Tunes TV channels for PAL BG, PAL I, PAL M, PAL N, SECAM DK, NTSC M
Digital HDMI Connection for HDTV upto 1080p signals
42" Ultra Bright Plasma Display (16,000:1 Contrast Ratio)
1024 x 768 Resolution
Completely Flat Screen
Super Thin Construction
Real Black Drive System
Progressive Scan
Anti- Reflection Coated Screen
3 X HDMI Inputs
1080p, 1080i, 720p, 480p, 480i, Digital Signal Compatibility
HDTV monitor: Can support both HDTV and EDTV/SDTV
16:9 Wide Screen Cinema Aspect Ratio
Ultra-Thin Design - Only 3.9" Deep
Progressive Component Video Input
Multi-Scanning PC Monitor Support up to 1024 x 768
DISPLAY
Screen Size: 42"
Aspect Ratio: 16:9
Dot Pitch: 1.08 mm
Contrast Ratio (Normal Mode/High Brightness Mode): 16,000:1
Displayable Colors: 1070 Million Colors
Viewing Angle: 160 (Degrees)
Pioneer KURO PDP-508XG Plasma INPUT/OUTPUT
3 X HDMI
2 X Component
3 X S-Video Input (rear)
1 X S-Video Input (side)
3 X RCA Input (rear)
1 X RCA Input (side)
1 X RCA Output
1 X PC Input
1 X Headphone output
1 X RF Input
GENERAL
Power Supply: AC 100-240 V, 50/60 Hz
Power Consumption: 266 W
Dimensions: W x H x D: 1040 X 679 X 115mm
Weight: 26 KGs
← Back to product description



HD 720

720p is a progressive HDTV resolution signal format with 720 horizontal lines. All major HDTV broadcasting standards include a 720p format which has a resolution of 1280×720. The number 720 stands for the 720 horizontal scan lines of image display resolution (also known as 720 pixels of vertical resolution), while the letter p stands for progressive scan.



USB Input

USB stands for Universal Serial Bus. A USB port is a cable connection interface used on personal computers and consumer electronics. USB ports allow stand-alone electronic devices to be connected via cables to a computer or to each other.
← Back to product description