Details
Panasonic TH-P42A2 42" Multi-System Plasma TV; PAL, NTSC and Secam 100-240 Volts:
Panasonic's new TH-P42A2 has a 2,000,000 contrast ratio and 3 HDMI inputs. These features and more like Arch Design make it an excellent Multi-System TV. The Panasonic TH-P42A2 42" VIERA Plasma TV displays all HD resolutions including HD 1080p which offers the highest image quality among high-definition video sources. The VIERA processor receives 1080p video signals in their original format utilizing a 1080p Digital processing chip-set for optimal picture quality. Overall the Panasonic TH-P42A2 is one of the best value in 42" Multi system TVs in the market right now.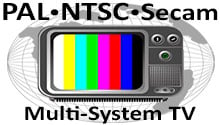 Multi-System TV - PAL, NTSC and Secam
This multisystem TV is compatible with PAL, NTSC and Secam video formats. You can use this television anywhere in the world with ANY type of video device!
Worldwide Voltage - 110v, 120v, 220v, 230v and 240 volt!
Global Dual Voltage on this Multi-system TV means it can be used anywhere. Multi-voltage TV's can be used in any country with voltage from 110 volts to 240 volts!
Space-Saving Plasma Flat Panel Technology
Multi-System Plasma TV's offer stunning video performance and a great value. Enjoy High Definition video in a space-saving flat panel design with this multisystem TV.
Panasonic TH-P42A2 42" Multi-System Plasma TV Description:
Designs and specifications are subject to change without notice.
Key Features:
MultiSystem Plasma TV for use world wide in any country. Works on any Video System: PAL, SECAM and NTSC. And Works on any voltage
High Contrast 2,000,000:1 :
The new Real Black Drive system (a pre-discharge suppression system) and the improved panel production processes combine to reproduce outstanding blacks with the outstanding contrast. They accurately reproduce even scenes with a delicate balance of light and shadow.
600Hz Sub-field Drive:
600Hz technology lets you view superb motion and still images with high resolution. For even greater clarity with motion images, Panasonic uses its own unique image-analysis technology. This technology converts the motion in each scene into data.
SD Card Slot - VIERA Image Viewer (JPEG):
It's easy to view photo images with the SD card slot. View your photos right after you take them. Simply insert an SD Memory Card into VIERA to display photos on the large screen.
Smart Networking with VIERA Link:
VIERA Link allows interlinked operation of various AV devices using only the VIERA remote control, by simply connecting the devices to each other by an HDMI cable.
V-Audio
:
VIERA televisions deliver the best of sounds with V-Audio technologies. V-Audio realizes a spread of Left-Right direction sound space by Analogue-based Algorithm.
Horizontal Arch Design:
An ornamental motif that arcs gracefully, like the horizon. Thin, light and wide. Based on these three key words, this design combines functional beauty with formative art to harmonize with virtually any interior space.
Full Features:
Panasonic TH-P42A2 Multi system Plasma TV for world wide use
Works on any Video System: PAL, SECAM and NTSC
Inputting and outputting 1080p video signals without altering their natural specifications.
Up-converts SD video signals to 1080p signals. Delivers pictures as beautiful as those from HD video signals.
The equivalent of 3,072 steps of gradation express finely nuanced images.
VIERA LINK can control your entire home cinema system
480i, 576i, 480p, 576p, 1080i, 720p, 1080p Video Signal INPUT
Smart Networking with VIERA Link
VIERA Image Viewer (JPEG)
V-Audio
VIERA Link
Horizontal Arch Design
High Contrast 2,000,000 : 1
Smart Networking with VIERA Link
VIERA Image Viewer (JPEG)
Tuning System PLL synthesizer 100-position auto-search tuner
CATV Compatibility Hyper-band
Broadcast Stereo Reception
NICAM -B
NICAM -G
NICAM - I
NICAM -German (A2)
Teletext Reception 1000P Level 2.5, FASTEXT/LIST
Voltage: automatic switching between 100-240 volts 50/60Hz for use world wide
TV Tuner Receiving System:
World 17-System
PAL -B/G/H, PAL -B/G , PAL -I , PAL -D/K, SECAM -B/G , SECAM -D/K, SECAM -L/L', SECAM -L
AV-NTSC: PAL-525/60
AV-NTSC: NTSC
AV-NTSC: M-NTSC
Picture:
Screen Size 42" (106 cm) diagonal
Screen Aspect 16 : 9 Wide
Panel G12 Progressive HD Plasma Display Panel
Progressive Scan
Number of Pixels 786,432 (1,024 x 768) pixels
Color System NTSC/PAL/PAL 60Hz/M-NTSC
Applicable PC signals VGA, WVGA, SVGA, XGA, WXGA, SXGA 60Hz
Applicable Scanning Format
480i (60Hz)
480p (60Hz)
576i (50Hz)
576p (50Hz)
720p (50Hz)
720p (60Hz)
1080i (50Hz)
1080i (60Hz)
1080p(50Hz) (HDMI only)
1080p(60Hz) (HDMI only)
Moving Picture Resolution Over 720 lines
Contrast Ratio: Dynamic: 2,000,000:1
Shades of Gradation 5120 equivalent steps of gradation
24p Playback
x.v. Colour
3D Colour Management
Sub Pixel Control
Motion Pattern Noise Reduction
Video Noise Reduction
3D Comb Filter
Picture Mode Standard/Dynamic/Cinema
Sound:
Bottom Speakers Full-Range x 2
Audio Output 20 W (10 W x 2), 10% THD
Sound Mode Music/News
Surround -V Audio
Terminals:
3 HDMI Input : 1 side 2 (rear)
Composite Video Input AV1/2/3/4: RCA phono type (rear)
S-Video Input AV3: Mini DIN 4-pin (1 rear, 1 front)
Audio Input (for Video) AV1/2/3/4: RCA phono type connectors (3 sets rear, 1 front)
PC Input Mini D-sub 15-pin x 1 (rear)
Component Video Input AV2/3: RCA phono type (2 sets, 1 rear and 1 side)
Audio Input (for HDMI, PC, Component) RCA phono type connectors (L, R) x 2 sets (rear x 1 set, side x 1 set)
Monitor Out RCA phono type (1 rear)
Audio Output RCA phono type connectors (L, R) (1 set rear: co-use with monitor out), Headphone jack (1 side)
Headphone Jack 1
More Features:
VIERA Link (HDAVI Control 4)
Screen Saver Wobbling/Side Panel Adjustment
Multi Window
PAT
Aspect Controls 16:9/14:9/Just/4:3/4:3 Full/Zoom1/Zoom2/Zoom3
On-Screen Display Languages English/Chinese/Arabic/Persian/French
Game Mode
Off Timer
Child Lock
General Data:
Power Save Mode
Power Consumption 285W, Standby: 0.7W
Dimensions W/O stand (mm) Width 1029, Height 661, Depth 94
Dimensions with stand (mm) Width 1029, Height 704, Depth 334
Weight W/O stand (kg) 24.0
Weight with stand (kg) 26.5
Operating Temperature 0°C - 40°C
← Back to product description



HD 720

720p is a progressive HDTV resolution signal format with 720 horizontal lines. All major HDTV broadcasting standards include a 720p format which has a resolution of 1280×720. The number 720 stands for the 720 horizontal scan lines of image display resolution (also known as 720 pixels of vertical resolution), while the letter p stands for progressive scan.
← Back to product description