Details
Panasonic TH-L42U30s Multi System LCD TV; PAL, NTSC and Secam 100-240 Volts: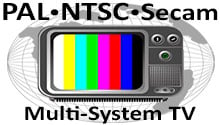 Multi-System TV - PAL, NTSC and Secam
This multisystem TV is compatible with PAL, NTSC and Secam video formats. You can use this television anywhere in the world with ANY type of video device!
Worldwide Voltage - 110v, 120v, 220v, 230v and 240 volt!
Global Dual Voltage on this Multi-system TV means it can be used anywhere. Multi-voltage TV's can be used in any country with voltage from 110 volts to 240 volts!
Space-Saving LCD Flat Panel Technology
Multi-System LCD TV's offer stunning video performance and a great value. Enjoy High Definition video in a space-saving flat panel design with this multisystem TV.
Panasonic TH-L42U30s Multi System LCD; PAL, NTSC and Secam 100-240 Volts Descriptions:
Wide Viewing Angle
Brilliant Images from Every Seat
With VIERA's wide 178° * viewing angle, you see clear, vibrant images from every seat in the room. The backlight features a wide transmission aperture that enhances contrast between light and dark and improves response to provide smoother motion images.
*Range at which the contrast ratio is 10:1 or higher
IPS Alpha LCD Panel
The IPS panel, which is known for its wide viewing angle and excellent light transmittance, is now further enhanced with a bright, energy-saving LED backlight. Images do not fade when viewed from an angle, and contrast is higher than in previous IPS models in spite of using less power. The IPS LED LCD TV offers superb color rendering and also contributes to the display's slim design.
120Hz Motion Picture Pro 4
Even fast-moving scenes are displayed sharply and clearly. With a 60Hz video signal input, 120Hz Motion Picture Pro 4 makes 120 frames/second from 60 frames/second. This increases the frame count to allow natural frame-to-frame transitions, for smooth motion images with high resolution. Motion Focus Technology also reduces flicker and effectively suppresses blurring and afterimages.
VIERA Tools
The VIERA Tools user interface makes it easy to access and understand key functions. Simply press a function button, and an explanation appears on the screen. Keep the button pressed to activate the function immediately. *The VIERA Tools screen design is subject to change without notice. **The screen display varies depending on the model.
Game Mode
Games are much more fun when there's no lag in operation. VIERA automatically chooses settings that provide the optimal image, so you get super-fast response and no delays. Even dark scenes with delicately rendered details are beautiful and easy to see.
Panasonic TH-L42U30s Multi System LCD; Specifications:
Designs and specifications are subject to change without notice.
TV Tuner
Tuner Integrated: World 17-System
Teletext Reception: 1000P TOP/FASTEXT Level 2.5
Display
Screen Size : 42" (80 cm) diagonal
Panel: IPS LCD Panel
Viewing Angle: 178 degree
Contrast (Dynamic): 20,000:1
Resolution : Full-HD 1,920 x 1,080 (16:9)
Applicable PC signals : XGA, WXGA, SXGA 60Hz, 1920 x 1080 (HDMI)
Applicable Scanning Format Full-HD : 1125p (50/60/24, HDMI), 1125i (50/60)
Applicable Scanning Format : HD 750p (50/60)
Applicable Scanning Format SD : 625p (50), 525p (60), 625i (50), 525i (60)
Moving Picture Resolution : 300 lines
24p Smooth Film/Playback : N/Y
Picture Mode: Dynamic/Normal/Cinema/True Cinema/Game
Sound
Speakers: 2 x 10 watt 1-Way Bottom Speakers
Sound Mode: Music/Speech/User
Virtual Surround : V-Audio Surround
Dolby Digital/dts : Dolby Digital
Input/Output
VIERA Image Viewer (SD Card input/USB) : (AVCHD/SD-VIDEO/Motion JPEG /MP4 /DivXHD/MKV/MPEG4/JPEG/MP3/AAC/WMV/WMA playback)
HDMI Input: 3 (2 rear, 1 side)
USB: 2 (1 rear, 1 side); Mass Storage/Keyboard/WiFi
Support Feature: Audio Return Channel (Input 2)
Composite Video Input: AV1/2/3: RCA phono type (1 side, 2 rear)
Component Video Input: RCA phono type x 1 set (rear)
PC Input: Mini D-sub 15-pin x 1 (rear)
Audio Input (HDMI, PC, Composite, Component): RCA phono type x 1 set (rear)
LAN Port
Analogue Audio Out: RCA phono type x 1 set (rear)
Headphone Jack: 1, side
Features
Easy IPTV (Facebook/Shoutcast)
DLNA
VIERA Tools
VIERA Link : Y (HDAVI Control 5)
Wireless LAN Adaptor : WiFi Ready
Multi Window : PAT
Eco Navigation : Game Mode
Off Timer
Child Lock
General
Power Supply: AC 110 - 240 V, 50/60Hz
Dimensions (W x H x D) (with TV stand) : 1,021 x 632 x 107 mm
Dimensions (W x H x D) (w/o TV stand) : 1,021 x 666 x 288 mm
Weight (w/o stand) : 17.0 kg
Weight (with stand) : 19.0 kg
Wall Bracket : TY-WK3L2RW
VESA Standard
← Back to product description



Full HD 1080p

1920x1080p resolution is an HDTV high-definition video mode characterized by 1080 horizontal lines of vertical resolution. As of 2012, most consumer televisions being sold provide 1080p inputs mainly with HDMI and support full high-def resolutions. 1080p resolution is available in all types of televisions, including plasma, LCD and LED.



Built-In Analog Pal, NTSC, and Secam TV tuner

Analog Pal, NTSC, and Secam tuner built in for world wide use for analog tuning. If you are in a country that utilizes digital tuning such as DVBT or ATSC a Cable Box or Satellite receiver is needed. If You have any questions regarding this please call us. With the appropriate setup this TV can be used anywhere in the world.




USB Input

USB stands for Universal Serial Bus. A USB port is a cable connection interface used on personal computers and consumer electronics. USB ports allow stand-alone electronic devices to be connected via cables to a computer or to each other.
← Back to product description