Details
Panasonic TH-50PV80H 50" Multi-System Plasma TV; PAL, NTSC and Secam 100-240 Volts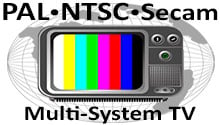 Multi-System TV - PAL, NTSC and Secam
This multisystem TV is compatible with PAL, NTSC and Secam video formats. You can use this television anywhere in the world with ANY type of video device!
Worldwide Voltage - 110v, 120v, 220v, 230v and 240 volt!
Global Dual Voltage on this Multi-system TV means it can be used anywhere. Multi-voltage TV's can be used in any country with voltage from 110 volts to 240 volts!
Space-Saving Plasma Flat Panel Technology
Multi-System Plasma TV's offer stunning video performance and a great value. Enjoy High Definition video in a space-saving flat panel design with this multisystem TV.
Panasonic TH-50PV80H 50" Multi-System Plasma TV Description:
Key Features:
Put it Anywhere
The 3.9" deep 50PV80H gives you the luxury of choosing between hanging your TV on the wall or placing it on a stand.
Bright and Vivid Picture
The Panasonic 50PV80H offers unrivaled picture quality for your viewing pleasure. Thanks to plasma technology you can view skin/common_files/images with amazing clarity, brightness, and contrast. The 50PV80H can display up to 1,070 million colors and is one of the brightest displays with a contrast ratio of 8000:1. All this leads to a much more vivid television experience.
16:9 Wide Screen
You no longer have to deal with cropped off skin/common_files/images while watching some of your favorite movies. With its wide screen 16:9 aspect ratio you can now watch movies in their original format. In fact, the 16:9 aspect ratio is one of the most important aspects of the 50PV80H since all future HDTV signals will be broadcast in this format.
Wide Viewing Angle
The 50PV80H offers a completely flat viewing surface with a 160 degree viewing angle. The expansive viewing angle means that you can watch your favorite programs from nearly anywhere in your living room without distortions common to rear-projection TV's or TFT monitors.
Cure for Sore Eyes
Traditionally, video signals are transmitted using an interlacing format where two separate frames are transposed to create one single frame. This results in flicker that can lead to eye fatigue and soreness. This flicker problem is eliminated with the progressive scanning process where video skin/common_files/images are transmitted in one single complete frame. The 50PV80H is compatible with all progressive scanning signals from high quality DVD players and HDTV decoders, and other high-end video equipment to produce brilliant flicker-free skin/common_files/images.
PC Ready
The 50PV80H is PC ready. You now have the ability to use your plasma TV with any SXGA, XGA, SVGA, or VGA computer video signals*. With Panasonic's 50PV80H you not only have a TV, but a 60" computer monitor as well.
Digital Television for Today and Tomorrow
The Panasonic 50PV80H allows you to enjoy your favorite TV programming today while being prepared for the future. The 50PV80H is an HDTV monitor and can support HDTV (1080i, 1080p and 720p) and EDTV/SDTV (480p and 480i) input signals**. This allows you to enjoy the shows of today, with much better picture quality, and be prepared for the future of HDTV offerings.
Panasonic TH-50PV80H 50" Multi-System Plasma TV Specifications:
Designs and specifications are subject to change without notice.
Full Features:
Model: Panasonic TH-50PV80H
50" Ultra Bright Plasma Display with 100,000:1 Contrast Ratio
PAL/NTSC/SECAM/NTSC 3.58/NTSC4.43/PAL 60 compatibility
Tunes TV channels for PAL BG, PAL I, SECAM DK, NTSC M
24P True Cinema processor allows you to view blu-ray movies at 24 frames per second (also known as 24hz), the way you see video at the movie theatre!
Digital Connection for HDTV signals
This is a multisystem TV. All Multi System TVs in the market do not have a digital TV tuner: What does this mean? To watch digital channels (ATSC Broadcasting in US and DVBT broadcasting overseas) you need a digital source/tuner like a cable box, digital tuner, satellite service, etc. To get the best quality video on this TV you need a source that has a digital connection like HDMI or component.
SD Card Slot (JPEG) for direct playback of skin/common_files/images on your SD cards
Horizontal Arch Design
Completely Flat Screen
Super Thin Construction
Real Black Drive System
Progressive Scan
Anti- Reflection Coated Screen
3 HDMI Inputs
1080i, 720p, 480p, 480i, Digital Signal Compatibility
HDTV monitor: Can support both HDTV and EDTV/SDTV
16:9 Wide Screen Cinema Aspect Ratio
Ultra-Thin Design - Only 3.9" Deep
Progressive Component Video Input
Multi-Scanning PC Monitor Support up to 1366 x 768
Voltage: automatic switching between 100-240 volts 50/60Hz for use world wide
Display
Screen Size: 50"
Aspect Ratio: 16:9
Dot Pitch: 1.08 mm
Contrast Ratio (Normal Mode/High Brightness Mode: 100,000:1
Brightness (Normal Mode/High Brightness Mode: 260/350 cd/m²
Displayable Colors: 1070 Million Colors
Viewing Angle: 160 (Degrees)
SIGNALS
Synchronization Range
Horizontal Frequency: 15 kHz ~ 68 kHz
Vertical Frequency: 50 Hz ~ 85 Hz
Video System: 480i, 480p, 720p, 1080i SDTV/EDTV/HDTV*, NTSC/PAL/SECAM
RGB Resolution: SXGA (1280 x 1024), XGA (1024 x 768), SVGA (800 x 600), VGA (640 x 480)
Input/Output
SD Memory Card Slot(SDHC Compatible)
HDMI Input: 3 (1 front, 2 rear)
Composite Video Input: AV1/2/3/4: RCA phono type (3 rear, 1 front)
S-Video Input: AV3/4: Mini DIN 4-pin (1 rear, 1 front)
Audio Input (for Video): AV1/2/3/4: RCA phono type connectors (3 sets rear, 1 front)
PC Input: Mini D-sub 15-pin x 1 (rear) (Audio input for PC: co-use with AV2 audio input)
Component Video Input: AV2/3: RCA phono type (2 sets rear)
Monitor Out: RCA phono type (1 rear)
Audio Output: RCA phono type connectors (L, R) (1 set rear:
General
Power Consumption: 280 W
Dimensions W/O stand (mm): Width 1210.0 x Height 790.5 X Depth 95.0
Dimensions with stand (mm): Width 1210.0 X Height 844.0 X Depth 387.0
Weight W/O stand (kg): 36.0
Weight with stand (kg): 38.0