Details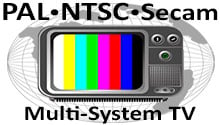 Multi-System TV - PAL, NTSC and Secam
This multisystem TV is compatible with PAL, NTSC and Secam video formats. You can use this television anywhere in the world with ANY type of video device!
Worldwide Voltage - 110v, 120v, 220v, 230v and 240 volt!
Global Dual Voltage on this Multi-system TV means it can be used anywhere. Multi-voltage TV's can be used in any country with voltage from 110 volts to 240 volts!
Space-Saving 3D Flat Panel Technology
Multi-System 3D TV's offer stunning video performance and a great value. Enjoy High Definition video in a space-saving flat panel design with this multisystem TV.
UNLIMITED 3D CONTENT
3D isn't just for the newest releases anymore. LG's 2D-to-3D conversion feature can turn everything from cinema classics to sports to your TV favorites into larger-than-life 3D. It's in with the old and in with the new. Not ready for 3D TV yet? No problem. LG's 3D Ready HDTVs still deliver extraordinary color and crisp detail in 2D. You'll also enjoy a vast array of entertainment like HD movies, HDTV shows and more-all on an incredibly thin TV.So, when you're ready to experience 3D TV, you'll be plenty prepared. This LG has built in WIFI.
LG'S NEXT GENERATION 3D TECHNOLOGY.
Want 3D like you get it in the movie theater? Lightweight glasses, cool 3D effects and a great picture experience? LG's Cinema 3D TV can bring it right into your home. Enjoy easy to use & share 3D glasses, superior picture quality and amazing 3D effects - that's what you get with an LG Cinema 3D experience powered by LG's Film Patterned Retarder (FPR) technology. Disclaimer: For a small percentage of the population, the viewing of stereoscopic 3D video technology may cause discomfort such as headaches, dizziness or nausea. If you experience any symptoms, discontinue using the 3D functionality and contact your health care provider.
EASY TO LOVE. EASY TO SHARE
Our flicker-free 3D glasses are just like the ones you get at the movie theater, so there are no batteries required and they don't need recharging. Because LG Cinema 3D glasses are so inexpensive, you can outfit your family and friends for a fraction of the cost of other 3D technologies. You can even use other compatible 3D glasses. 6 sets of glasses included. And with LG's Clip On Cinema 3D glasses (sold separately), anyone already wearing corrective lenses can enjoy Cinema 3D with ease and in comfort without the need to wear an additional pair of glasses.
CUSTOMIZE YOUR 3D ENTERTAINMENT
With LG 3D Depth Control you have the ability to increase the 3D depth on your TV to provide more enhanced 3D effects. Don't just watch 3D, hear it in 3D. This LG TV is equipped with 3D Sound Zooming to provide a greater level of sound immersion with 3D content.
EASY WAY TO ACCESS LIMITLESS CONTENT
An intuitive, easy way to access limitless content, thousands of movies, customizable apps, videos and browse the web all organized in a simple-to-use interface. And, when you can just point and choose selections with LG's unique motion-controlled Magic Remote, it's even simpler. That's what you get with an LG Smart TV experience, the next generation in entertainment organized within a simple interface.
WORKS LIKE MAGIC
Selecting features on your LG TV is as easy as the wave of your hand with the Magic Remote Control. Just point to what you want and the sensors follow right along. Clicking and scrolling is soon to be a thing of the past.
YOUR CONTENT ON THE BIG SCREEN
Browse and share files from external storage devices on your TV screen, or access files from your PC, tablet or smart phone via Wi-Fi.
YOU WON'T BELIEVE YOUR EYES
TruMotion 120Hz technology lets you see sports, video games and high-speed action with virtually no motion blur. Now your TV can keep up with your fast-moving entertainment.
LESS BLUR. MORE ACTION.
Motion 120Hz technology lets you see sports, video games and high-speed action with virtually no motion blur. Now your TV can keep up with your fast-moving entertainment.
UPSCALE YOUR CONTENT
Resolution Upscaler is feature that enhances the resolution of original content to a higher resolution.
CUT LOOSE WHEN YOU ARE WI-FI® READY
Getting your LG TV connected to online content is easy when you are Wi-Fi® Ready. If you have existing wireless broadband, setting it up is simple and you don't need to worry about messy wires.
DOUBLE THE DETAIL
This stunning picture is the reason you wanted HDTV in the first place. With almost double the pixel resolution, Full HD 1080p gives it superior picture quality over standard HDTV. You'll see details and colors like never before.
SAVE MORE THAN ENERGY
Earning the ENERGY STAR means a product meets strict energy efficiency guidelines set by the US Environmental Protection Agency and the Department of Energy. For TVs, it means they save energy both in standby and active (when they're on) modes. ENERGY STAR qualified TVs use about 30% less energy than standard units.
FIND THE PERFECT PICTURE
Get easy self-calibration with on-screen reference points for key picture quality elements such as black level, color, tint, sharpness and backlight levels. Take the guesswork out of picture adjustments with this simple-to-use feature. It's not actually magic, but it will sure seem that way.
WISE AND NOT WASTEFUL
With our Smart Energy Saving Features, you can conserve money and energy.
LG 55LA6400 55" Smart 3D Multisystem LED TV Specifications
Screen Size: 55
Resolution:1920 x 1080
BLU Type:Edge LED
Dynamic MCI (Hz): 200 (T100Hz)
Micro Pixel Control (Local Dimming):Yes
No. of HDMI Ports:3
No. of USB Ports:3
Video
Aspect Ratio: 8 modes ( 16:9, Just scan, Original, Full Wide, 4:3, 14:9, Zoom, Cinema Zoom 1)
(3D MPEG) Noise Reduction:Yes
Real Cinema 24p (3:2 pull down):Yes
Picture Mode: 7 modes (Vivid,Standard,Eco, Cinema,Game, isf Expert1,isf Expert2)
Picture Wizard II (2D/3D):Yes
Just Scan (1:1 Pixel Matching):( HDMI/Component/RF) 1080i / 1080p / 720p)
Triple XD Engine:Yes
Dynamic Color Enhancer:Yes
AV Mode (Picture & Sound): 3 Modes (Off / Cinema / Game)
Resolution Upscaler (Plus/Basic): Yes Basic
Contrast Optimizer: Yes
Audio
Audio Output: 20W
Wireless Sound Sync: Yes
Sound System: Virtual Surround Plus
Speaker System: 1 Way 2 Speaker
Dolby Digital Decoder: Yes
DTS Decoder: Yes
Clear Voice II: Yes
Mono/Stereo/Dual (MTS/SAP): Yes
Sound Mode: 6 modes (Standard, Music, Cinema, Sport, Game, User setting)
Smart Sound Mode: Yes
Sound Optimizer: 3 modes(Normal, Wall-Mount Type, Stand Type)
Smart Share
DLNA:Yes
MHL: Yes
Window Media Player (Play to): Yes
2nd Display: Yes
Network File Browser: Yes
Media Link: Yes
Remote App: Yes
Special
Motion eye care: Yes
Smart Energy Saving: Yes
Broadcasting System
Analog TV Reception:(PALI,PAL/SECAM BG/DK, NTSC M)
Time/Clock
Auto/Manual Clock:Yes
Auto Off / Auto Sleep:Yes
Sleep Timer:Yes
On/Off Timer:Yes
USB
Divx (SD/HD/Plus HD): DivX HD
Picture: JPEG
Audio Codec: AC3(Dolby Digital), EAC3, AAC, Mpeg, MP3, PCM
Cinema 3D
3D Type (SG/FPR/AR/GPR/Non-Glass): FPR
Supporting Format: S/S, T/B, C/B, F/S
Format Auto Detection: Yes
3D to 2D Convert Source: Yes
2D to 3D Convert Source: Yes
Depth Control: '0~+20 (default : 10)
Viewpoint Control: -10~+10 (default : 0)
3D Depth Control: 0~+20 (default : 10)
3D Viewpoint Control: -10~+10 (default : 0)
3D Image Correction /mtk: Yes
Smart TV
Smart Home: Yes
App Store: Yes
Premium CP: Yes
Skype: Yes
Full Web Browser: Yes
Social Center: Yes
Search & Recommendation: Yes
3D World (3D Contents Streaming): Yes
← Back to product description



Full HD 1080p

1920x1080p resolution is an HDTV high-definition video mode characterized by 1080 horizontal lines of vertical resolution. As of 2012, most consumer televisions being sold provide 1080p inputs mainly with HDMI and support full high-def resolutions. 1080p resolution is available in all types of televisions, including plasma, LCD and LED.



TV 3D




Memory Card Reader

A memory card reader is a device usually having a USB interface. This allows it to access the data on a memory card such as a Compact Flash (CF), Secure Digital (SD) or MultiMedia Card (MMC). There are three categories of memory card readers sorted by the type and quantity of the card slots: single card reader, multi card reader and series card reader.



WiFi Ready

WiFi ready means that the device is able to use WiFi but requires an adapter. WiFi adapters are fairly inexpensive and usually plug into the USB port. WiFi Ready TV's will always have a standard LAN port to utilize internet features without using WiFi.



Smart WiFi Built In

WiFi built-in means that the hardware needed is already built into the device. WiFi Built-in tv's already have the WiFi card/adapter inside. It is ready to connect to Wi-Fi networks straight out of the box. If you have a WiFi network, just plug in the TV, set it up and you have internet access.



Smart TV

A smart TV, also known as a connected TV or hybrid TV, describes the combining of the Internet and Web 2.0 features into television sets, as well as the integration between computers and these television sets. These devices focus on online interactive media, Internet TV, over-the-top content, as well as on-demand streaming media, and less focus on traditional broadcast media than traditional television sets.
← Back to product description