Details
LG 42LW5700 Multi system 3D TV; PAL, NTSC and Secam 110-220 Volts:
The LG 42LW5700 is a multisystem led tv that can be used anywhere in the world. It has a very slim design and excellent picture quality. It packs everything togather with 3D LED TV as well as a Smart TV with Internet browser. You can access global content with it's smart Features and utilize the LG Apps and global content. It's Full hd resolution, USB input, Divx & Divx HD support, Built in web browser and 3 HDMI inputs make it the highest model LG makes. The LG 42LW5700 Multi system 3D Smart Internet LED TV is arguably on of the best 3D tv's in the market today with Cinema 3D, brilliant 3D PIctures, comfortable cinema 3D glasses, and Magic Motion remote control..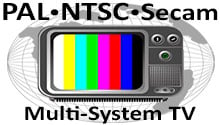 Multi-System TV - PAL, NTSC and Secam
This multisystem TV is compatible with PAL, NTSC and Secam video formats. You can use this television anywhere in the world with ANY type of video device!
Worldwide Voltage - 110v, 120v, 220v, 230v and 240 volt!
Global Dual Voltage on this Multi-system TV means it can be used anywhere. Multi-voltage TV's can be used in any country with voltage from 110 volts to 240 volts!
Space-Saving 3D Flat Panel Technology
Multi-System 3D TV's offer stunning video performance and a great value. Enjoy High Definition video in a space-saving flat panel design with this multisystem TV.
LG 42LW5700 Multi System 3D TV Product Description
2D TO 3D Dimensions
No more worries about lack of 3D content. LG's CINEMA 3D provides remarkably improved 2D to 3D conversion function which offers more realistic 3D images at any moment. Enjoy any 2D content in full depth of 3D images.
Next Generation 3D TV
Get ready for the finest, most cinematic 3D entertainment you've ever experienced in the comfort of your home. Forget the heavy, uncomfortable glasses and the dizzying picture quality of conventional 3D technology. You can now indulge in what 3D was meant to be, just like at the movies. The LG CINEMA 3D TV. The new standard in 3-dimensional excellence.
More Comfort for Your Eyes
No more dizziness, nausea, or discomfort. LG's CINEMA 3D technology eliminates flickering shutters from the glasses, allowing you to freely indulge in 3D images for an extended time without dizziness or weariness. While our advanced CINEMA 3D glasses eliminate flickering images, our Next Generation 3D panel provides clearer, blur- free images. Enjoy a superior viewing experience with no overlapping images, or dizziness associated with conventional 3D technology.
Comfortable 3D Glasses
LG's CINEMA 3D glasses weigh only 16 grams - almost half the weight of conventional 3D glasses. Unlike conventional 3D glasses, you don't have to worry about recharging your glasses. As LG's CINEMA 3D glasses are battery-free, there are no harmful electromagnetic waves generated. Avoid the high cost of conventional 3D glasses. LG's CINEMA 3D glasses are very affordable, so you can buy as many as you need to enjoy the 3D experience with family and friends.
Brilliant 3D Pictures
Up to two times brighter than conventional 3D TVs. The LG CINEMA 3D TV produces brighter and clearer pictures by bringing the best out of the backlight units.
Flexible Positions for General Comfort
LG's CINEMA 3D gives you the freedom to enjoy consistently clear and bright 3D pictures in any position. Unlike conventional 3D TV's, LG's CINEMA 3D enables you to lie down or lean back without any image balckout. LG's CINEMA 3D technology provides a 3D viewing angle that is wide enough to allow bigger audiences.
Home Dashboard
LG understands that complexity is the enemy of fun. That's why we designed a highly intuitive user environment featuring our exclusive Home Dashboard which lets you quickly and easily navigate through your entertainment options. See what's currently on, browse Premium Content, explore a multitude of Apps, and select one of your favorite menus - all from a single screen. The Home Dashboard is the main menu for LG's Smart TV, and it's Conveniently designed to maximizes the user experience, while giving you simple access to everything you want.
Magic Motion Remote control Ready
A remote control that operates like a mouse. A smart TV is never smart if you have to endure an overly complex process for controlling your TV. The Magic Motion Remote Control provides the easiest control over your LG Smart TV. Just Point, Click, and Control. With simple movements and gestures, you can drag, flick, and select your preferences, without the hassle of using multiple buttons and arrow keys.
Smart Share for Comfortable Content Sharing
Wirelessly access the content stored in your digital devices, including digital cameras, mobile phones, tablets, and PCs, and bring them to your home's largest screen with a simple click. With Smart Share, free yourself from complicated cable connections.
An Abundance of Fun
Enjoy a full range of quality lifestyle applications and interactive games designed for individual and family entertainment. You can immediately access the store on screen and easily download from a rich selection of applications. Enjoy the fun of customizing your Home Dashboard with your choice of apps and directly access them whenever you like.
Motion Clarity Index 600
Motion Clarity Index is a comprehensive indicator of the genuine clarity of high speed motion display, incorporating more than just frame rates. LG's detailed backlight scanning, advance local dimming technology, and superb XD engine contribute to a superb preformance in enhancing clarity and realism of fast-moving pictures.
Micro Pixel Control
Local Dimming provides individual control of every LED block behind the screen, enabling the LW5700 to display everything from the deepest, inkiest blacks to the most dazzling colors.
LG 42LW5700 Multi system 3D TV Specifications
Designs and specifications are subject to change without notice.
Highlights:
Series Name: LW5700
Screen Size: 42
Backlight: LED Plus
IPS - Advanced LED LCD Panel
Energy Saving: Smart Energy Saving Plus
Smart TV
2D to 3D Conversion
Convergence Features:
Cinema 3D
Local Dimming (Spot Control)
DLNA: DLNA Certified
Wireless Ready
General Specifications:
Screen Size: 42 (106 cms)
Resolution: 1920 x 1080p
WCC (Wide Colour Control)
Motion Clarity Index: 600
Picture:
Full HD 1080p
Dynamic Contrast Ratio: 5,000,000:1
Response Time(MilliSecond): 2.4ms
Picture Wizard II
DivX through USB 2.0(DivX HD Plus)
XD Engine: 2011 XD Engine
Sound (RMS):
Clear Voice II
Mono/Stereo/Dual (MTS/SAP)/Yes/Yes
Audio Output(Watts - THD 10%): 10W+10W
Speaker System: 1 Way 2 Speakers
Surround System: Infinite 3D Surround
Dolby Digital Decoder
Convinience:
Magic Motion Remote Control (Ready)
PC Connectivity
LAN(Wired)
HDMI(Ver. 1.3 Deep Colour)
Simplink(HDMI-CEC)
Connectivity(Side):
Connectivity(Rear):
Headphone Out
Antenna In
AV In
Digital Audio Out(co-axial/optical)
Component in(Y,Pb,Pr)+ Audio
RGB In (D-sub 15pin) - PC; Yes
PC Audio Input
RS-232C (Control/SVC)
Supplied Accessories:
Stand
Remote
Battery (2 AA)
Power Consumption:
Voltage, Hz: 100-240Vac 50/60Hz
Consumption(Typical): 140W
Stand-by-Mode: 0.1W (LED Off)
Weight:
Set Without Stand(kg): 13.4
Including Stand(kg): 15.7
Dimensions(WxHxD)(mm):
Set Without Stand: 999 x 623 x 30.9
Including Stand: 999 x 681 x 255
← Back to product description



Full HD 1080p

1920x1080p resolution is an HDTV high-definition video mode characterized by 1080 horizontal lines of vertical resolution. As of 2012, most consumer televisions being sold provide 1080p inputs mainly with HDMI and support full high-def resolutions. 1080p resolution is available in all types of televisions, including plasma, LCD and LED.



Built in DVBT and PAL Tuner

Built IN DVBT and Pal Tuner. Excellent for use outside North America with Analog Pal RF signals and DVBT RF Signals. For use in North America to watch television a Cable, box or Satellite receiver from your cable company is necessary. Or if you will not subscribe to any paid cable a ATSC digital cable converter box can be used to tune TV channels when in North America. If using outside of North America in Africa, Asia, Europe, Middle East, Oceania, or other countries with Pal or DVBT tuning, this TV will work directly with RF Antenna signal. If You have any questions regarding this please call us. With the appropriate setup this TV can be used anywhere in the world.




TV 3D




USB Input

USB stands for Universal Serial Bus. A USB port is a cable connection interface used on personal computers and consumer electronics. USB ports allow stand-alone electronic devices to be connected via cables to a computer or to each other.



WiFi Ready

WiFi ready means that the device is able to use WiFi but requires an adapter. WiFi adapters are fairly inexpensive and usually plug into the USB port. WiFi Ready TV's will always have a standard LAN port to utilize internet features without using WiFi.



Smart TV

A smart TV, also known as a connected TV or hybrid TV, describes the combining of the Internet and Web 2.0 features into television sets, as well as the integration between computers and these television sets. These devices focus on online interactive media, Internet TV, over-the-top content, as well as on-demand streaming media, and less focus on traditional broadcast media than traditional television sets.
← Back to product description