May we suggest
This LED TV is new, and improved technology with a 32" screen with 1366 x 768 resolution, HD Ready and the Advanced Triple XD Engine! Shop Now >>
Details
LG 32LD460 32" Multi-System LCD TV; PAL, NTSC and Secam 100-240 Volts:
This new LG 32" is an excellent choice for someone looking for a excellent FULL HD 1920 X 1080resolution full HD TV in this size. Many 32" tv's are not full HD butrather are a lower resolution. This model is an excellent piece with notonly FULL HD resoltion but also a 100,000:1 contrast ratio. It also has a USB input and a 2 HDMI inputs. Of course this modelwill work anywhere in the world and has Pal/NTSC/Secam support and 110-240 volts so you can use it in the USA or take it abroad.
World-Wide NTSC/PAL/SECAM ColorSystem - Watch any video signal on this TV!
World-Wide NTSC/PAL BG/PAL I/SecamBG, DK/ PAL DK TV tuners
32-inch Multi-System LCD TV
Built-in NTSC/PAL BG/PAL I/Secam BG, DK/ PAL DK TVtuners enables you to plug yourcable TV line right into the TV and start watching.
Widescreen 16 X 9 Format
World-wide Dual Voltage 110-240volts 50-60 hertz
100,000:1contrast ratio provides incredible images whether you're watching dark or brightscenes!
Picture Wizard II (Easy Picture Calibration)
Smart Energy Saving
AV Mode II (Cinema, Sports, Game)
Clear Voice II
SIMPLINK Connectivity
24P Real Cinema
USB 2.0 (JPEG, MP3, AVI/MKV)
Full HD 1080p Resolution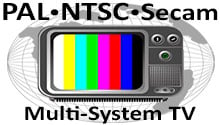 Multi-System TV - PAL, NTSC and Secam
This multisystem TV is compatible with PAL, NTSC and Secam video formats. You can use this television anywhere in the world with ANY type of video device!
Worldwide Voltage - 110v, 120v, 220v, 230v and 240 volt!
Global Dual Voltage on this Multi-system TV means it can be used anywhere. Multi-voltage TV's can be used in any country with voltage from 110 volts to 240 volts!
Space-Saving LCD Flat Panel Technology
Multi-System LCD TV's offer stunning video performance and a great value. Enjoy High Definition video in a space-saving flat panel design with this multisystem TV.
LG 32LD460 Multi system LCD TV Product Description
Invisible Speaker:
Great sound is meant to be heard, not seen! Beautifully hidden, our Invisible Speakers are designed with simplicity and aesthetic enhancement.
AV Mode:
LG HDTVs include 3 AV Modes, preset to optimize picture and sound settings based on Cinema, Sports or Game content. AV Modes can be easily set with a convenient button
Smart Energy Saving:
Smart Energy Saving Plus is an eco-friendly way to experience unprecedented picture quality while saving energy at the same time.
Simplink:
LG"s SIMPLINK System allows you to control all the connected AV devices with one remote control. By pressing the SIMPLINK remote control key, you can switch on and control all devices connected by HDMI.
LG 32LD460 32" Multi-System LCD TV Specifications:
Designs and specifications are subject to change without notice.
Dimensions
SET (w/o stand): 9.6 Kg with stand: 8.6 Kg
SET (w/o stand): 799.0 x 506.0 x 74 with stand: 799.0 x 554 x 207
Interface
AV In
USB 2.0
HDMI In
Headphone Out
RF In
AV In
Component in (Y,Pb,Pr) + Audio (480i/480p/576i/576p/720p/1080i/1080p)-1080p:60p50p
HDMI Input
RGB In (D-sub 15pin) - PC
PC Audio Input
RS-232C (Control / SVC)
Video Features
XD Engine
Aspect Ratio Correction: 8 Modes (16:9/Just scan/Original/4:3/14:9/Zoom/Cinema Zoom/Full Wide)
Color Temperature Control: 3 Modes (Warm, Medium, Cool)
24p Real Cinema: Yes(24p 5:5/2:2 Pull down Mode)
Expert Mode / ISF Ready
Eye Care (Anti Dazzling)
Fresh WhiteYesxvyCC
AV Mode II (Cinema/Game/Sport)
Picture Wizard II
Picture Features
Type: Full HD
Resolution: 1920x1080
Dynamic Contrast Ratio: 100,000:1
Viewing Angle Degree: 178/178
Colors Reproduction (R,G,B): 10bit
Response Time(MPRT): 4ms
WCC (Wide Color Control)
Full HD
Sound
Speaker: Invisible Speaker
Audio Output: 15W+15W
Speaker System: 1 Way 2 Speakers
Infinite Sound
Bass/Treble/Balance
Auto Volume
Sound Mode: 5 Modes (Standard/Cinema/Music/Sport/Game)
ClearVoice.Clear Voice II
Feature
DivX: Yes (HD)
SIMPLINK (HDMI CEC)
USB MP3 / JPEG / DivX: Yes / Yes / Yes
Invisible Speaker
HD Ready
Picture Wizard
← Back to product description



Full HD 1080p

1920x1080p resolution is an HDTV high-definition video mode characterized by 1080 horizontal lines of vertical resolution. As of 2012, most consumer televisions being sold provide 1080p inputs mainly with HDMI and support full high-def resolutions. 1080p resolution is available in all types of televisions, including plasma, LCD and LED.



Built in DVBT and PAL Tuner

Built IN DVBT and Pal Tuner. Excellent for use outside North America with Analog Pal RF signals and DVBT RF Signals. For use in North America to watch television a Cable, box or Satellite receiver from your cable company is necessary. Or if you will not subscribe to any paid cable a ATSC digital cable converter box can be used to tune TV channels when in North America. If using outside of North America in Africa, Asia, Europe, Middle East, Oceania, or other countries with Pal or DVBT tuning, this TV will work directly with RF Antenna signal. If You have any questions regarding this please call us. With the appropriate setup this TV can be used anywhere in the world.




USB Input

USB stands for Universal Serial Bus. A USB port is a cable connection interface used on personal computers and consumer electronics. USB ports allow stand-alone electronic devices to be connected via cables to a computer or to each other.
← Back to product description