Details
LG 19LS4R 19" Multi-System LCD TV; PAL, NTSC and Secam 110 - 240 Volts:
This economical LG 19LS4R 19" multi-system LCD TV is a great choice for those seeking an affordable multivoltage LCD TV that operates on multi-system technology to decode NTSC, PAL, and Secam signals. This LG 19LS4R 19" multi-system LCD TV also offers even further flexibility by offering dual voltage technology, allowing this LG 19LS4R to function on 110 volts to 240 volts, as well as 50/60Hz, of electrical input. The LG 19LS4R is a great choice for the value-conscious consumer seeking a versatile multi-system LCD TV from a trusted manufacturer.
Bright, vivid and clear images
High energy efficiency rating - 8 Energy Star rating
Ultra-thin bezel for immersive viewing
HD panel and Freeview | HD tuner for pristine HDTV viewing
Multi-language support including Chinese and Korean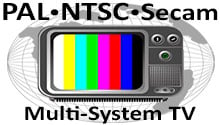 Multi-System TV - PAL, NTSC and Secam
This multisystem TV is compatible with PAL, NTSC and Secam video formats. You can use this television anywhere in the world with ANY type of video device!
Worldwide Voltage - 110v, 120v, 220v, 230v and 240 volt!
Global Dual Voltage on this Multi-system TV means it can be used anywhere. Multi-voltage TV's can be used in any country with voltage from 110 volts to 240 volts!
Space-Saving LCD Flat Panel Technology
Multi-System LCD TV's offer stunning video performance and a great value. Enjoy High Definition video in a space-saving flat panel design with this multisystem TV.
LG 19LS4R 19" Multi-System LCD TV Specifications: Designs and specifications are subject to change without notice.
Full HD 1920 X 1080 Resolution
Multi system- Accepts signals from Pal, NTSc and Secam (works anywhere in the world)
Tuner: DVBT Digital tuner and PAL/Secam Analog Tuner
World-Wide NTSC/PAL/SECAM Color System
DVB-T, PAL BG/PAL I/Secam BG, DK/ PAL DK TV tuners
World Wide Dual Voltage•110-240 volts for world wide use
Screen Size: 19" inch
Resolution: 1920 x 1080p
Dynamic Contrast Ratio: 4,000,000:1
Response time: 2.4ms
Trumotion: 50Hz
Power Consumption: 100-240Vac 50/60Hz , 150W
Display Type LCD TV
Screen Size ( Inch ) 19
PICTURE BLU Type Edge LED Plus
Resolution 1920x1080
TruMotion 50Hz (MCI: 100Hz)
Dynamic Contrast Ratio 4,000,000:1
Response Time(MPRT) 3ms
WCC (Wide Color Control)
VIDEO Aspect Ratio Correction
7 Modes (16:9/JustScan/Original/4:3/14:9/Zoom/CinemaZoom)
24p Real Cinema(24p 5:5/2:2 Pull down Mode)
Expert Mode / ISF Ready
xvyCC
Picture Wizard II
Just Scan (0% overscan)
Sound
Audio Output
10W+10W
Speaker System
1 Way 2 Speakers
Infinite Sound
Bass/Treble/Balance
Auto Volume
Sound Mode
5 Modes (Standard, Music, Cinema, Sport, Game)
Clear Voice II
Feature
SIMPLINK (HDMI CEC)
USB MP3 / JPEG / DivX
USB 2.0, MP3/JPEG
DLNA
Interface
USB 2.0 X 1
HDMI In X 3
RF In
AV In
Component in (Y,Pb,Pr) + Audio X 1
RGB In (D-sub 15pin) - PC
PC Audio Input
RS-232C (Control / SVC)
RGB In (D-sub 15pin)
LAN (For Modem)
Digital Audio Out
Power
Voltage, AC 100-240V 50/60Hz
Consumption (IEC62087 dynamic broadcast-content video signal): 110
Standby (Off mode): 0.1W
Dimension
SET (w/o stand) 13.3 with stand 15.5
Packing 19.1
SET (w/o stand) 998 x 615 x 30.4(40.1)
SET with stand 998 x 684 x 256
Packing 1197 x 770 x 125
Broadband
NetCast Entertainment Access
Application Store
Search Recommended
SKYPE Ready
NSU, 3Q
Network Wifi
Ready, No Dongle in the Box
PC contents Sharing (CIFS/DLNA)(DLNA Certified)
Windows 7 Certified
SIMPLINK (HDMI CEC)
USB 2.0
Audio mp3
Video Codec
DivX3.11, DivX4.12, DivX5.x, DivX6, Xvid1.00, Xvide1.01, Xvid1.02,Xvid1.03, Xvid 1.10-beta-1/beta-2, Mpeg-1, Mpeg-2, Mpeg-4, H.264,AVC
Audio Codec
AC3(Dolby Digital), EAC3, AAC, Mpeg, MP3, PCM
DivX Caption Fomat
smi/*.srt/*.sub(MicroDVD, SubViewer1.0/2.0)/*.ass/*.ssa/*.txt(TMPlayer)/*.psb(PowerDivx)
DiVX (SD/HD/HD Plus
HD Plus Special
Magic Motion Remote Control
Smart Energy Saving
Plus (Backlight Control+Intelligent Sensor) Intelligent Sensor
1080p Source Input- HDMI 60p/50p/30p/24p Component 60p/50p
AV Input Navigation/ EZ Input searching
Input Labeling
EZ OSD (Menu system)Language: EN/FR/TH/MA/IN/AR/HE/RU/Kurd/Far/VN/SP/PO
Quick Menu
Aspect Ratio, Picture Mode, Sound Mode, Sleep Timer, Audio, Energy Saving, AV Mode, Skip On/Off, USB Device
UI Version (2011 New UI)
Channel (Program)
Auto Tuning / Programming
Program (Channel) Edit (Add / Delete)
Program (Channel) Labeling (Name Edit)
Favorite Channel Programming
Time/Clock Auto/ Manual Clock
On Time/ Off Time
Sleep Timer
Auto Off/ Auto Sleep
← Back to product description



HD 720

720p is a progressive HDTV resolution signal format with 720 horizontal lines. All major HDTV broadcasting standards include a 720p format which has a resolution of 1280×720. The number 720 stands for the 720 horizontal scan lines of image display resolution (also known as 720 pixels of vertical resolution), while the letter p stands for progressive scan.



Built in DVBT and PAL Tuner

Built IN DVBT and Pal Tuner. Excellent for use outside North America with Analog Pal RF signals and DVBT RF Signals. For use in North America to watch television a Cable, box or Satellite receiver from your cable company is necessary. Or if you will not subscribe to any paid cable a ATSC digital cable converter box can be used to tune TV channels when in North America. If using outside of North America in Africa, Asia, Europe, Middle East, Oceania, or other countries with Pal or DVBT tuning, this TV will work directly with RF Antenna signal. If You have any questions regarding this please call us. With the appropriate setup this TV can be used anywhere in the world.
← Back to product description