May we suggest
Regular Price: $387.60
Now only: $323.00
LED televisions are newer and more improved than regular LCD televisions. They are slimmer, last longer, and offer a better picture quality while using less energy.Shop Now >>
Details
International 26" Multisystem LCD TV with Region Free DVD Player; Pal / NTSC / Secam inputs, 110 volts, 220 volts, 240 volts
International Electronics introduces The Multi-system LCD DVD TV combo which combines a built in slot loading Region Free/ Code Free DVD player and full PC compatible monitor into a flat screen Multi System LCD unit. They also have a Built in USB input so you can view your Videos, See your pictures, or Listen to your music from a USB Device. In addition this TV is also equipped with a SD/MMC/MS card reader slot. This LCD TV / DVD lets you have a complete Multi Media solution, at an excellent value, which can be used anywhere in the world. No cables to the dvd player, no connections, Superior durability and product quality, which we will stand behind. This combo device was designed for both International use in the Home, Yacht, RV or any other place.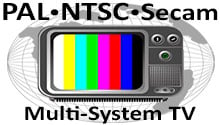 Multi-System TV - PAL, NTSC and Secam
This multisystem TV is compatible with PAL, NTSC and Secam video formats. You can use this television anywhere in the world with ANY type of video device!
Worldwide Voltage - 110v, 120v, 220v, 230v and 240 volt!
Global Dual Voltage on this Multi-system TV means it can be used anywhere. Multi-voltage TV's can be used in any country with voltage from 110 volts to 240 volts!
Space-Saving LCD Flat Panel Technology
Multi-System LCD TV's offer stunning video performance and a great value. Enjoy High Definition video in a space-saving flat panel design with this multisystem TV.
International 26" Multi system LCD TV Description:
26" LCD Wide Screen For crystal-clear high-definition pictures, this LCD is hard to beat. Regardless of your video source, you'll enjoy a crisp, detailed image whenever you turn on this LCD TV SD/MMC/MS Card Reader and USB Support The device offers several multimedia playback capabilities Supports 1080p The unit is HDTV ready Built-In 2W Speakers (Total 4W) Full-range stereo speakers provide crisp highs and deep bass DTV-Ready with Dual ATSC/NTSC Tuners With the built-in ATSC and NTSC tuners, you'll have your pick of over-the-air digital and standard TV broadcasts. That's in addition to the programming fare offered by your cable or satellite provider Perfect Use as a TV or Computer Monitor 15-pin VGA interface for use with computer systems Crisp Display HDMI digital connection delivers perfect signal transmission.
International 26" Multi-System LCD TV with Region Free DVD Specifications:
Screen Size (Diagonal) 26"
Aspect Ratio 16 : 9
Brightness 300 cd/m2
Contrast Ratio 10,000 : 1
Response Time 5.5 MS
Tuner: ATSC/NTSC - If used overseas in Pal / Secam or DVBT tuning country a cable box or satellite receiver must be used to receive TV programming.
Inputs/Outputs:
1x RF Audio In
1x RCA Composite Video In
1x RCA Component Video In
1x PC audio in or (3.5mm) Mini Audio In
1x PC VGA Video In
HDMI Audio/Video In
1x USB Audio/Video In
← Back to product description



HD 720

720p is a progressive HDTV resolution signal format with 720 horizontal lines. All major HDTV broadcasting standards include a 720p format which has a resolution of 1280×720. The number 720 stands for the 720 horizontal scan lines of image display resolution (also known as 720 pixels of vertical resolution), while the letter p stands for progressive scan.



Built in NTSC/ATSC TV Tuner

Region free CodeFree Blu-ray player will allow playback of blu-rays discs from anywhere in the world. Blu-ray discs from Zone A, B, or C will play. Plays any blu-ray discs from any region, any country, anywhere in the world guaranteed




Memory Card Reader

A memory card reader is a device usually having a USB interface. This allows it to access the data on a memory card such as a Compact Flash (CF), Secure Digital (SD) or MultiMedia Card (MMC). There are three categories of memory card readers sorted by the type and quantity of the card slots: single card reader, multi card reader and series card reader.



USB Input

USB stands for Universal Serial Bus. A USB port is a cable connection interface used on personal computers and consumer electronics. USB ports allow stand-alone electronic devices to be connected via cables to a computer or to each other.
← Back to product description