Details
Hitachi P60X01A 60" 1080p FULL HD Multi-System Plasma TV ; PAL, NTSC and Secam 110 - 240 Volts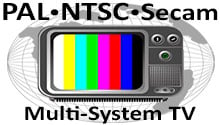 Multi-System TV - PAL, NTSC and Secam
This multisystem TV is compatible with PAL, NTSC and Secam video formats. You can use this television anywhere in the world with ANY type of video device!
Worldwide Voltage - 110v, 120v, 220v, 230v and 240 volt!
Global Dual Voltage on this Multi-system TV means it can be used anywhere. Multi-voltage TV's can be used in any country with voltage from 110 volts to 240 volts!
Space-Saving Plasma Flat Panel Technology
Multi-System Plasma TV's offer stunning video performance and a great value. Enjoy High Definition video in a space-saving flat panel design with this multisystem TV.
Hitachi P60X01A 60" Plasma TV Description:
The Hitachi P60X01A 60" Plasma TV displays all HD resolutions including HD 1080p which offers the highest image quality among high-definition video sources. With the Highest resolution currently available, the Hitachi P60X01A offers an amazing picture quality.
It also has a high contrast ratio of 10,000:1 and is a offers stunning blacks and whites.
Hitachi P60X01A 60" Plasma TV Specifications:
Designs and specifications are subject to change without notice.
Key Features for Hitachi P60X01A
Model: P60X01A
Screen size 60", Aspect Ratio:- 16:9
High Standard in Panel Luminance and Contracts Ratio
Tunes TV channels for PAL BG, PAL I, SECAM DK, NTSC M
Video Input for PAL, SECAM, Pal-N, Pal-M, NTSC
FULL HD 1080p plasma panel 1920 X 1080 resolution
TV supports 1080p input but maximum screen resolution is 1080i
10000:1 Contrast Ratio
Brightness : 1,400 cd/m2
Built-in Full Multi-system TV Tuners for world wide use reception in any country.
Panel Life : 60,000hrs
Unique FC5 Digital Image Pixel Processor
Digital Color Management
Horizontal / Vertical Viewing Angle : Free
Convenient Swivel Stand
Audio Volume Leveler
Detachable Speakers
3HDMI digital inputs for Hi Definition TV
Component Video 480i/p / 575i/p / 720p(60) / 1080i(50/60) / 1035i / 1080p
Analog RGB Signal VGA - UXGA / 1080i(50/60)
DVI RGB Signals (H / V/ DCLK) H:31-62/ 50-85Hz /20 - 80Hz
RF Multiplex Nicam/A2
← Back to product description



Full HD 1080p

1920x1080p resolution is an HDTV high-definition video mode characterized by 1080 horizontal lines of vertical resolution. As of 2012, most consumer televisions being sold provide 1080p inputs mainly with HDMI and support full high-def resolutions. 1080p resolution is available in all types of televisions, including plasma, LCD and LED.
← Back to product description