Details
Hitachi L42N05A Multi-System 42" LCD TV; PAL, NTSC and Secam 100-240 Volts:
The Hitachi L42N05A Multi-System 42" LCD TV
Full HD 1920 X 1080 Resolution
480i, 576i, 480p, 576p, 1080i, 720p, 1080p Video Signal INPUT
World-Wide NTSC/PAL BG/PAL I/Secam BG, DK/ PAL DK TV tuners
110-240 Volts for world wide use
50,000:1 Dynamic Contrast Ratio for superb quality Picture
10,000:1 Panel Contrast Ratio
3 HDMI INPUTS (1 Side, 2 Rear)
5 MS Super Fast Response timevivid, smooth, brilliant image, with crystal clear clarity
ONLY 2 Inches thick LCD panel, can be wall mounted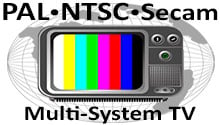 Multi-System TV - PAL, NTSC and Secam
This multisystem TV is compatible with PAL, NTSC and Secam video formats. You can use this television anywhere in the world with ANY type of video device!
Worldwide Voltage - 110v, 120v, 220v, 230v and 240 volt!
Global Dual Voltage on this Multi-system TV means it can be used anywhere. Multi-voltage TV's can be used in any country with voltage from 110 volts to 240 volts!
Space-Saving LCD Flat Panel Technology
Multi-System LCD TV's offer stunning video performance and a great value. Enjoy High Definition video in a space-saving flat panel design with this multisystem TV.
The New Hitachi L42N05A Full HD 1080p LCD TV Description:
Liquid Crystal Televisions are very bright, so you can put them anywhere even near windows, doors or other light sources and their picture will still be vivid.
Image Inverter for Custom Installations, allows you to invert the image upside-down or "mirror" image if you need to hang it in an unconventional manner.
The New Hitachi L42N05A Full HD 1080p LCD TV Specifications:
Designs and specifications are subject to change without notice.
Features:
World-Wide NTSC/PAL/SECAM Color System - Watch any video signal on this TV!
World-Wide NTSC/PAL BG/PAL I/Secam BG, DK/ PAL DK TV tuners
Full HD 42-inch LCD TV with 1920 x 1080 1080p Resolution
Built-inNTSC/PAL BG/PAL I/Secam BG, DK/ PAL DK TV tunersenables you to plug your cable TV line right into the TV and start watching.
Model: Hitachi L42N05A Multi System LCD TV for use world wide
16:9 Aspect Ratio - Wide Screen LCD TV with HDMI input for HDTV
42" Active Matrix TFT ASV (Advanced Super View) LCD Panel
NTSC/PAL/SECAM Color System - Watch any video signal on this TV!
TV tuners for world wide use: NTSC/PAL BG/PAL I/Secam BG, DK/ PAL DK TV tuners.
Built-in NTSC/PAL BG/PAL I/Secam BG, DK/ PAL DK TV tuners enables you to plug your cable TV line right into the TV and start watching.
60,000-Hour Lamp Life, LCD backlight life is long enough to give you viewing pleasure for many years.
Response Time 5 ms
Design stand with swivel and tilt function
TELETEXT Function
200 Preset channels
NICAM/A2 Stereo Sound
Multi Language OSD
Sleep Timer, Audio Only, Video Mode selection
170º/170º Viewing Angles are so wide you can view Liquid Crystal Televisions from anywhere in the room!
Carry Handle/Table Stand is the ultimate in convenience! Carry it easily from room to room or detach the one-piece stand for wall mounting.
Sleep Timer, Clock & On/Off timer, Still Picture, Auto Channel Search, Picture In Picture, OSD Language, Auto Volume Leveller
Brightness: 300 cd/m2
Lamp Life: 60,000 hours
Component Signal ( 480i/p, 576i/p, 720p {50/60}, 1080i {50/60} )
HDMI Signal (Video Mode) ( 480i/p, 576i/p, 720p {50/60}, 1080i {50/60}, 1080p {24/50/60} )
Analog RGB signal VGA, SVGA, XGA, SXGA
Audio System: 2.5W + 2.5W
Component Input (Y/Pr/Pb )
S-Video Input
Composite (AV) Video Input
Power Consumption AC: 60W
ENERGY STAR Compliant
1 year parts and labor Limited Warranty
Dimensions (w x h x d) : 1018 x 634 x 103 mm (without stand); 1018 x 676 x 241 mm (with stand)
Weight: 4.3 kg (with stand) 3.9 lbs. (without stand)
Voltage: automatic switching between 100-240 volts 50/60Hz for use world wide
Display:
Screen size: 42 inches
Screen type: LCD
Aspect Ratio: 16:9
Number of Pixels (HxV): 1920 x 1060
Input Signal:
Video Signal: PAL, SECAM, NTSC3.58, NTSC4.43, PAL60
Component Signal: 480i/p, 576i/p, 720p, 1080i (50/60)
HDMI Signal (video mode): 480i/p, 576i/p, 720p (50/60), 1080i (50/60), 1080p (24/50/60)
Analogue RGB Signal: VGA, SVGA, XGA, SXGA
Input Terminals: RGB Input (RGB): RGB: RGB + Audio
Video Input:
AV1: CVBS + L,R*1 - Side
AV2: Y,PB,PR + L,R*1 - Side
HDMI1 (Ver 1.3) - Side
HDMI2 (Ver 1.3)
HDMI3 (Ver 1.3)
Media Input:
MEDIA1 (USB 2.0) - Side
MEDIA2 (USB 2.0)
Output Terminals:
AV Output (TV/AV1 Mode Only) - Side
Headphone - Side
Digital Audio Output (S/PDIF) - Side
Operation:
On Screen Display Languages: English, S.Chinese, T. Chinese, Russian, Arabic
Teletext Languages: West Europe, East Europe, Russian, Arabic
Child Lock
Sleep Timer
Favorite Channel