May we suggest
Details
Hitachi 32" LD-32VZD09A Multisystem LED TV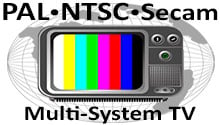 Multi-System TV - PAL, NTSC and Secam
This multisystem TV is compatible with PAL, NTSC and Secam video formats. You can use this television anywhere in the world with ANY type of video device!
Worldwide Voltage - 110v, 120v, 220v, 230v and 240 volt!
Global Dual Voltage on this Multi-system TV means it can be used anywhere. Multi-voltage TV's can be used in any country with voltage from 110 volts to 240 volts!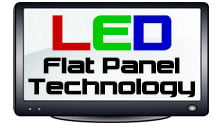 Space-Saving LED Flat Panel Technology
Multi-System LED TV's offer stunning video performance and a great value. Enjoy High Definition video in a space-saving flat panel design with this multisystem TV.
Hitachi 32" LD-32VZD09A Multisystem LED TV Specifications
DISPLAY
Screen Size: 32"
Screen Type: LCD (LED Back Light)
Aspect Ratio: 16 : 9
Number of Pixels (H x V): 1366 x 768
100Hz / 120Hz Scanning: No
OUTLOOK
Bezel: Grossy BLK + Glossy Champagne Silver
Stand: Plastic
Swivel:No
INPUT SIGNAL
Analog Tuner: PAL B/G, D/K, I SECAM B/G, D/K NTSC M
RF Multiplex: NICAM / A2
Teletext / Page Memory: Yes / 1000pages
Video Signal: PAL, SECAM, NTSC
Component Signal: 480i/p; 576i/p; 720p(50/60); 1080i(50/60); 1080p(50/60)
HDMI Signal:(Video Mode) 480i/p; 576i/p; 720p(50/60); 1080i(50/60); 1080p(50/60)
Analog RGB Signal Up to 1920x1080 (60Hz)
SIGNAL INPUT AND TERMINALS
RGB Input RGB: RGB + Audio (Mini D-sub 15P / Ø3.5 Mini Jack) - Rear
Video Input (CVBS)*1 + L,R*2 RCA Pin / Ø3.5 Mini Jack) - Side (Y*1,PB,PR) + L,R*2 (RCA Pin) - Side HDMI1 Rear HDMI2 Rear
Media Input USB 2.0 x 1Side *Support format(Video) MJPEG, MPEG1/2/4, H.264 MP3, AAC, AC3
(Music) MP3, AAC
(Photo) JPEG, PNG, BMP
SIGNAL OUTPUT
Headphone: Yes*3 (Ø3.5 Mini Jack) - Side
Digital Audio (SPDIF) Out: Yes (RCA Pin) - Rear
AV Output Yes*3
OPERATION
Audio Power: (RMS) 6W x 2
Surround: Yes
Super Woofer: No
OSD Languages: English / Spanish / French / Thai / Arabic / Hebrew / Portuguese / Russian / Farsi / Turkish
T/Text Languages: No
Timer (Sleep): Sleep, Auto off
Freeze: Yes
Film Mode (MEMC): Yes
Backlight Control: No
Aspect ratio: 16:9, 4:3, Panorama, Just Scan, Movie, Caption
Preset Channels: 100(ATV) + 370(DTV)
Opening Logo: Yes
Switches / Buttons: Main AC-Switch / Press buttons (Power, Vol+/-, CH+/-, Menu, INPUT)
Remote Control Unit CLE-1019
GENERAL
Power Requirement: AC110-240V, 50/60Hz
Power Consumption / Standby 65W /1W
Dimensions (W x H x D)(Without Stand):733.2 x 444.5 x 59.1
Dimensions (W x H x D)(With Stand):733.5 x 486.6 x 190
Weight(Without Stand):6.1kg
Weight(With Stand):6.5kg
Stand:Yes (Fixed)
← Back to product description



Built-In Analog Pal, NTSC, and Secam TV tuner

Analog Pal, NTSC, and Secam tuner built in for world wide use for analog tuning. If you are in a country that utilizes digital tuning such as DVBT or ATSC a Cable Box or Satellite receiver is needed. If You have any questions regarding this please call us. With the appropriate setup this TV can be used anywhere in the world.
← Back to product description